Here's exactly how much it costs to start a blog ($0, $100, $1000 options)
Let's breakdown what you actually need to get started.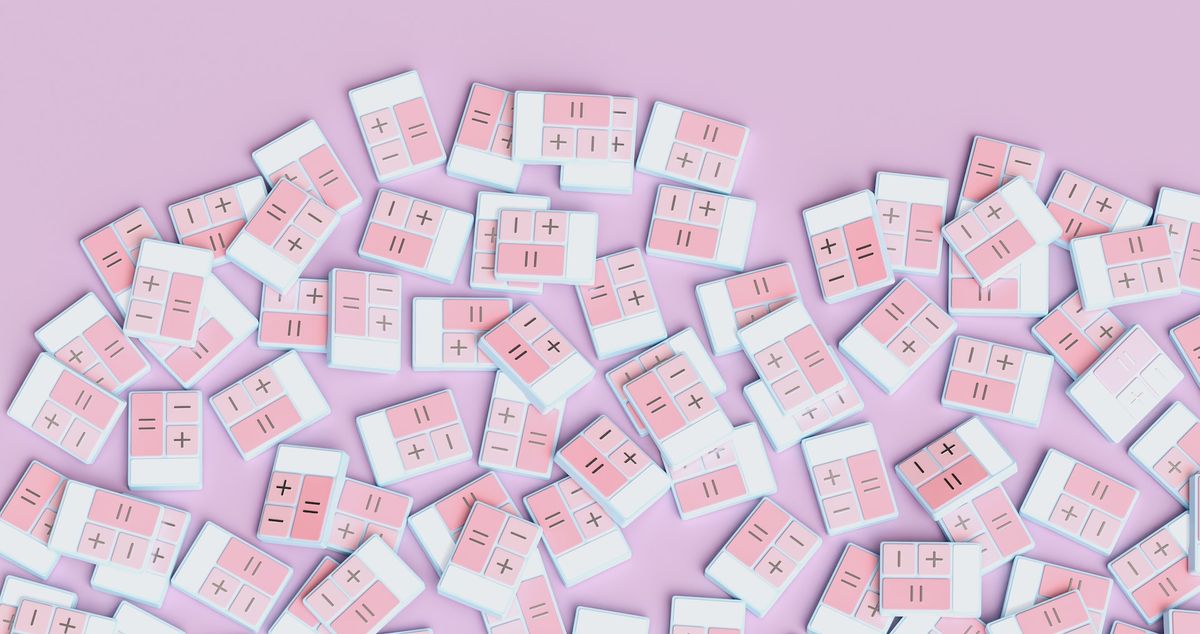 I started my first blog in 2007 for $0. I made an account on Blogger, typed up a short book review, and officially published my first post.
All these years later, the available tools are massively better — and many still have free options that you can use to start up your first blog for $0 today. But I also use a suite of software products that cost me a few thousand dollars a year because of what they enable me to do as a professional SEO and content marketer.
In this article, I want to answer your question about how much it costs to start a blog by offering 3 price points: free, about $100 per year, and about $1,000 per year. Which one of these levels is right for you depends on your goals.
Let's take a look at the first option.
💡
Quick answer: On average, it costs about $120 annually to start a blog, maintain it, and monetize it.
How to start a blog for free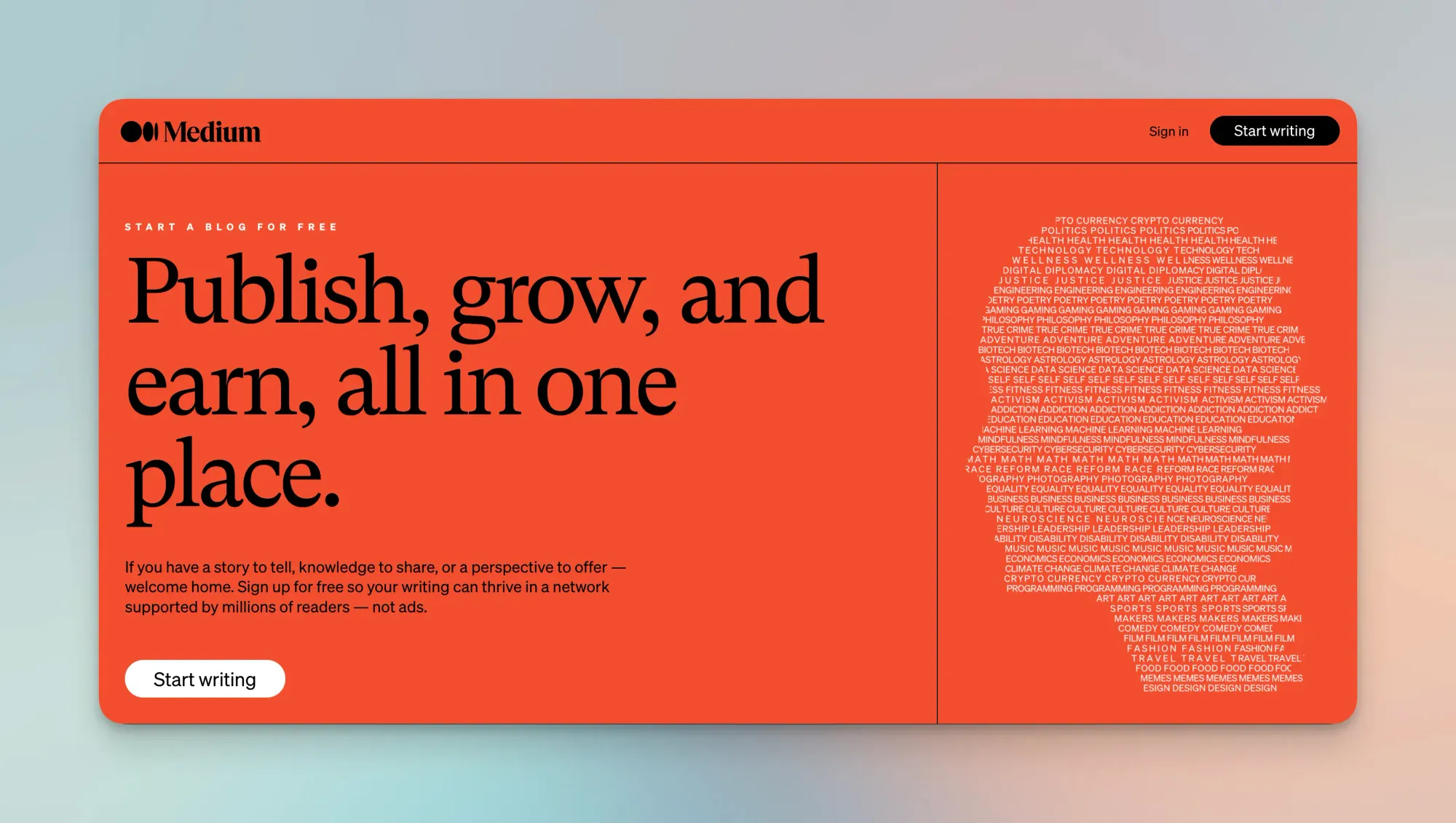 Medium is one of the best options to start a blog for free. With $0 needed to begin, an easy-to-use editor, and a robust network of writers — Medium is a solid choice for new creators.
Pros:
Cons
You don't own your content or audience
Difficult to use the platform to make money
This is a good option if your only goal is to practice writing in public. Refining your ideas this way will help you clarify your thinking and apply that to future publishing projects.
However, any followers you gain cannot be transferred to another platform — they're exclusive to Medium. Furthermore, the only way to earn money on Medium is by creating Member-only content which pays you a few cents when read.
If your blogging goals are related to making money or building an audience, keep reading.
How to start a blog for $100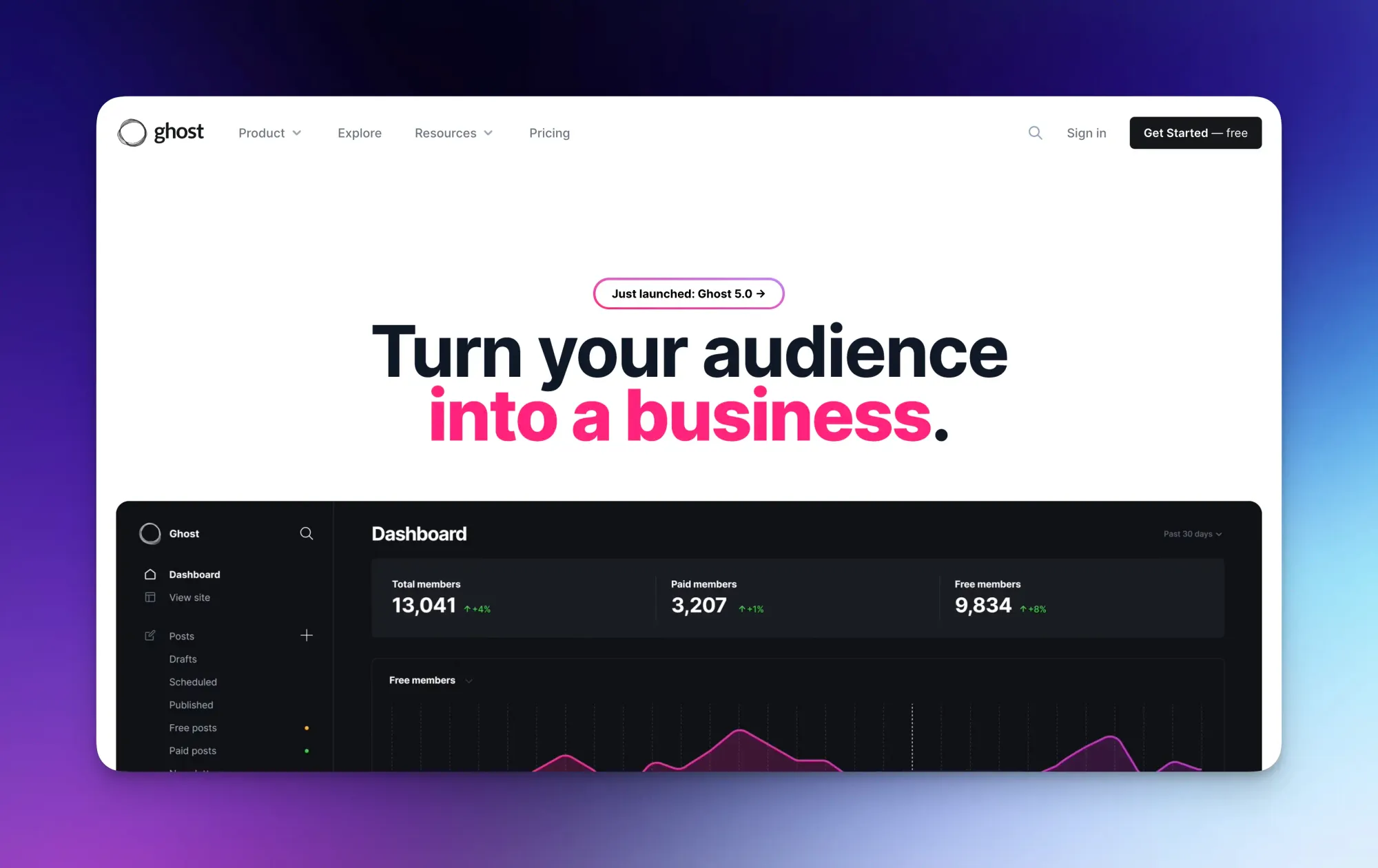 Ghost is the next best option if you have a small budget to work with and long-term ambitions for your writing. Their Starter plan costs $108 per year ($9 per month) and comes with everything you need to start a blog and build a business around your content.
Pros:
Low cost
Beautiful editor
Excellent support
Own your content and audience
Cons:
The learning curve for new users
Limited customization
Ghost is an excellent option if you intend to start a niche blog, news site, or email newsletter. The platform has built-in email marketing, analytics, membership capabilities, and a library of free design themes. It's the perfect package for someone who wants a professional-looking blog with minimal work so that they can focus on the writing.
Because Ghost was built exclusively for publishing content, there are limitations when it comes to other blogging considerations. For instance, creating landing pages or selling products can be difficult on this platform. And advanced customizations for niche sites or programmatic SEO will likely require a developer's help.
As far as the essentials are concerned, Ghost is incredible. Now, if your blogging ambitions require more flexibility, the next option might be a good fit.
How to start a blog for $1,000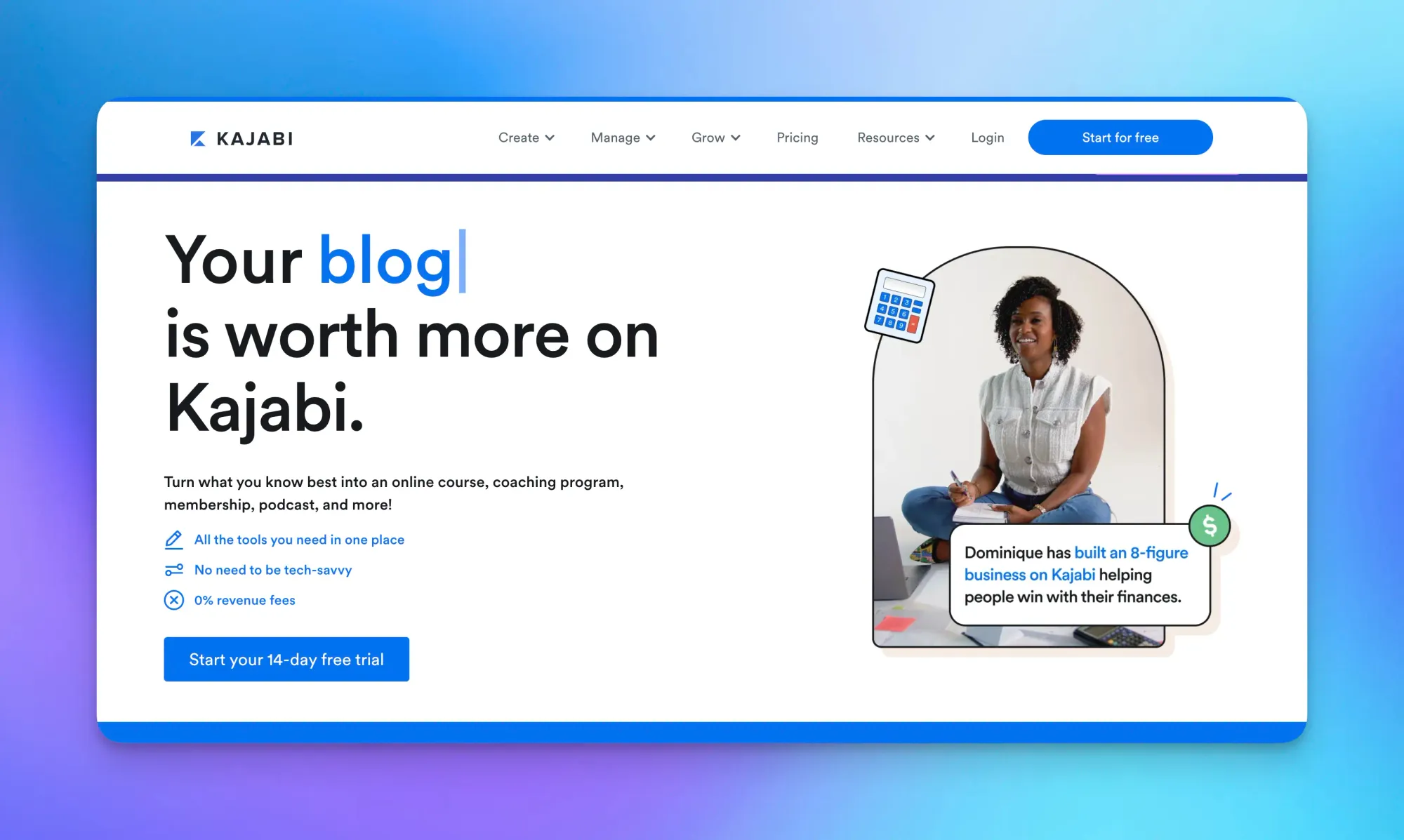 Our final option carries a higher price tag than the rest but brings with it the most powerful functionality of the group. Kajabi is an all-in-one online business solution which means that in addition to starting a blog you can also create online courses, communities, landing pages, sales funnels, email sequences, digital products, and more.
Pros:
Ability to create almost anything
Built-in capabilities, so you don't have to learn multiple tools
Highly customizable
Cons:
Can be difficult to use
Cost prohibitive for some creators
The biggest hurdle for this platform is its price. With a 30-day free trial, the first-year costs total $1,309. Granted, if you were to stitch together individual tools that enabled you to create the same scale and variety as Kajabi, you would easily pay 4-5x as much.
I've used Kajabi as a blogging platform for 4 years, primarily because I also build online courses. They are one of the best digital products bloggers use to monetize their work. So, the ability to keep all of these elements on a single platform (blog, email, courses, etc.) makes it a very attractive option for those who want to keep things simple.
But, if you don't know what you want to build, I recommend starting with the previous option: Ghost.
This will allow you to focus on writing while maintaining access to multiple monetization methods (membership, ads, sponsors). Kajabi can do a lot, so I recommend it to established bloggers and seasoned professionals who know precisely how they intend to monetize.
Why I don't recommend WordPress for blogging
WordPress has been the foundation of the blogging world for many years because of its flexibility and low price. However, many new bloggers are caught off guard by how expensive it really is to run a successful WordPress blog.
Factor in premium hosting (for security and reliability), professional themes, required plugins (for SEO, on-page components, etc.), a separate email marketing tool, and more, and you'll soon find that even Kajabi's Pro plan at $4,000+ per year is a bargain.
Do your homework, and you might be surprised by what you find.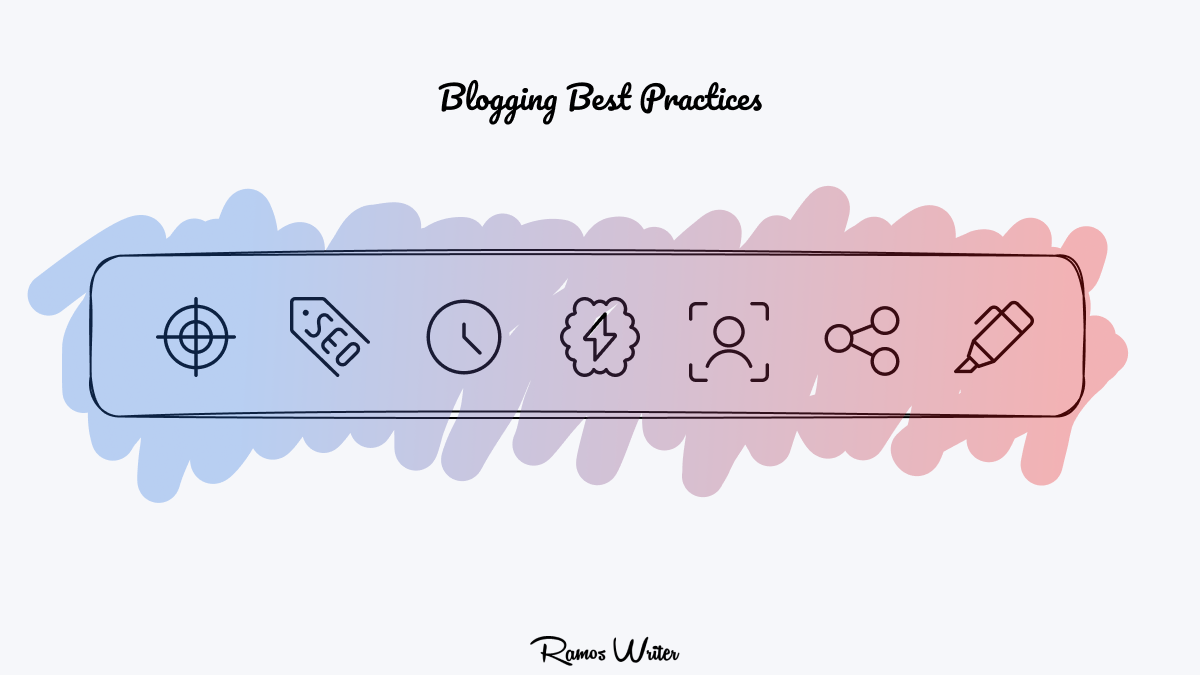 Additional types of costs when starting a blog
Most people who start a blog don't realize all the different elements involved. I know I didn't! This is why some options may seem cheaper than others on the surface, but once you dig a little deeper, you'll realize they are less affordable.
Let's cover the 10 most important ones quickly.
Hosting: $5 – $500 per month
Hosting is what keeps your website and content accessible and protected on the internet. For Medium, Ghost, and Kajabi — hosting is included in the price. For other options, you'll have to find a trusted host.
Domain name: $7 – $1,000 per year
A domain name is the website address or URL people type in to find your content. You're reading ramoswriter.com, which I purchased from Google Domains for $12 per year. I recommend Google Domains because it's super easy to use and includes privacy protection, which is usually extra money on other sites.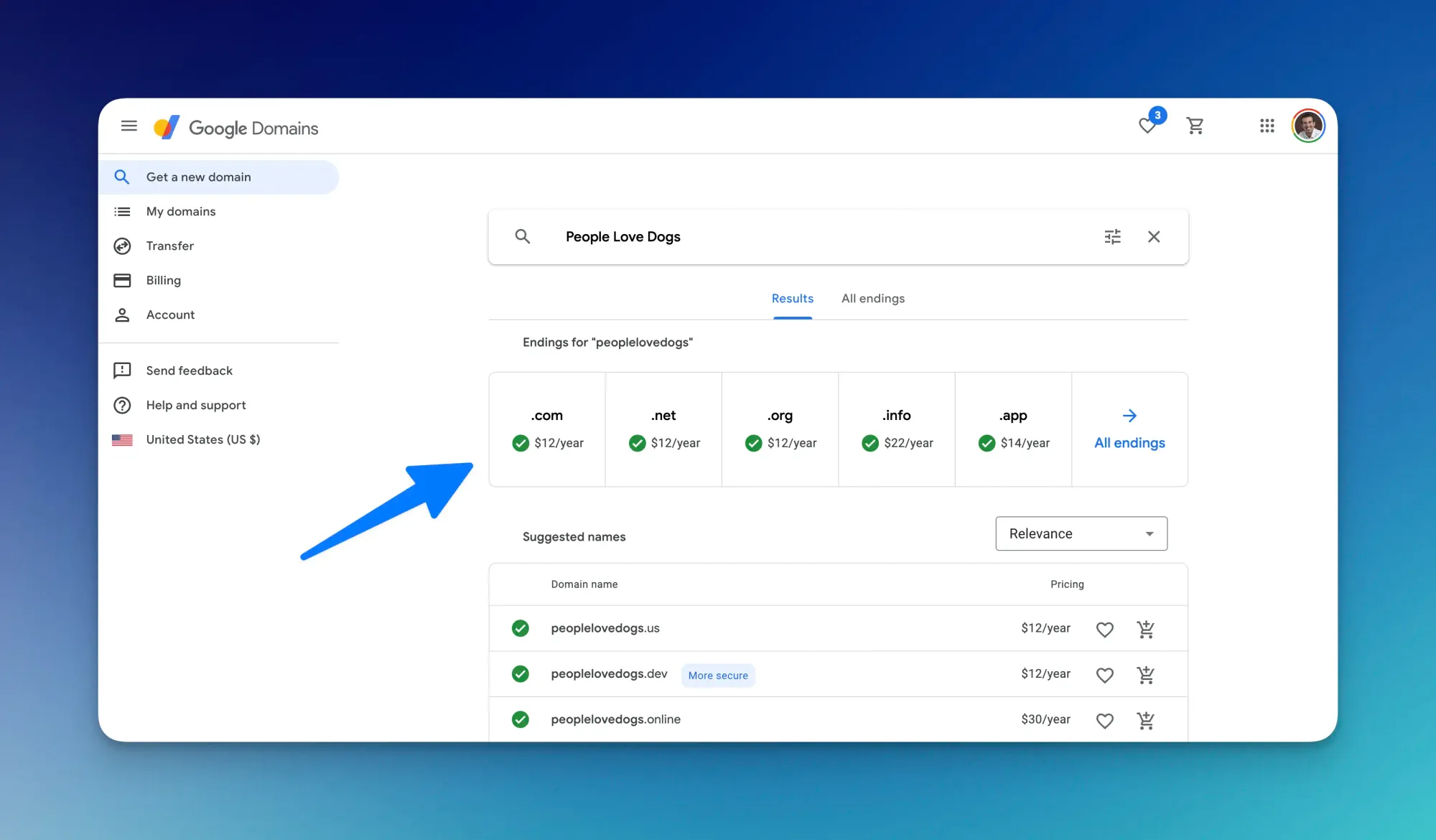 You won't hear Google Domains often recommended because they don't have an affiliate program. But I'd rather give you the best option than make a few bucks from recommending something I don't love.
Email marketing: $29 – 99 per month
An email marketing tool like ConvertKit allows you to keep in touch with your audience, send them new articles, and connect with them apart from social media algorithms. Ghost and Kajabi have this option built in.
Computer: $100 - $2,000 one-time purchase
Of course, if you intend to write blogs, you'll need a tool to do so. I wrote up an article on blogging laptops if you're in the market for a new computer.
Otherwise, library computers work well too! In fact, the first two years of articles I wrote were all done from a library desktop I had to reserve for 30 mins at a time.
Design: $99 - $5,000+ per year
A beautifully designed blog is a joy to experience. But it's important to remember that content will always be more important than looks. When starting out, use the free themes available (both Ghost and Kajabi have a library of options) and only upgrade once you have traction (and money coming into the business).
Additional costs to consider
As your blog grows and becomes more complex, some other costs you may want to adopt include:
Content creation — Hire additional writers or social media help.
Images — Using premium heading and body images will elevate your content.
Advertising — Promote your blog in other people's content and communities.
Bookkeeping — Find a professional accountant specializing in online business who can help find cost-saving opportunities.
SEO — Including a tool like Ahrefs or Semrush in your article research process can significantly improve your content's performance.
Tools — Depending on the content you write and the products you sell, you may need additional software and hardware tools to level up.
How to save money on your first blog
I want to close this article by offering some hard-earned advice on cutting costs when starting.
Don't start multiple blogs at the same time. Focus on one for at least a full year before starting any more.
Use free keyword research tools like AnswerThePublic for your first 10-50 articles.
The only thing that matters is publishing great content, so run everything you write through Grammarly (their free plan is fine to start with). Every optimization or design upgrade in the world won't help a poorly written article.
And that's it — everything I know about how much it costs to start a blog. If you have any follow-up questions, contact me! I'm always happy to help fellow aspiring bloggers.