The wrong way to start a blog (& what to do instead)
Stop following outdated advice and start a blog the right way.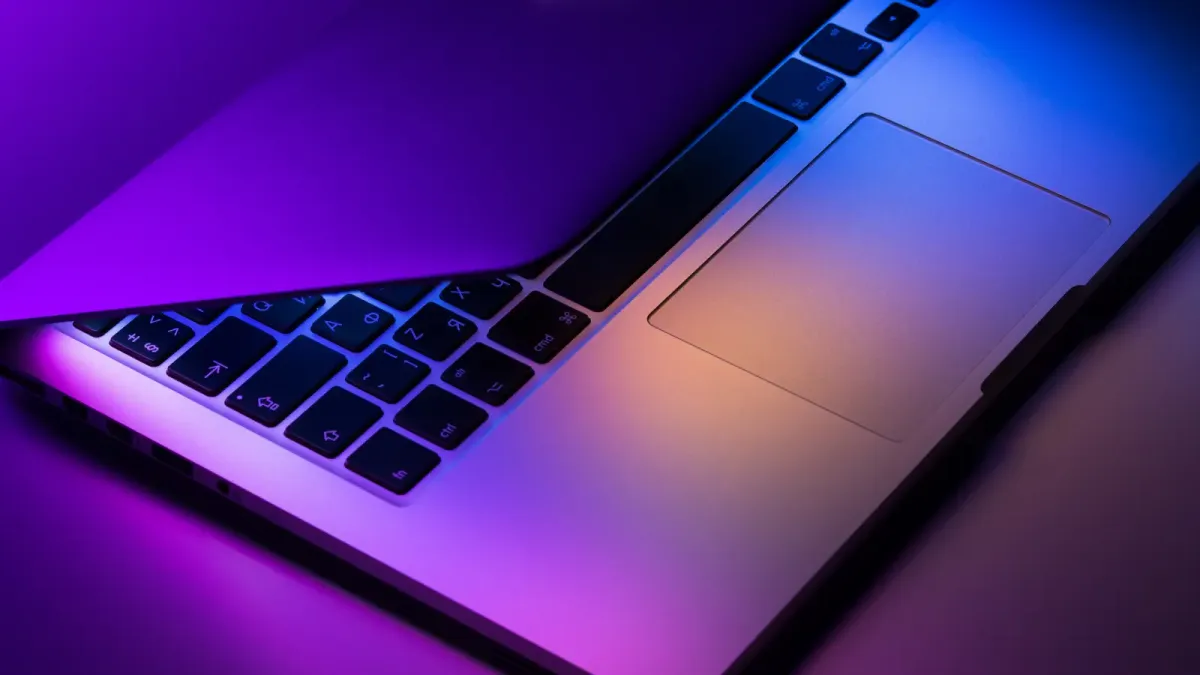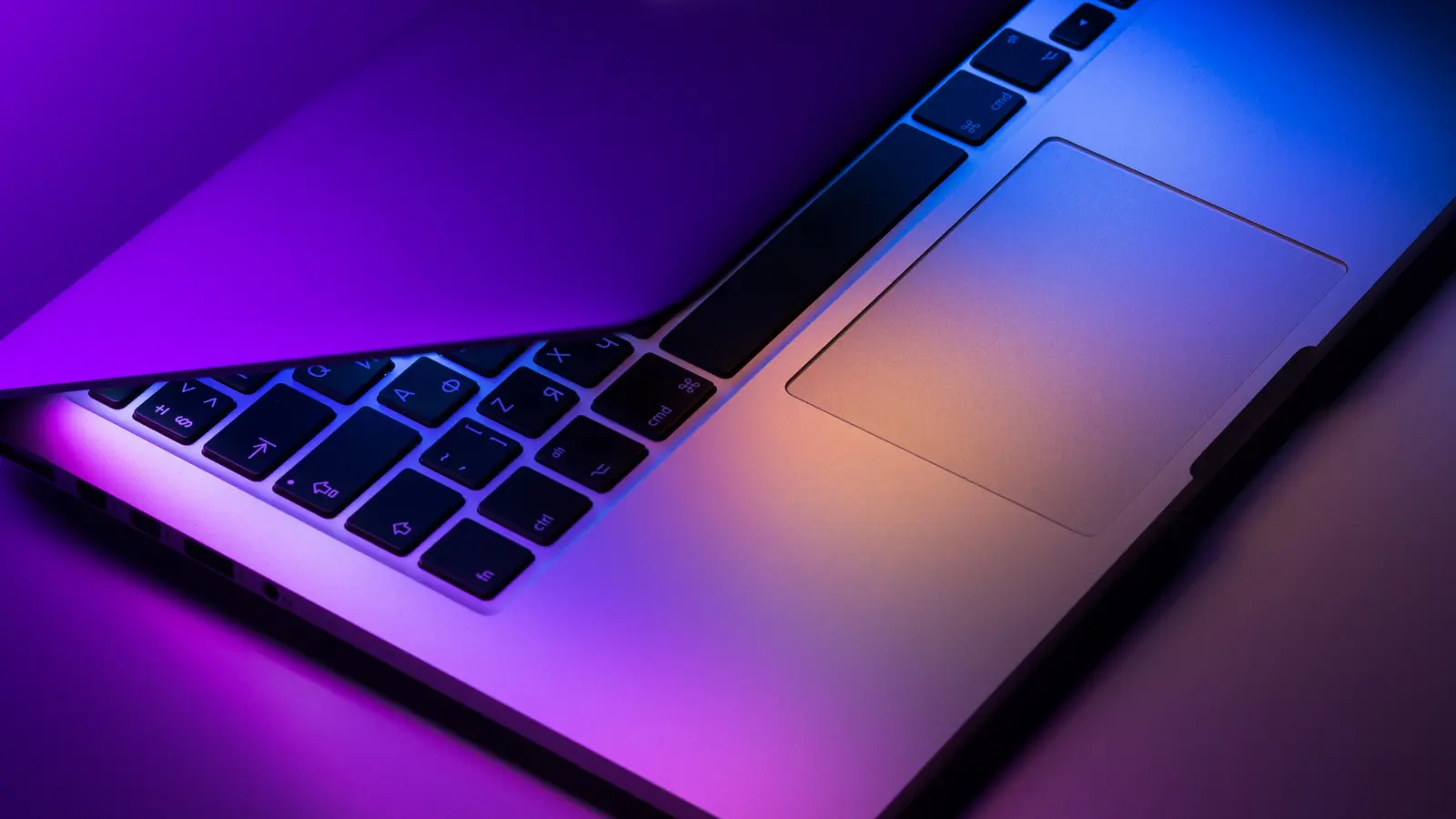 💡
As a reader-supported publication, when you buy through links on our site, we may earn an affiliate commission. Thank you!
If you've searched for advice on how to start a blog, chances are you found the following formula:
Crawl your way through the clunky process of installing and setting up WordPress on a host (99% of the time, it's Bluehost).
Buy a domain that's cheap to begin with, but very expensive to continue (e.g,. $0.99 for year 1, then $40+ for every year after).
Start cranking out as much content as humanly possible.
Now, let me tell you why you should be wary of this strategy.
Growing an authoritative blog takes time, and when most of these bloggers began, the WordPress + Bluehost combo was the best option available. That's no longer the case.
There is no incentive for bloggers to recommend products they won't make money from. Most recommend whatever pays the highest commission (even if it's not the best option and they don't use it themselves).
WordPress has become increasingly unsafe, especially for newer bloggers who don't know how to protect themselves. Starting a WordPress blog in 2022, without a deep technical know-how, is just asking for trouble.

In this article, I'm going to show you a better way.
A method that makes sense for people who would rather spend their time creating than solving technical problems; a toolset that is less expensive, but that can do more; and a strategy that helps new bloggers grow quickly without an exhaustive workload.
The best blogging tools for beginners
💡
My toolset: I use Ghost for blogging and email, Google to buy my domains, Ahrefs for keyword research and content strategy, and Grammarly to edit my writing.
Since the tools you choose play a major role in your blogging journey, let's begin there.
I'm able to do everything I need to do with my blog (publish posts, send emails, create pages, manage members, track analytics, etc.) with one tool: Ghost. It's a website builder, hosting service, and email service provider (ESP) all-in-one.
Started by one of the core WordPress team members, Ghost was built with the purpose of becoming the publishing-focused alternative to WordPress. Instead of trying to be everything for everybody, as so many other platforms have tried, Ghost had a different mission in mind.
What would the best blogging software look like? What would it be able to do that nothing else could? And what constraints should stay in place so that it never strayed from its purpose?
These questions guided its development which is why it's a tool I'm proud to recommend. Yes, if you use one of the links in this article to start a Ghost site, I will get a small commission. I'm a proud affiliate of this tool — and as we continue, you'll see that there are plenty of tools I recommend that have no affiliate programs in place; they're just simply the best options available, and so why would I recommend anything else?
Before we dive into setting up your very first Ghost blog, here are a few of the other tools I recommend and will cover below.
Google Domains. By far my favorite domain provider. Most options start at $9-12 per year, with no hidden fees, simple customization options, and privacy features included for free. There is no affiliate program for this, which is why you rarely hear about it from other bloggers.
Ahrefs. The king of keyword research tools. My advice is that once you're ready to plan out your content strategy, subscribe to the lowest tier for one month, download all of the information you need to plan 12 months of content (which I'll explain below), and then cancel your subscription.
Grammarly. Well-written posts will help you grow faster. I've been writing professionally for over a decade, and I still use this editing tool on a daily basis.
How to set up your first Ghost blog in 8 easy steps
Step 1: Go to ghost.org and click the Get Started button in the upper right-hand corner. This will allow you to start a 14-day free trial.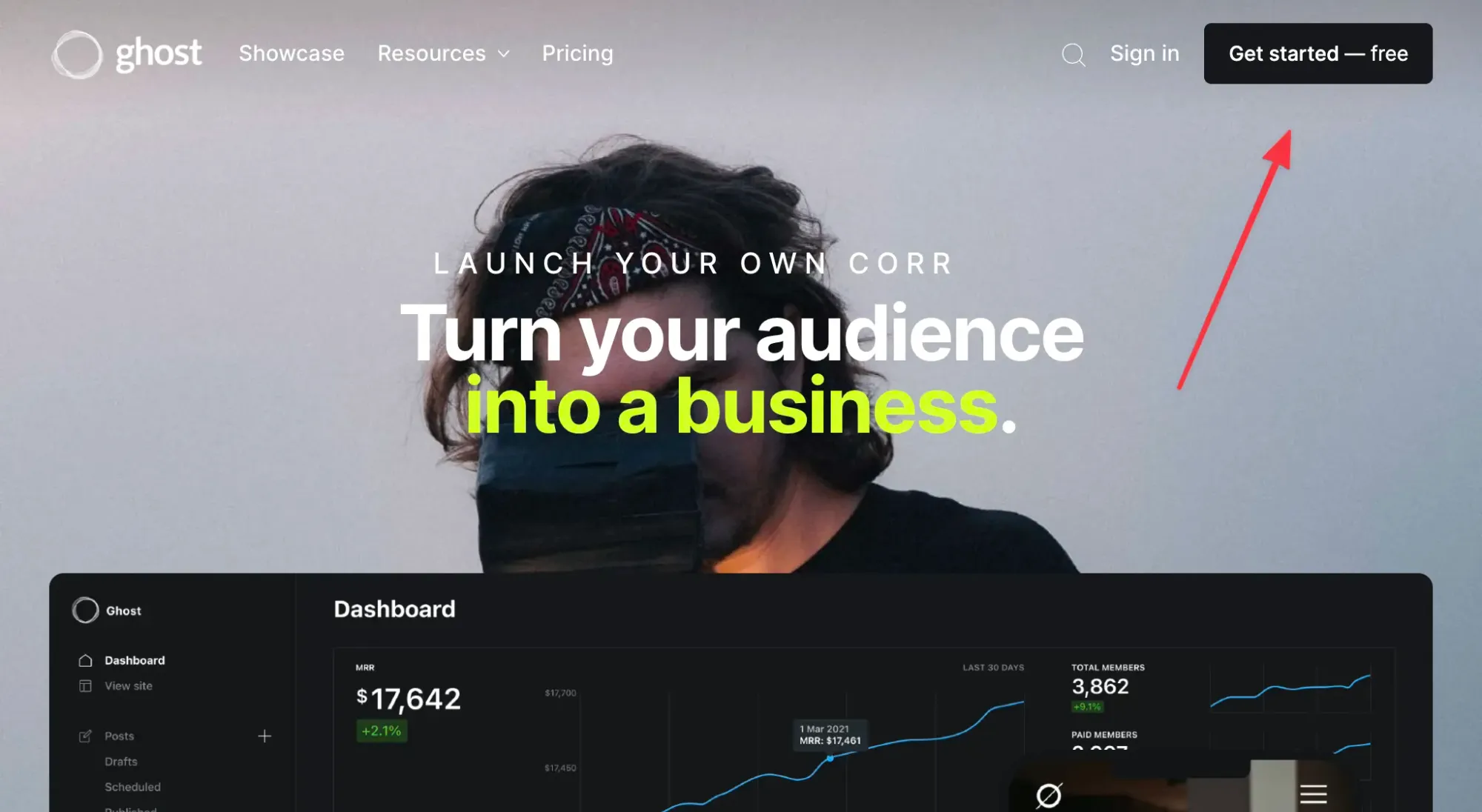 Step 2: Create your account by entering an email address and password. On the next page, you'll be prompted to enter your credit card information so that once you've completed the trial, your blog can go live immediately.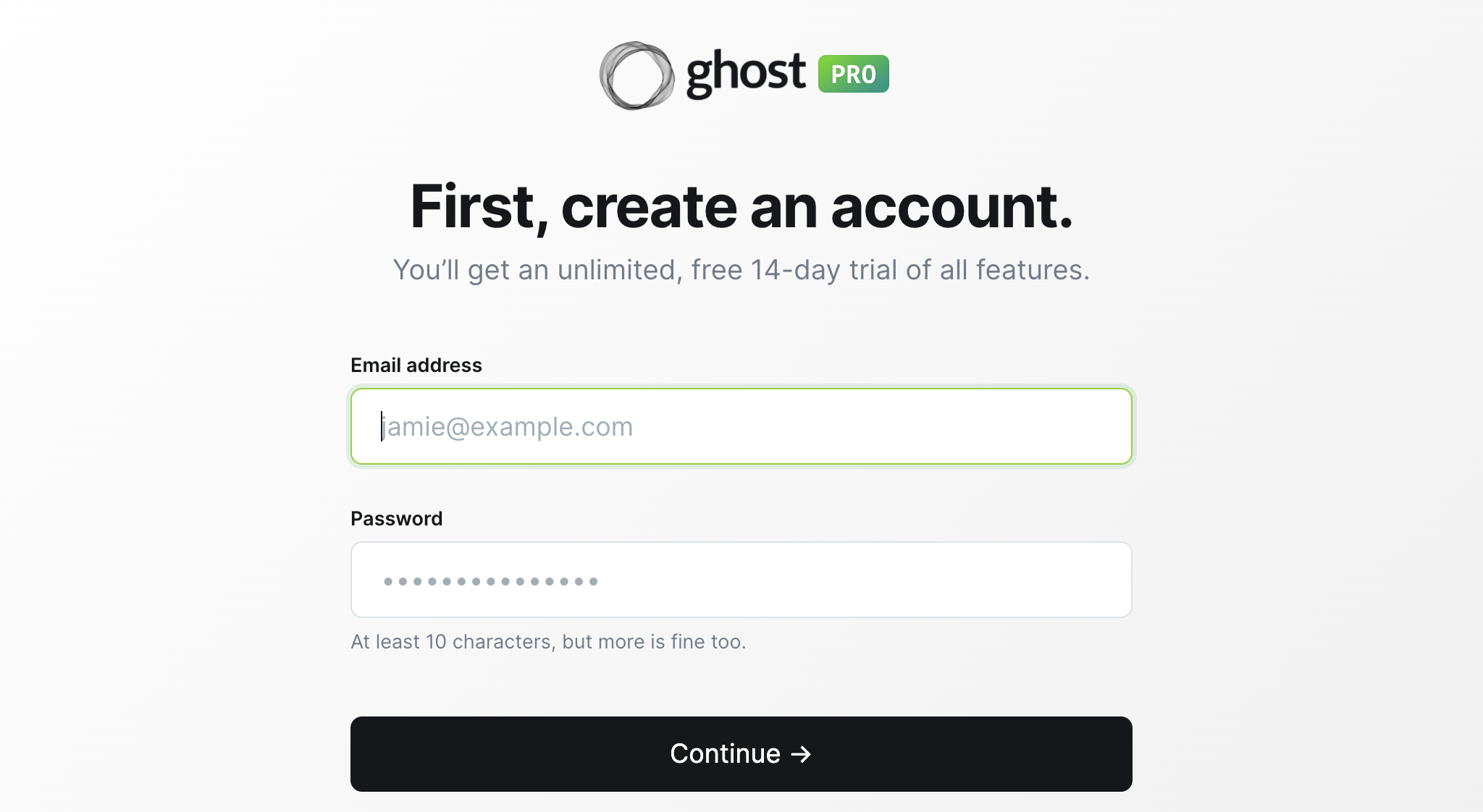 Step 3: Next, Ghost will ask you two questions. The first is about the work you do — are you a creator, marketer, or developer. This is so they can recommend the right type of resources to you. The second question is about your blog — what you would like to name it (you can always change this later).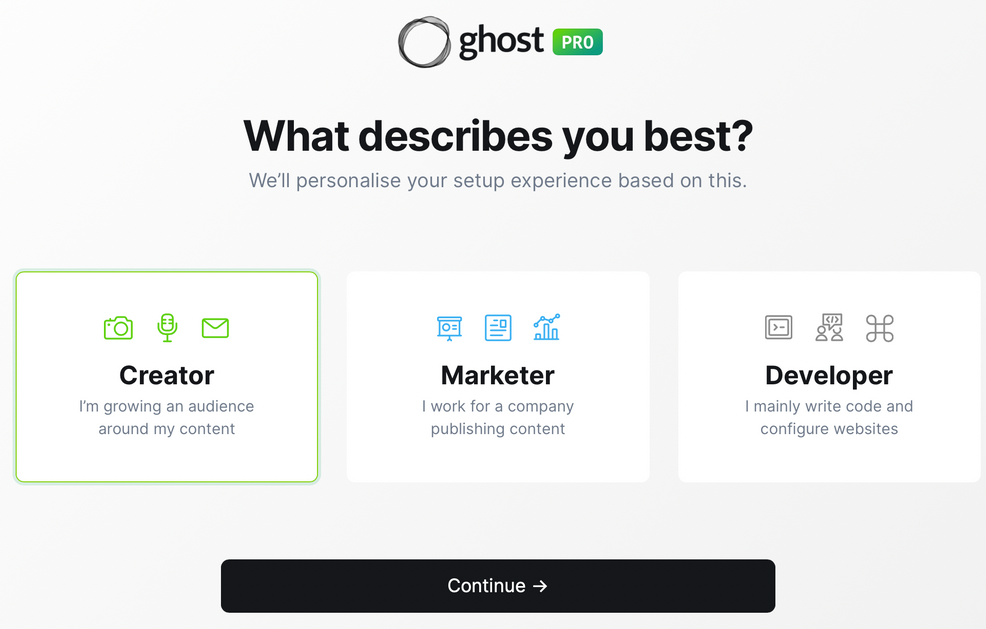 Step 4: Once you've entered all the basic information, it's time to customize your site and get it ready for publishing. At this point, you should see your main dashboard along with a menu of options along the left sidebar. Click the gear icon near the bottom to go to Settings.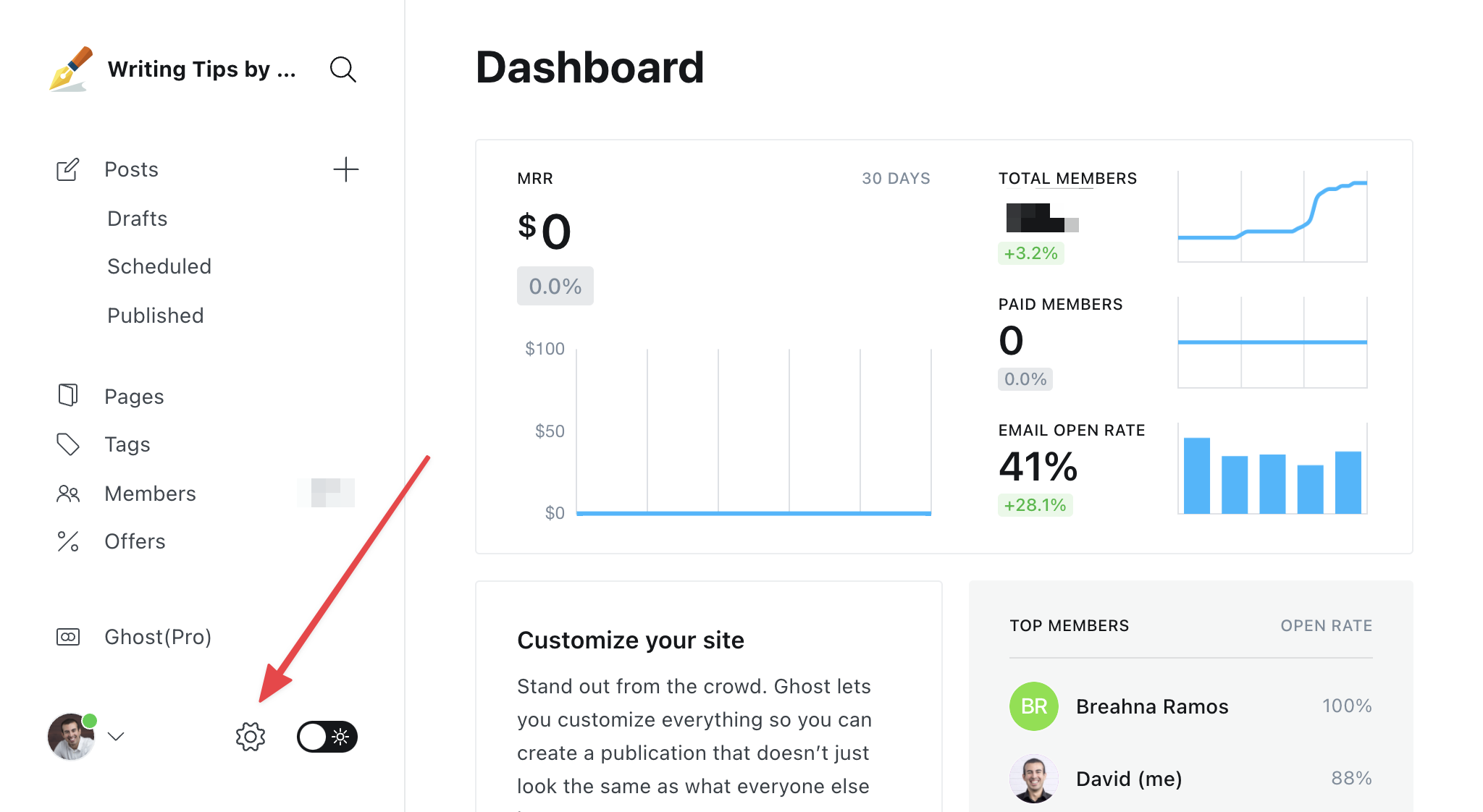 Step 5: You have many options on the Settings menu, but for now, let's focus on just 2 areas: General and Design. Click General to begin.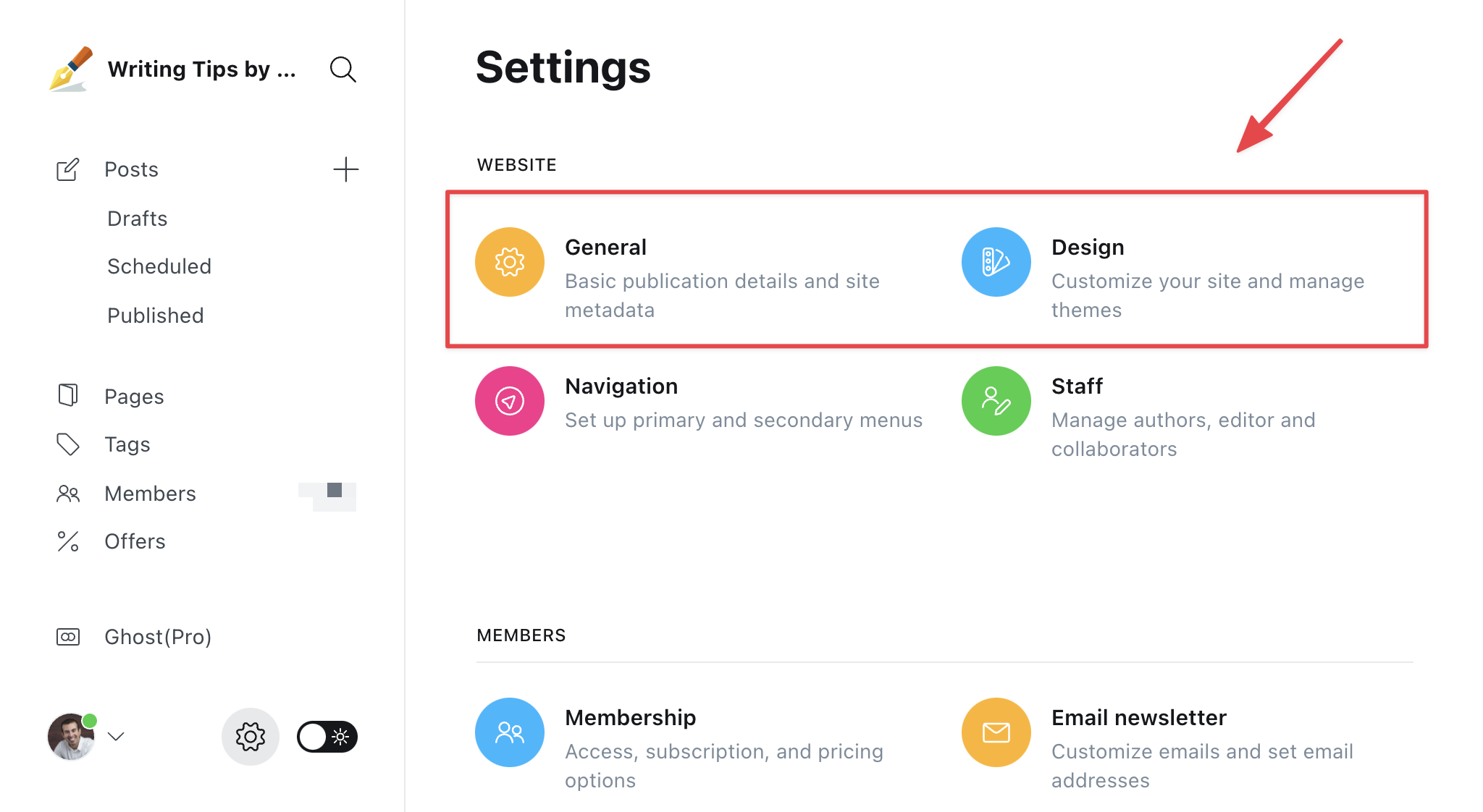 Step 6: Ensure your publication info is accurate. Take a minute to fill out your title and description, and make sure your time zone and language are correct. You can do this by expanding each setting option.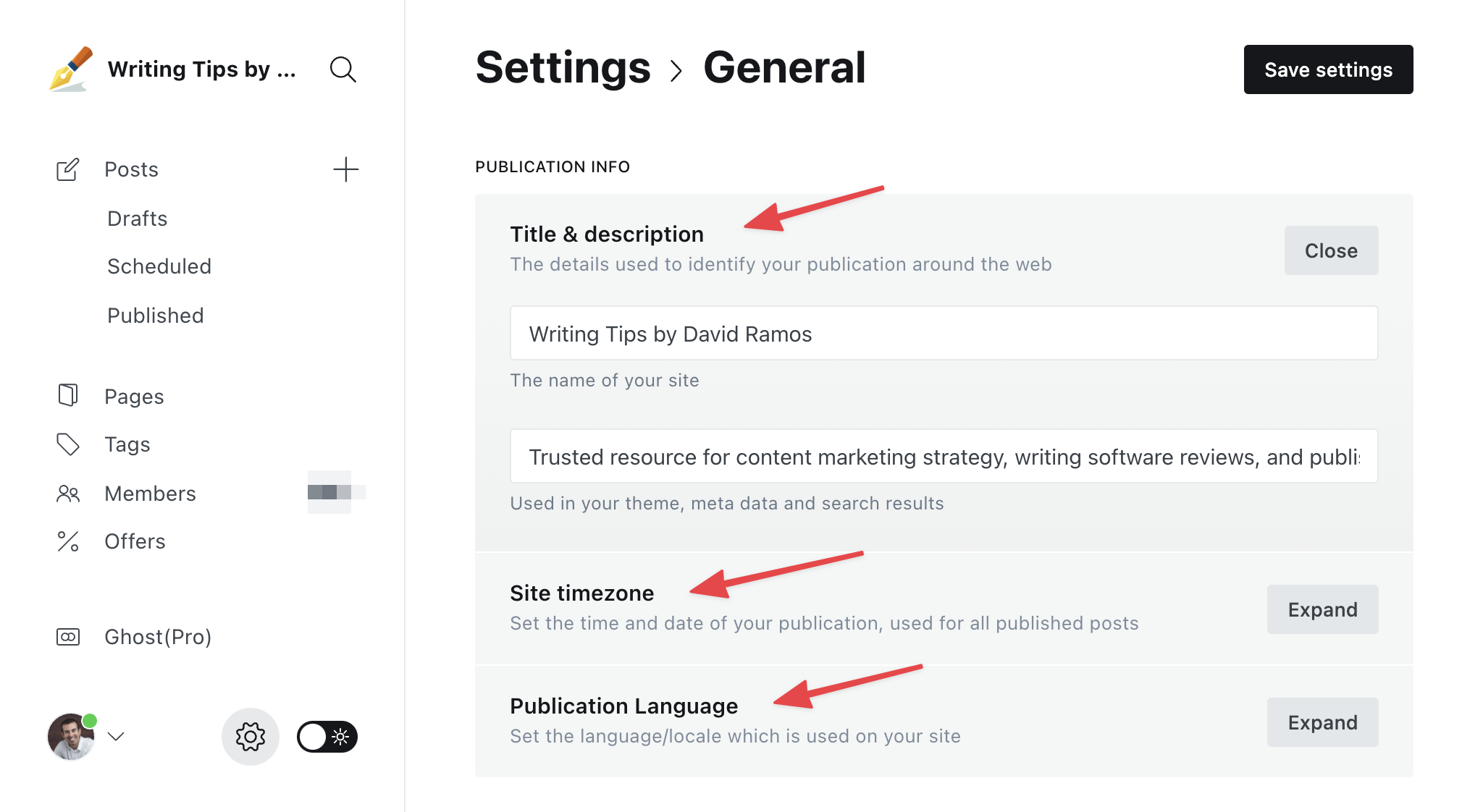 Step 7: Once that's taken care of, go back to the Settings menu and enter Design. Here, you can customize the look of your blog. You can do this by clicking Change theme in the lower left-hand corner, then you can choose from dozens of free or premium options in Ghost's marketplace.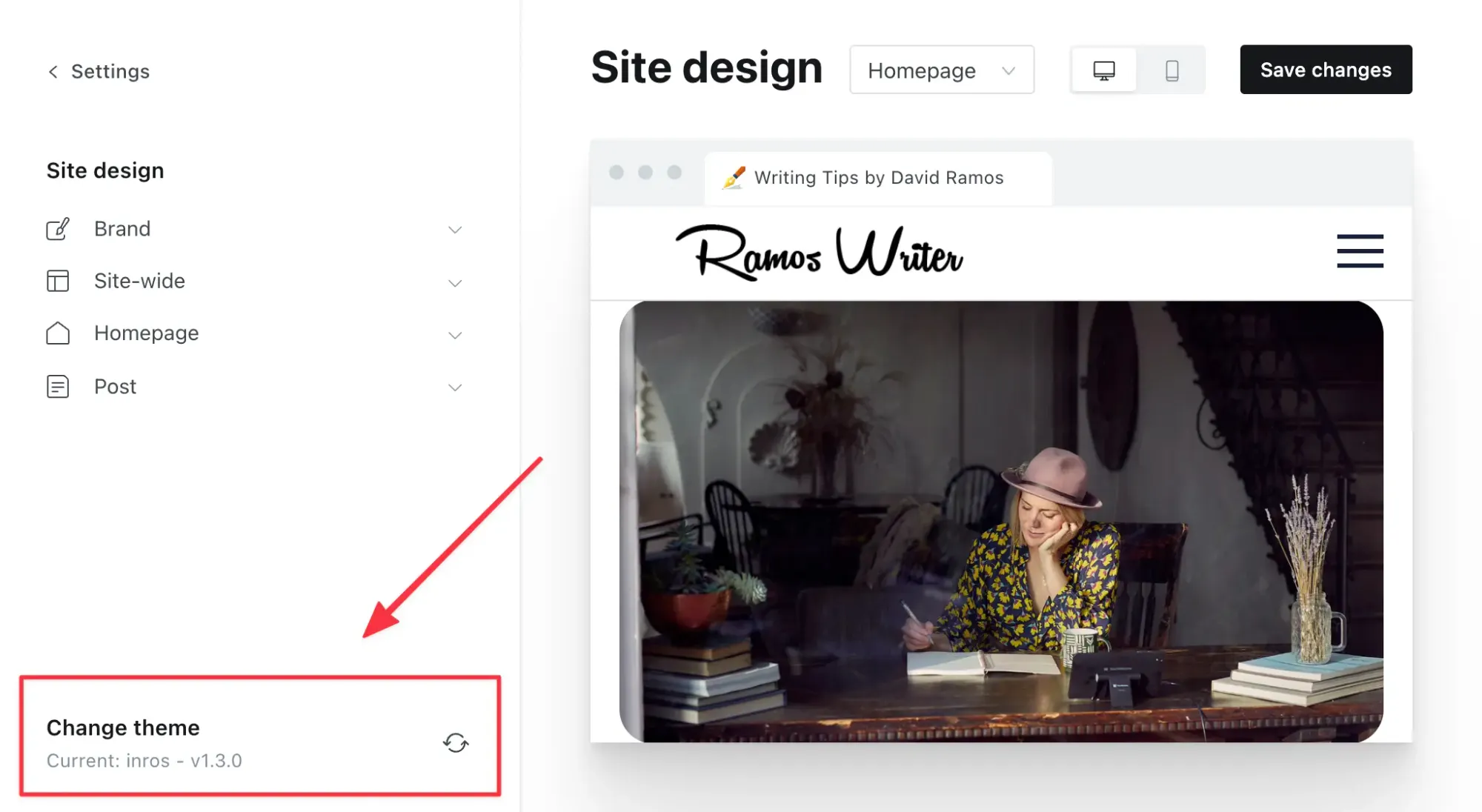 Step 8: Finally, on your main sidebar menu click the Ghost(Pro) link. This will allow you to choose your plan (which you can do at the end of your trial) and connect your custom domain or URL (Ghost has a complete guide to help with this step for any domain provider).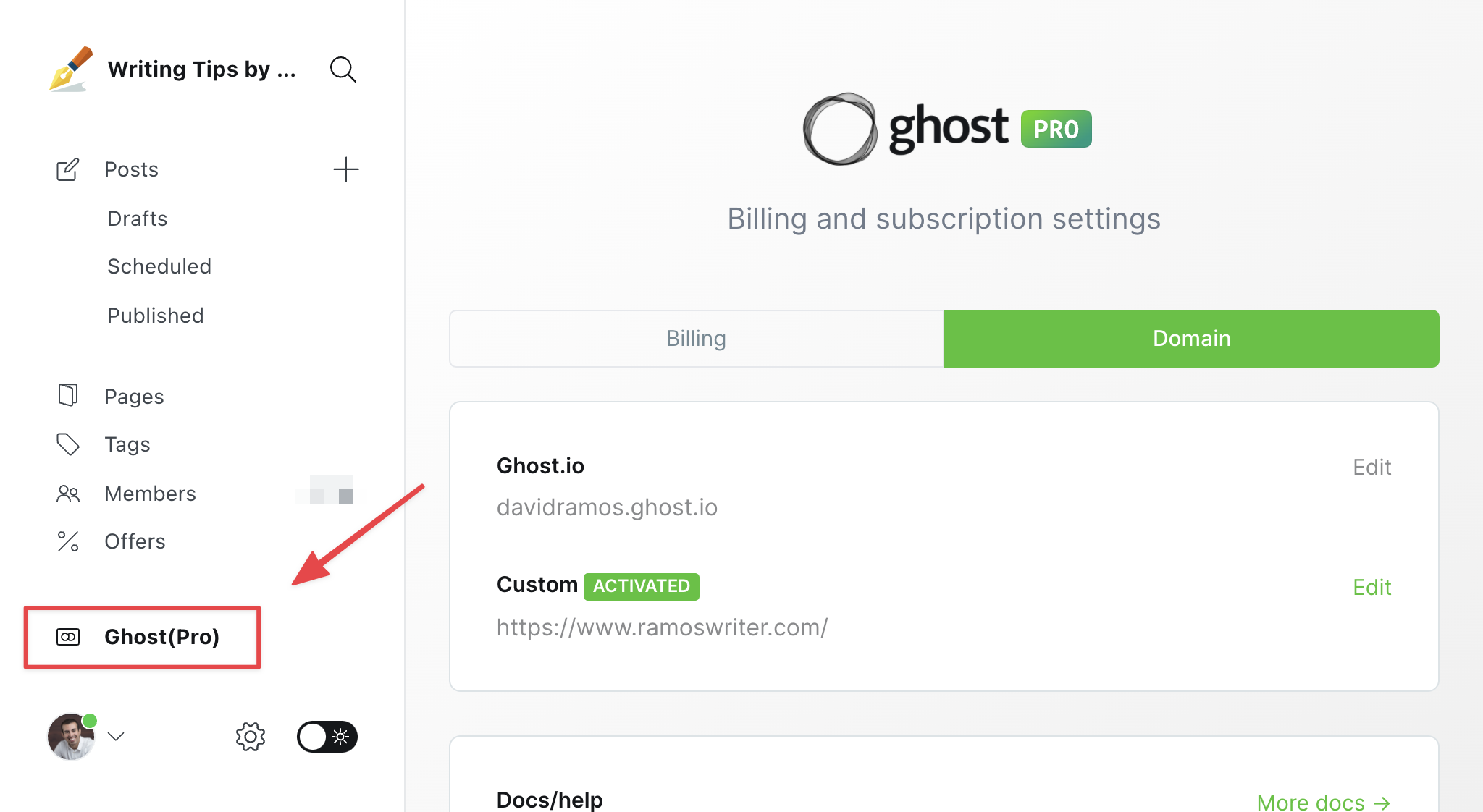 How to buy a Google domain name in 3 steps
Step 1: Start by going to domains.google.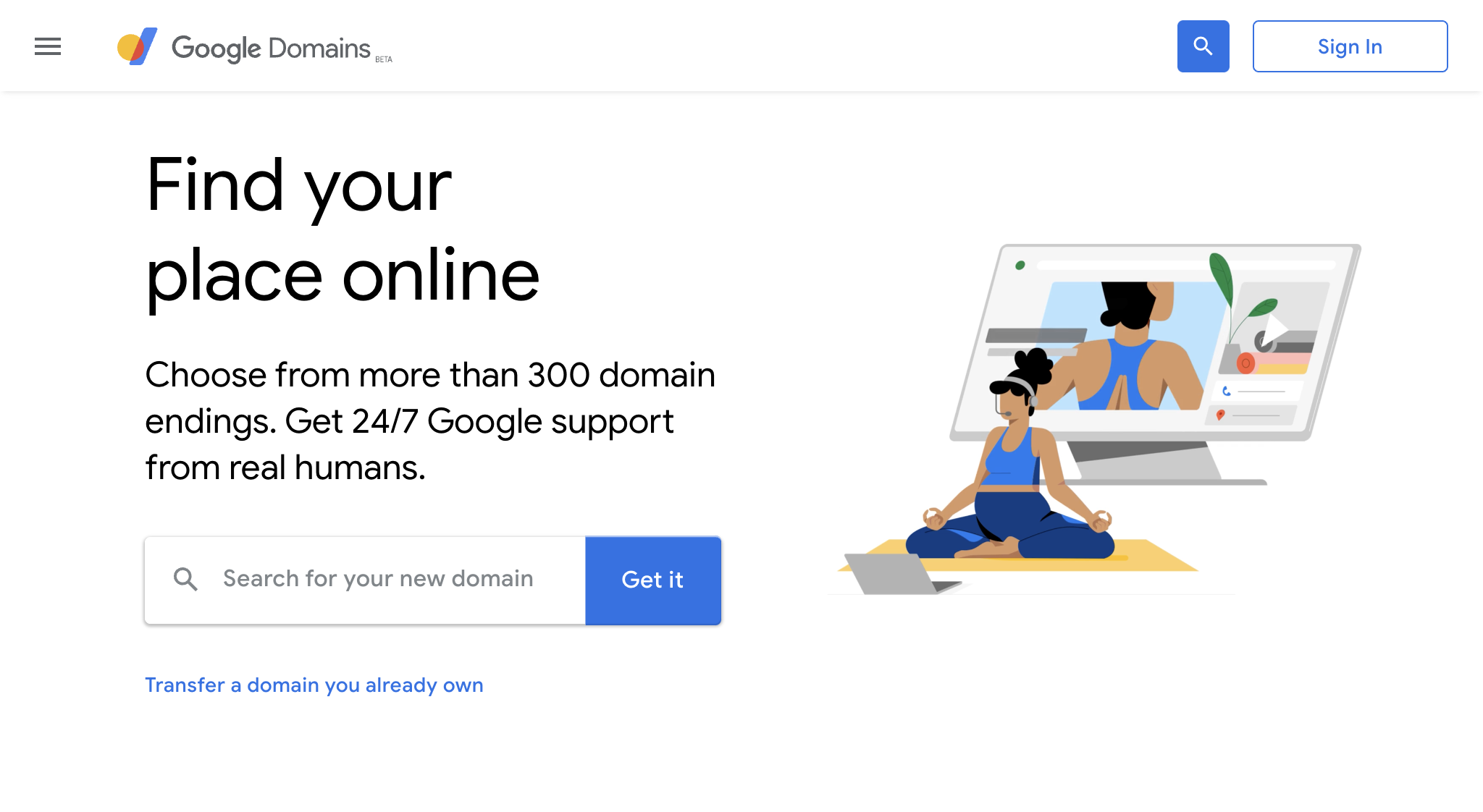 Step 2: Search for available options by typing in a word, phrase, or complete URL. Once you find one you like, add it to the cart.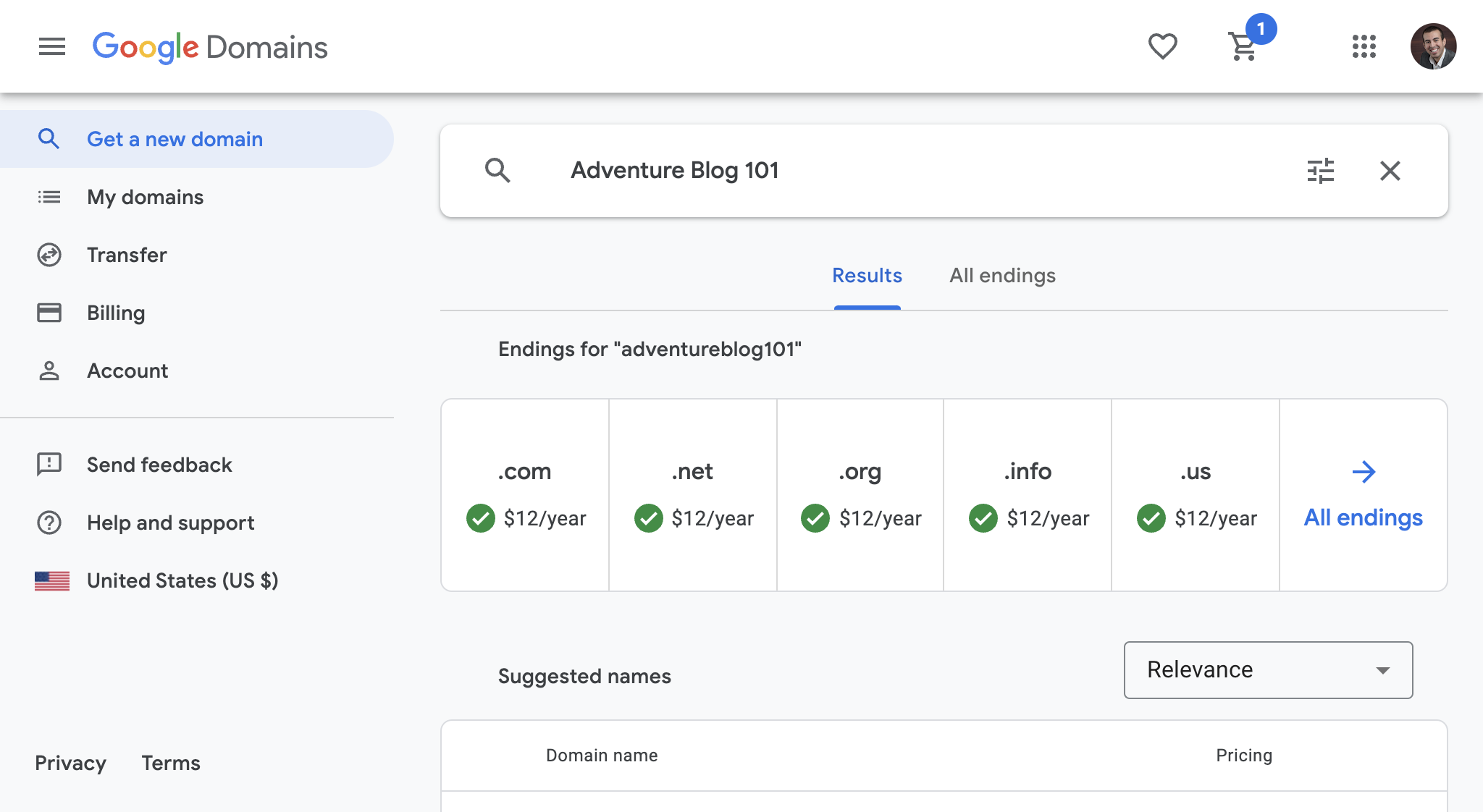 Step 3: Click on the cart icon to start checking out. On this page, you can change the registration length (starting with 1 year is fine, just make sure auto-renew is on) and privacy protection (keep this on!). You can also add a Google Workspace account, but this isn't necessary. When you're happy with your choices, click check out to enter your payment info, and that's it!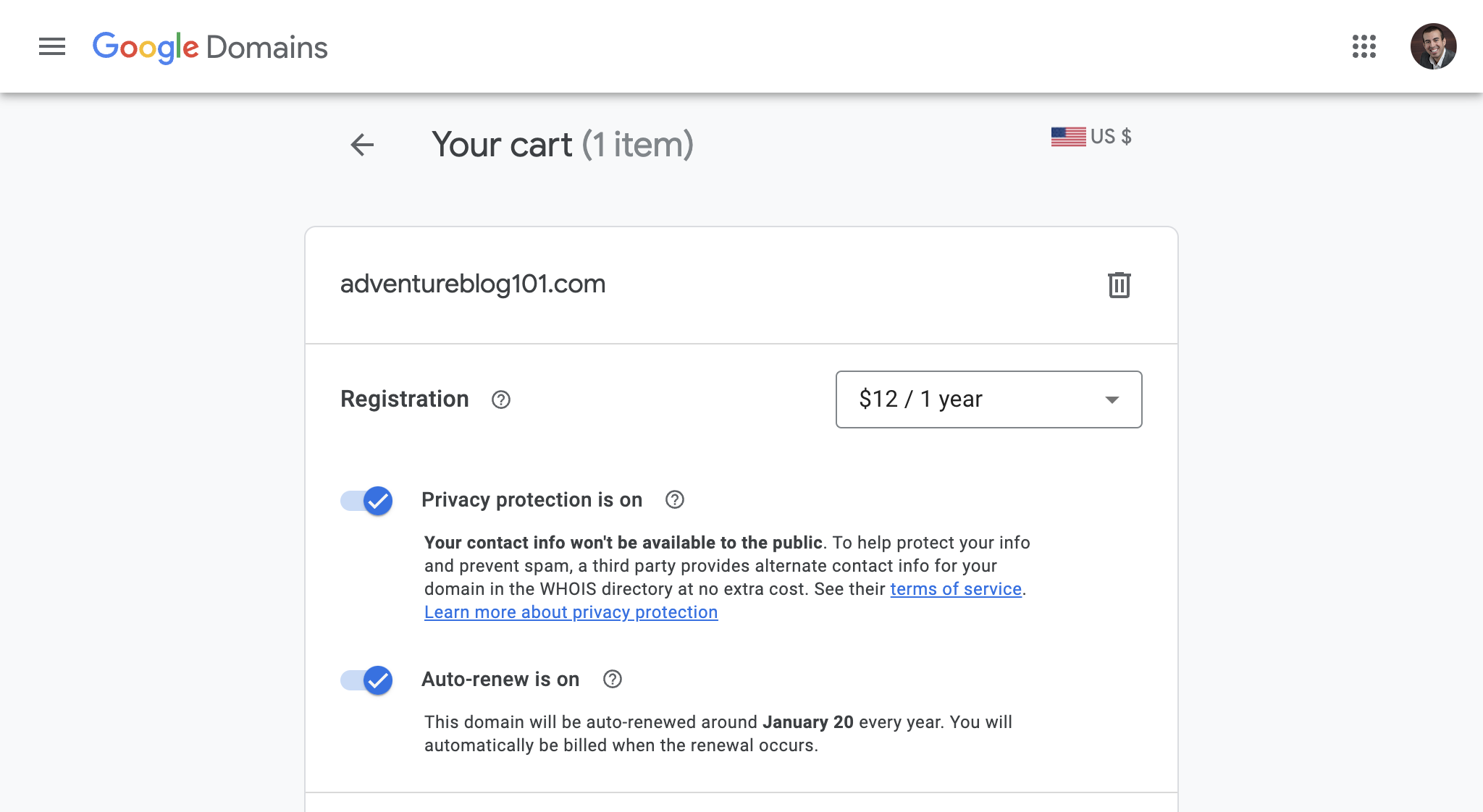 After these steps (setting up your Ghost site and securing a domain), you can set the technical aside and give your full attention to the fun part — writing blog posts and creating content!
Content strategy 101: Exactly what to write on your new blog
I love content strategy. I think it's incredible how writers can create helpful, thoughtful, beautiful articles and then get them shown to thousands, if not millions, of people through the internet. And so many of the tactics that go into making this happen are just brilliant.
It's a game, a competition, and an art.
You can get amazing results without ever needing to become an expert. Trust me, the essentials matter most, and those are what we're going to focus on in this part. I've simplified my best advice into a handful of principles you can use to guide your writing.
If you'd like a more comprehensive overview, subscribe to this blog. I write about these topics (and how they're changing) often, so if you're serious about developing a blogging skillset, join the newsletter.
The 5 principles of successful content
Forget about niche. Choose 2-3 related topics (e.g., I currently use writing skills, writing jobs, and writing tips as mine), and write your way forward. The best niches are developed, not discovered.
Every article should answer a question. This can change once you get past 100 published posts, but in the beginning, position each piece of content as answering some specific topic-related question.
Keywords are guides, not laws. Did you know that every day on Google, 15% of the searches have never happened before? That means hundreds of millions of questions are being asked that have no good answer. Keyword research can help you write what people are already searching for, but curiosity will help you write what no one else can.
Quality trumps length. Your article could be 500 words or 2,000+ words, as long as it gives people what they're looking for in a well-written package.
Monetize your byproducts. Turning a blog into an income source is powerful. But, you should do so in a way that doesn't add to your workload – otherwise, you're just creating yourself a job, not a freedom business. Look at what you already do and already have (byproducts) and turn those into products to sell.
How I plan 12 months of content in 1 hour
Start by typing in a single topic-related term in Ahrefs' Keyword explorer (e.g., I would use "writing"). For this example, let's use "pizza."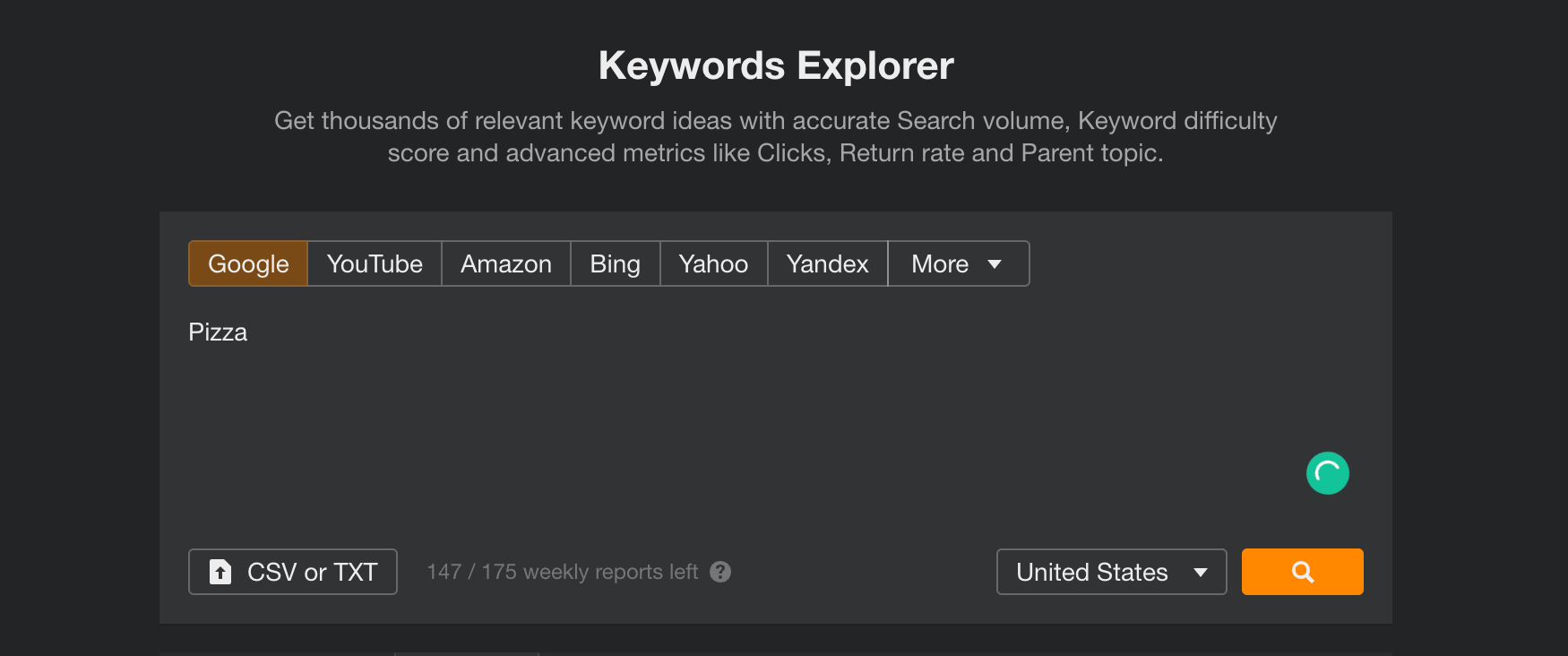 On the overview page, you'll see a section titled Questions. Click to view all. Export the first 300 questions. Although there are duplicates, you should have more than enough content ideas to write 1-2 articles a week for an entire year.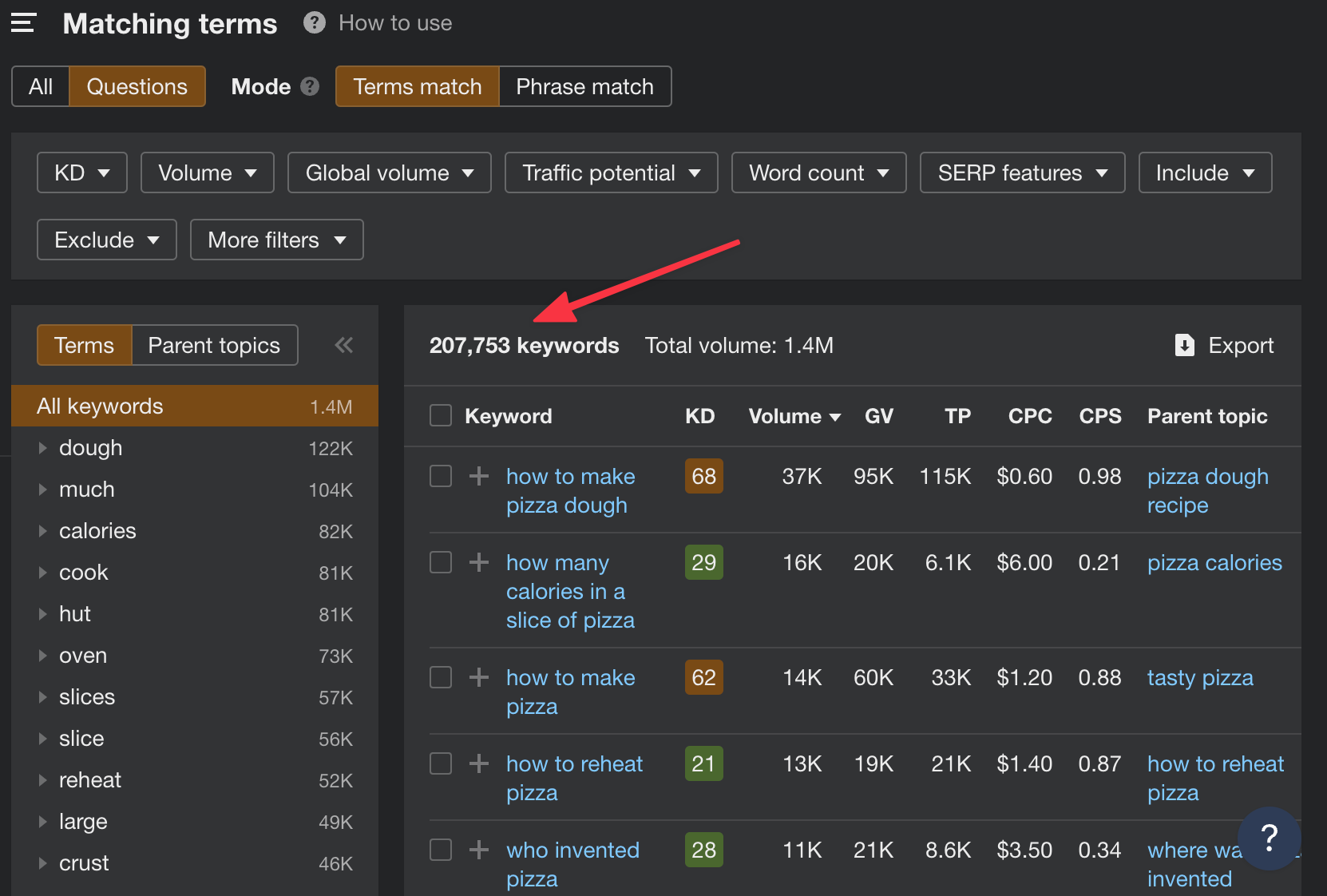 Yes, there is (a lot) more to content strategy than this, but it's easier to steer a car in motion. And if you can get 50-100 of these questions answered on your blog, you'll be miles ahead of most people.
What's next?
That's easy — go take action on the steps listed above. If you have, and you're ready to learn more, subscribe to this blog. Every month I share insights from my work as a professional writer and blogger.
I honestly believe there's a better way to start a blog and make money online than what most people are aware of. The goal of my work is to help people like you discover it so that you can succeed on your own terms.