13 Gifts for writers they'll actually love
Let me help you take the stress out of shopping.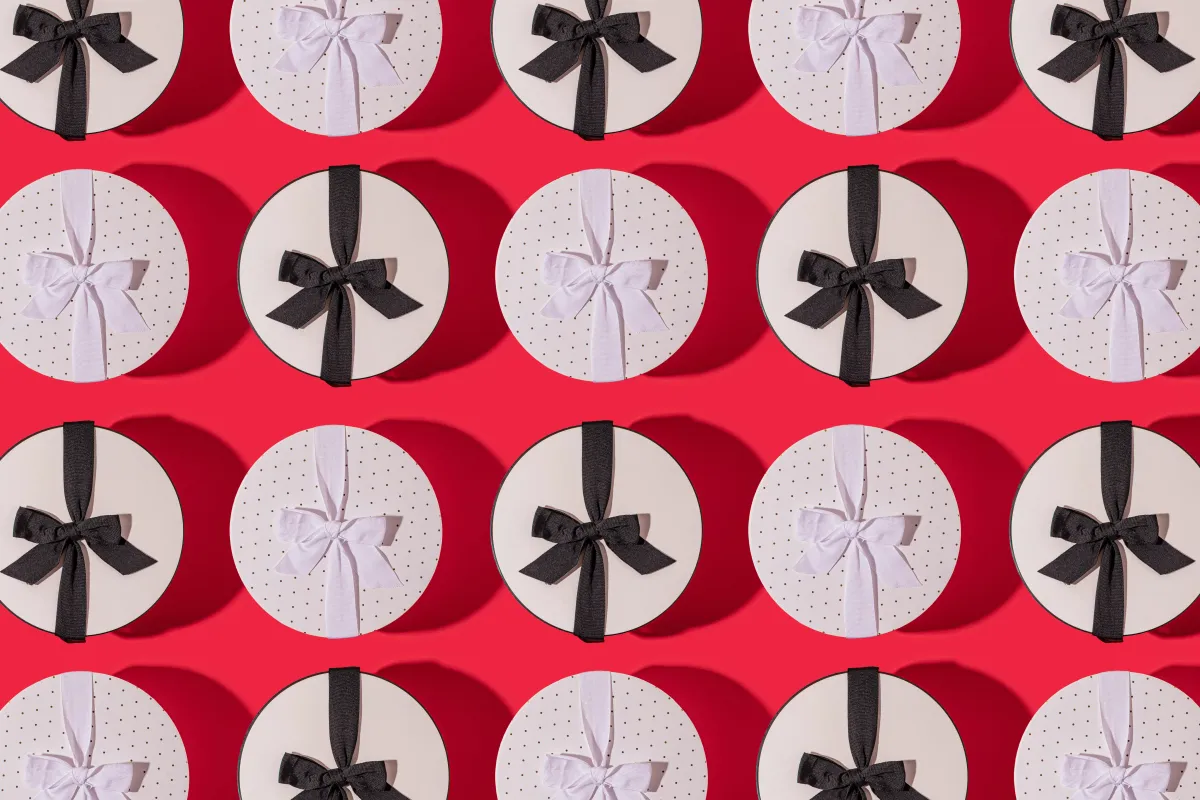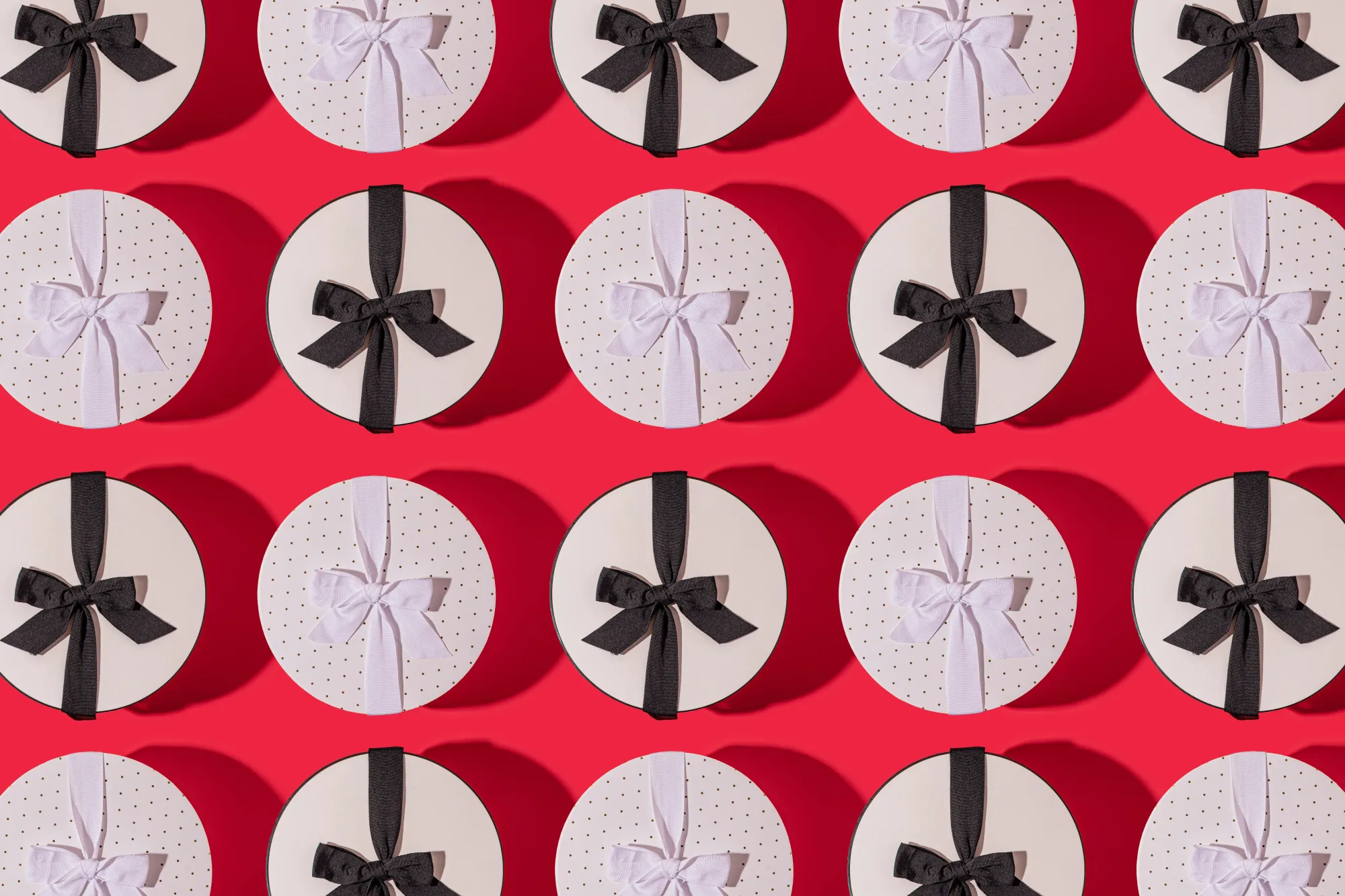 🎁
I update this list regularly. Go ahead and bookmark this page so that you can easily find gifts for any occasion for your favorite writer!
My wife's love language is gift-giving. Our first date was a week before Christmas and when I picked her up, in her hand was a pristinely wrapped book. It was love at first sight.
Nearly 10 years later, I wanted to write this guide to help those with writers in their lives find the best gifts possible (for any season). I know, firsthand, that us literary types can be a bit difficult to buy for sometimes!
So, let me help you find the right present for the wordsmith in your life.
💡
As a reader-supported publication, when you buy through links on our site, we may earn an affiliate commission. Thank you!
Books on interesting topics
Let's go ahead and get the most obvious gift idea out of the way first: books! Pretty much every writer I know obsesses over their home library.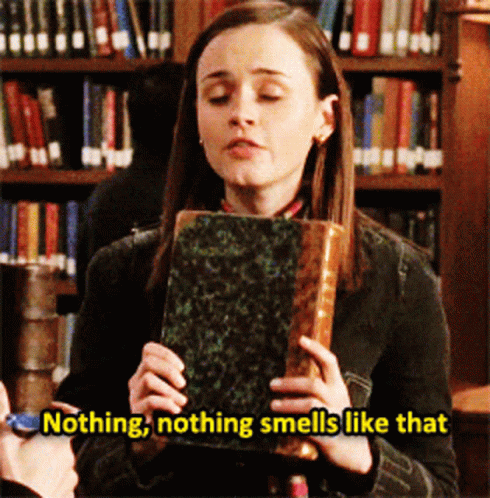 In many ways, it's an extension of themselves, and the benefit of having the right book within reach during an intense writing session is a luxury that goes beyond words.
To help you find great books, there are two resources you should start with.
First is my personal guide to finding good books. It includes a chart with 30+ categories (everything from artificial intelligence to stoicism is covered), each recommending 5-10 highly rated books.
Second is the Amazon Charts page which highlights the most sold and most read books in both fiction and nonfiction. I prefer these charts over the traditional ones (New York Times, WSJ); the latter being little more than a publicity channel. I much prefer seeing what people are actually buying and reading.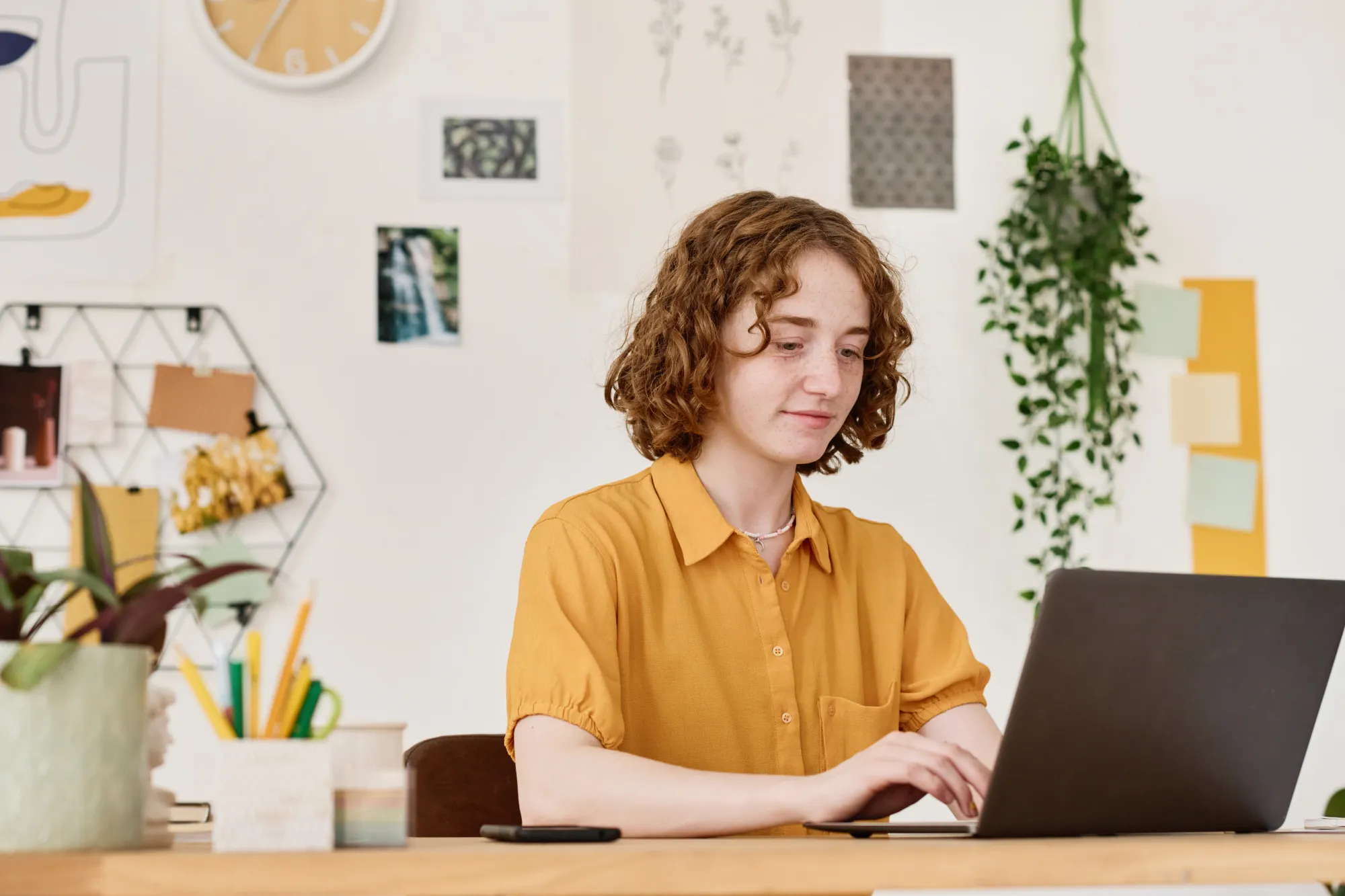 Comfortable home office chair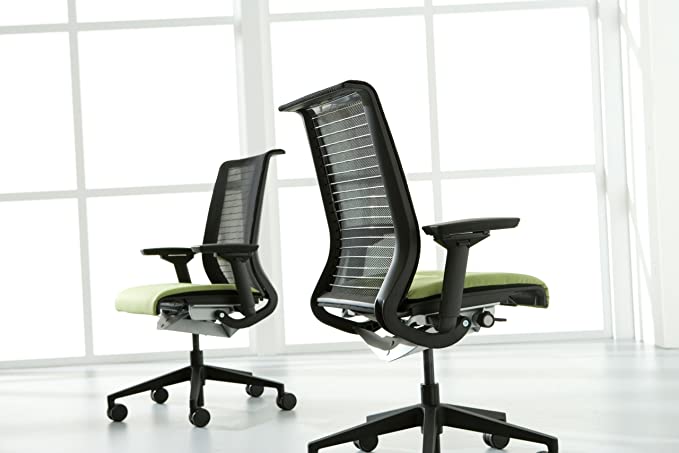 My pick: Steelcase Think Chair
Steelcase is an American company that makes premium office equipment and supplies. This chair is one of their flagship products and the result of years of research and development.
See price on Amazon
I have a standing desk but I only use the raised format for meetings and light administrative work. All of the serious writing work has to be done while seated. There's actually research to support that our brains are more creative when our bodies are more relaxed.
That being said, I spent a solid 18 months searching for the right home office chair. I watched hundreds of YouTube videos, visited dozens of stores, and sat in approximately 50 chairs (a few I took home and spent extended time with).
The winner, by a significant margin, was the Think chair by Steelcase. It's adjustable, customizable, and incredibly supportive. I can easily spend hours working on a project without needing to constantly shift my weight so that my back, legs, or neck don't hurt.
I'm 5'10" and love it, but even my wife, who's only 5'2" will occasionally borrow (aka sneak it out of my office) it when she has back-to-back meetings. So, if it's time for a chair upgrade, give this option a serious look.
Smooth, reliable pens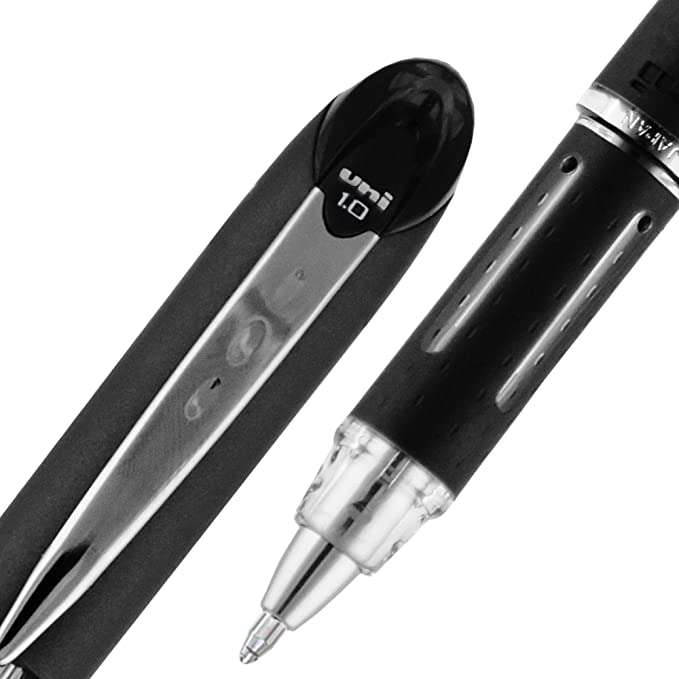 My pick: Uni-Ball Jetstream Ballpoint Pens
The difference between a good pen and a great pen is how it impacts your workflow. These writing utensils are second to none, and come in a variety of styles depending on your need.
See price on Amazon
Writers do a lot of writing — not just on their computers but also in notebooks, on sticky notes, and so on. My desk is often littered with papers related to my current portfolio of projects.
And when I'm in the zone and trying to get things done, the last thing I want to deal with is an inconsistent pen. Most cheap pens result in blotchy ink which gets on everything. They also break easily and feel flimsy.
Enter Jetstream. An old boss recommended me these pens out of the blue one day and I haven't bought another brand since (for about 7 years now). They come in an assortment of tip sizes, colors, and point types. My favorite is the ballpoint (because of smoothness), 1.0 (thick, but not excessive), black ink (classic) pen.  
I also recommend getting the ones with the removal cap instead of the twist or click ones because they have a little more weight to them which gives a really nice, solid feeling while writing.
Candles for book lovers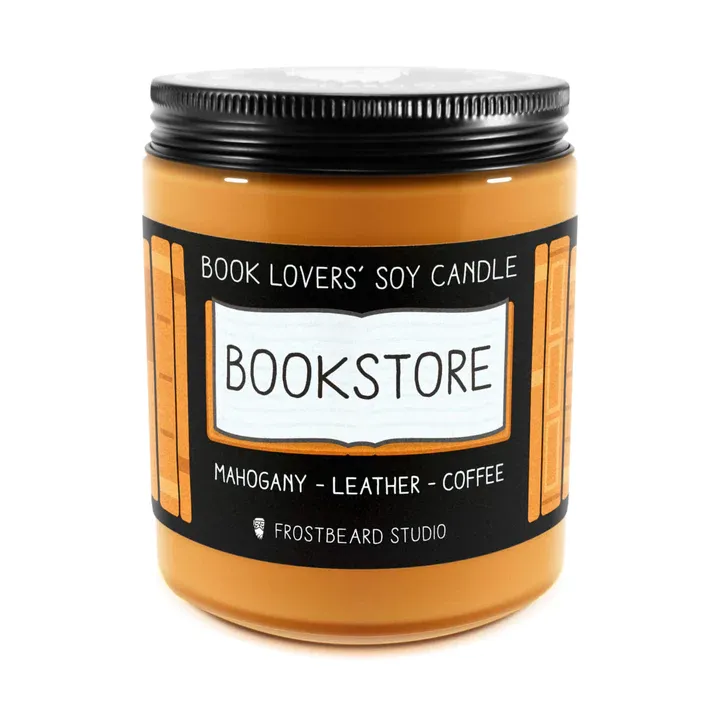 Book-Themed Candles
Frostbeard Studio is owned by a creative married couple who are as in love with books as their customers! They've built an incredible small business by delivering scents that aren't available anywhere else.
Get 10% off at Frostbeard Studio
I'm a candle aficionado. Every season has a scent in our home: Autumn has apple pumpkin, fresh balsam in winter, eucalyptus for spring, and citrus coconut throughout the summer.
But in my writing space, I often go for something a little cozier. A scent that can help me focus on my work and block out the distractions around me. For me, those scents are book related and only one company does them extremely well.
Frostbeard Studio has a library of scents any book lover will smile at. A few of my favorites include:
Oxford Library
Old Books
Rainy Day Reads
The Old Forest.
They release new aromas regularly and typically put together a few sample pack options throughout the year so that newcomers can give them a test and discover their favorites.
This is absolutely one of my favorite gift options on this list!
Cozy writing blanket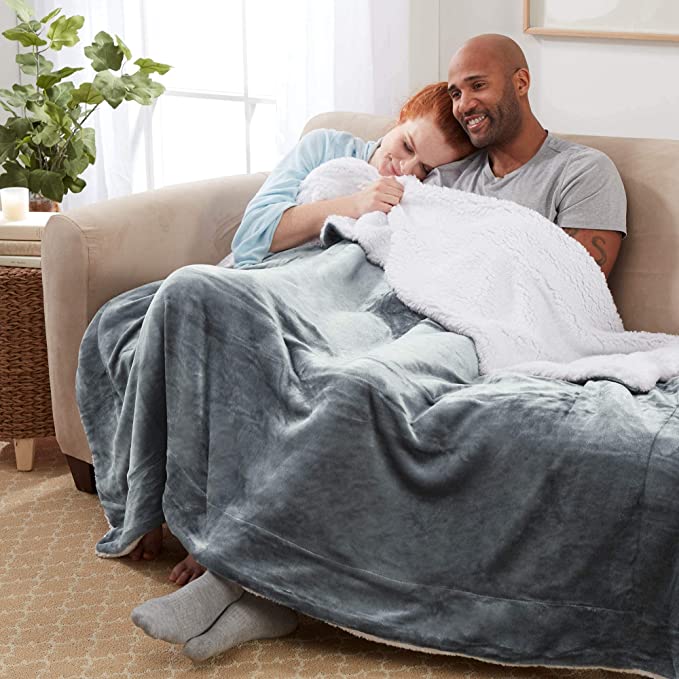 My pick: Genteele Sherpa Blanket
This blanket is the perfect compliment to early morning writing sessions (and cozy afternoon reading binges of course!). Soft, durable, affordable, and plenty of color options to choose from.
See price on Amazon
A lot of writers, like myself, have had to balance their projects alongside full-time jobs and busy schedules. That means we must etch out words during the early morning hours or late at night after everyone else has gone to bed.
During these writing sessions, I love to cuddle up with a nice blanket. It's just one more element that makes me feel like I'm entering my "writing space." Plus, this particular recommendation looks great, so you can fold it up and leave it out without causing an eyesore.  
Minimalist desk organizer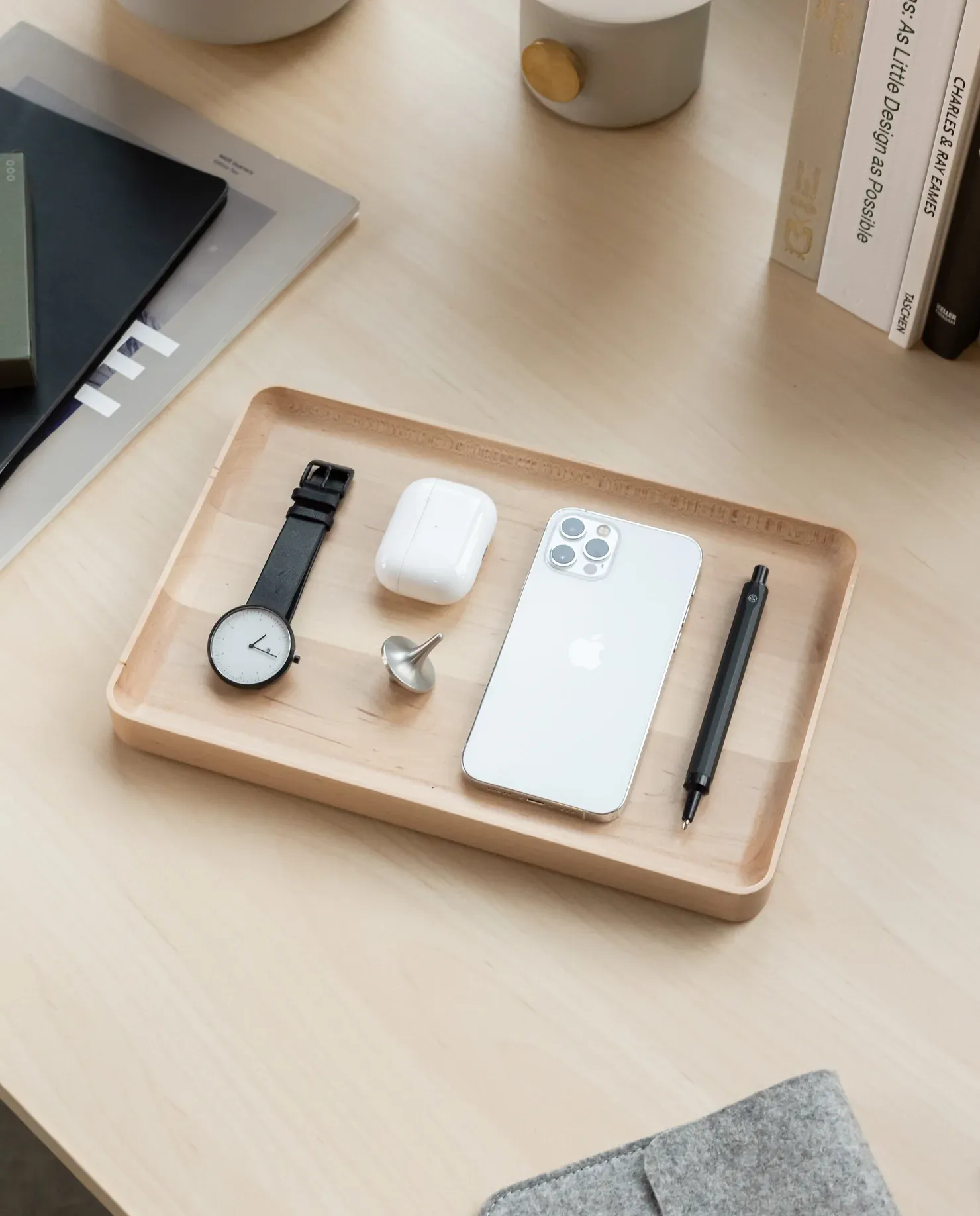 Valet Tray by Ugmonk
It's possible to have a lot on your desk without it feeling like a mess. You just need the right components to make every item feel like it has a purpose and place. The items designed by Jeff Sheldon do just that.
Visit Ugmonk Workspace Collection
Ugmonk is one of my all-time favorite companies. What began as a premium t-shirt design shop has since transitioned into one of the most in-demand home office suppliers for remote workers.
The owner, Jeff Sheldon, is a master at his craft. And as a person who uses every item he designs, the desk accessories are as functional as they are beautiful. This particular item is perfect for giving those scattered remnants a more orderly look so that every time you sit at your desk, your mind is clear and ready to work.
Noise-canceling headphones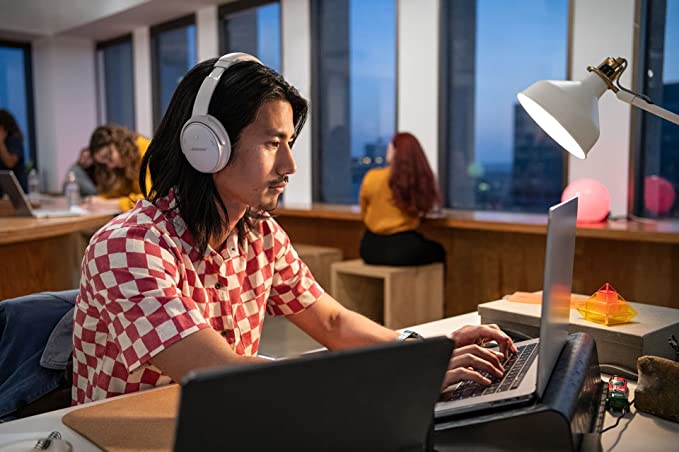 My pick: Bose QuietComfort 45
Over-ear headphones have come a long way in the last few decades. They're now more comfortable than ever with a sound quality that rivals the most expensive sound systems available.
See price on Amazon
Deep work is quintessential to a successful writer's career. Depending on where you live and who you live with, getting the time, space, and quiet needed for deep work may be a challenge.
Enter my favorite pair of noise-canceling headphones: the Bose QC 45. My wife and I live in a fairly quiet neighborhood, but there are occasional distractions: her meeting calls (since she also works from home), construction or yardwork at neighbors' houses, random sirens or cars with loud stereos, etc.
I settled on this particular pair after doing an inordinate amount of research (like always), and I have to say — they've surpassed every expectation. We even bought a second pair for my wife to use. If you're looking for the right tool to help you get in the zone quickly and easily, look no further.
Dedicated reading chair
My pick: JustRoomy Accent Chair
Different chairs serve different purposes. While your primary chair should help you work at a computer, you'll need something like this if you want to log a few good reading hours each day.
See price on Amazon
Having two chairs in your home office may come across as a bit boujee in some circles, but I guarantee any writer in your life will thank you.
For me,  a good reading chair is fundamentally different than a good writing chair. It needs to be comfortable, but not so much so that I'm fighting to stay awake every time I sit down. It also needs appropriately-sized armrests and a footstool of some sort.
The linked chair above is an excellent, affordable, stylish option that checks all of the boxes. The darker color tones also work incredibly well in most spaces, so that the chair kind of fades into the background when you're not using it.
Post-it notes for desk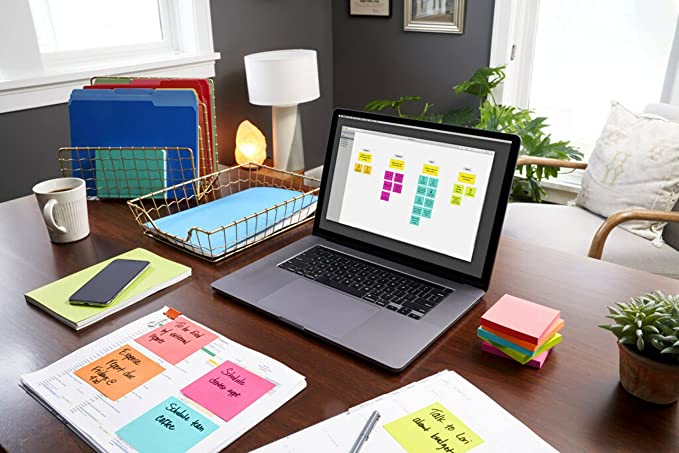 Post-it Mini Notes
Perfectly sized at about half the dimensions of a standard post-it, this desk accessory is the perfect compliment to a digital to-do list so that you can stay atop all of your most important tasks.
See price on Amazon
Even as a person who does 95% of their work on a computer, I still love tangible, analog tools. I keep the majority of my tasks organized in software tools like Notion and Google Calendar. But I also like to break down daily duties or one-off special assignments onto these small sticky notes.
Then, at the end of each day when I've finished my work, I gather them, crinkle them up, and toss them out. It's a very satisfying ritual to signify that work is complete.
Solid journal for notetaking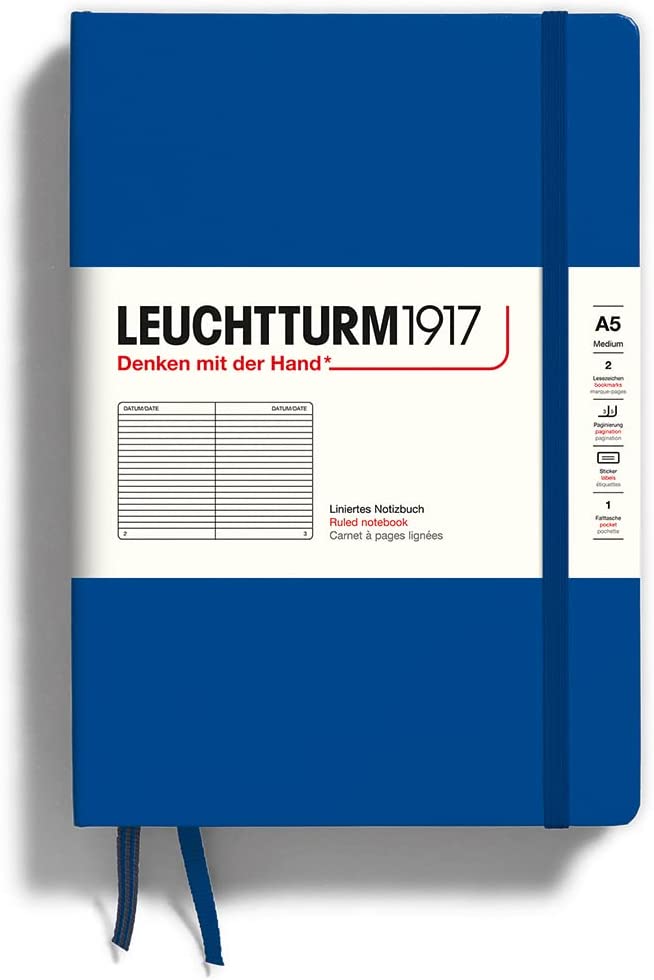 My pick: Leuchtturm Medium Notebook
When it comes to notebook and paper quality, you absolutely get what you pay for. This option comes with a pristine cover, paper with just-the-right thickness, and a library of colors to choose from.
See price on Amazon
Just like every writer I know has a mountain of books to read, they also tend to have a mountain of journals their working through. These can be used for a plethora of reasons: from capturing ideas from your latest read to scribbling diagrams about your work to freewriting your way through a roadblock.
I jump between a few different notebook types depending on the project, but this particular brand and style is one of my constant go-to's. The solid feel makes it a great travel companion. The paper also comes in different styles (lined, dotted, graph, or blank). I usually buy the lined or dotted versions since it helps my doctor-sized handwriting inch a bit closer toward readability.
Kindle Paperwhite + Unlimited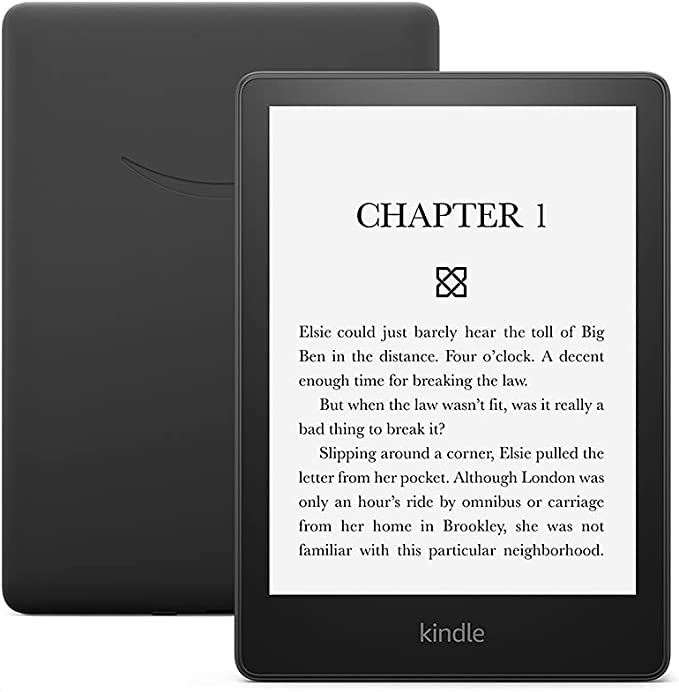 Kindle Paperwhite
No other ereader comes close to the quality and consistency of Kindle products. Plus, when you pair this with an Unlimited subscription, you gain access to the most interesting and accessible library in the world.
Exclusively on Amazon
A few years ago I met a person who bought two versions of nearly every book they wanted: the physical one for their shelves and the digital one for their Kindle. I thought the duplication was a bit weird until I tried it for myself. Now, I'm a believer.
As a non-fiction writer, most of my content requires research and revisiting texts multiple times. With physical books, I love marking them up, adding sticky notes, and highlighting frequently. With ebooks, you can do the same things BUT you can also search the entire text — which can feel like a miracle when you're up against a deadline and trying to find that one sentence you remember seeing.
Today, roughly 50% of my books are owned in both formats and I believe this trend will grow as more writers see the utility of it (and more people turn their home libraries into digital collections).
Plus, if you opt for a Kindle Unlimited subscription, you can try a massive amount of books for pennies on the dollar. Then, only buy the physical versions of the ones you love.
Simple desk timer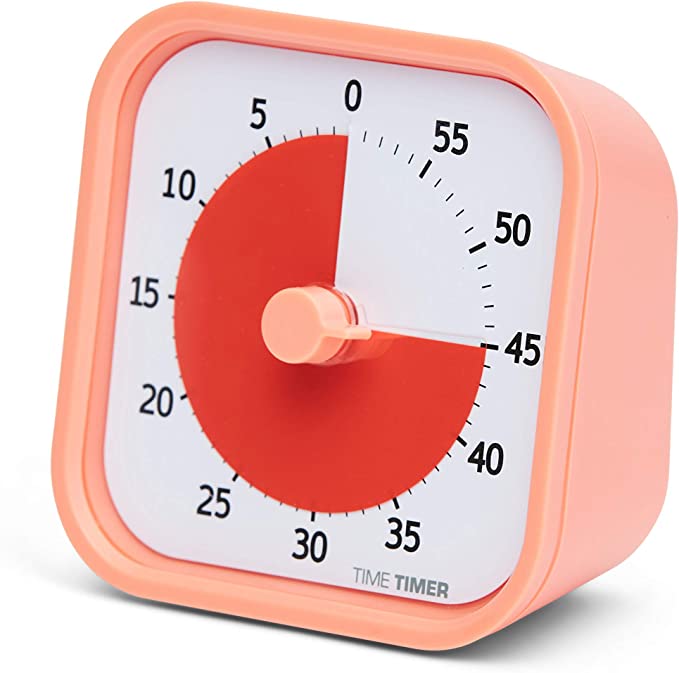 My pick: Home Mod Visual Timer
This simple battery-run timer is a great compliment to a clean desk when you want to focus on a project without the distractions of notifications, beeps, and chimes.
See price on Amazon
It's becoming common knowledge that you should keep your phone in your bedroom if you want the best sleep possible. Well, I'm starting to believe the same is true about our work. It's nearly impossible to get into a quality rhythm when a smartphone is constantly within reach and buzzing for attention.
We stumbled upon this find when my wife wanted a new timer option that didn't require her to rely on her phone. The simplicity of it immediately won us over. There are other, more high-tech visual timers on the market. But it all depends on what you're looking for and how much you're willing to spend. For us, this Home Mod item was the perfect solution.
Wall calendar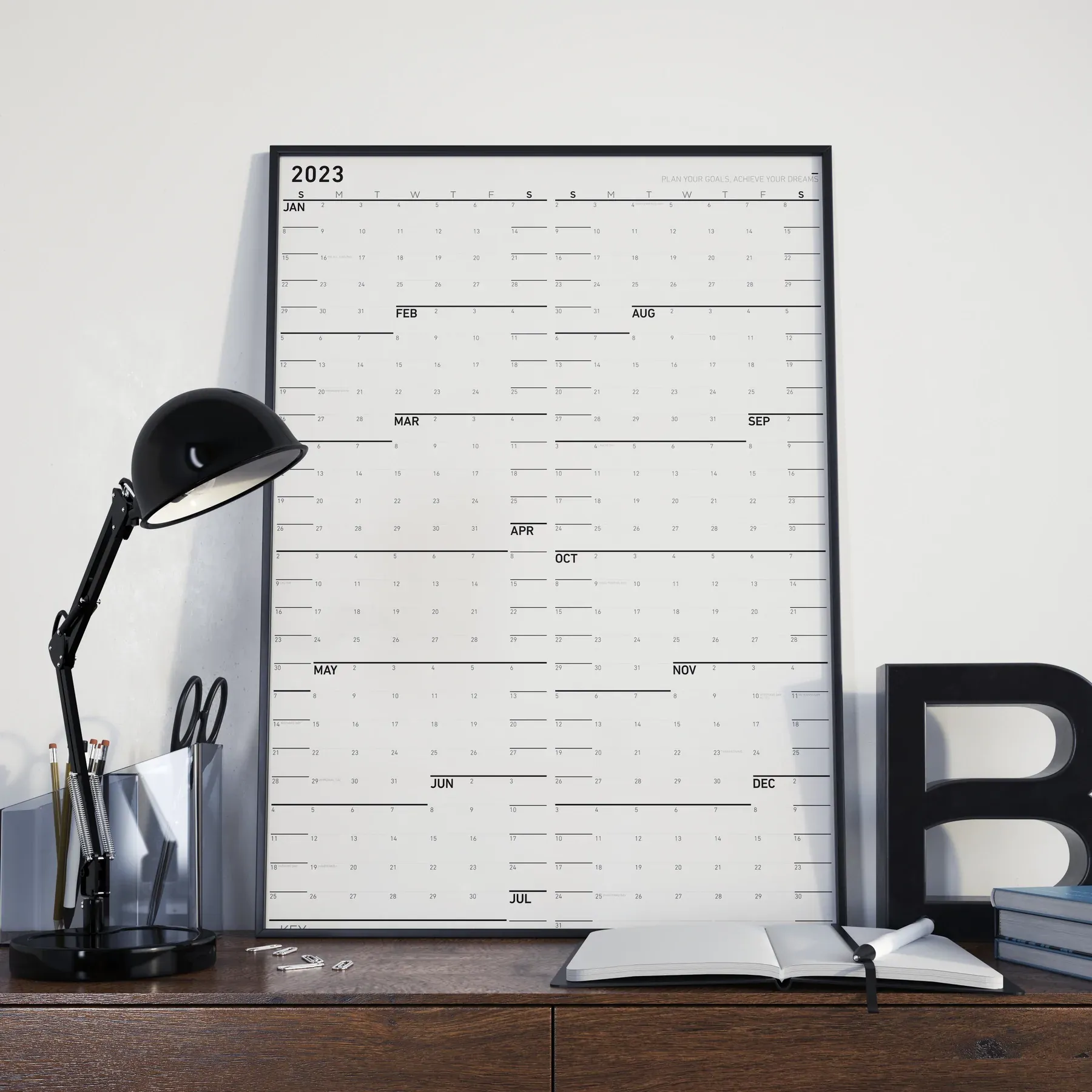 Sunday Monochrome Wall Calendar
NeuYear got its start as a Kickstarter in 2011 and has since grown into an incredible productivity resource company. Their flagship calendars are a must-have for every serious writer.
Exclusively on NeuYear.net
Organization is the bane of existence for many creatives. But I think that's mostly do to how dry the process of becoming organized actually is. When the right tools are brought into the mix, suddenly the task becomes much more enjoyable.
That was my experience when I first purchased a NeuYear calendar in 2017 (and have continued to do so every year since). Their style produces a minimal yet efficient accessory that keeps me on track for my daily, monthly, and quarterly goals.
The calendars come in both dry erase and standard paper options, and some are reversible with vertical and horizontal arrangements available depending on your desired setup.
---
There you have it! My current list of gift ideas for writers of all types.
As I mentioned at the start of this article, I update this post regularly — pretty much every time I come across something really cool or hear something new mentioned in one of my writer groups.
If you have any questions about the items above, feel free to send me a message on Twitter. Good luck shopping!