The 5 best day trading books (To help you make $1,280/day)
If you're ready to make serious money on the market, start here.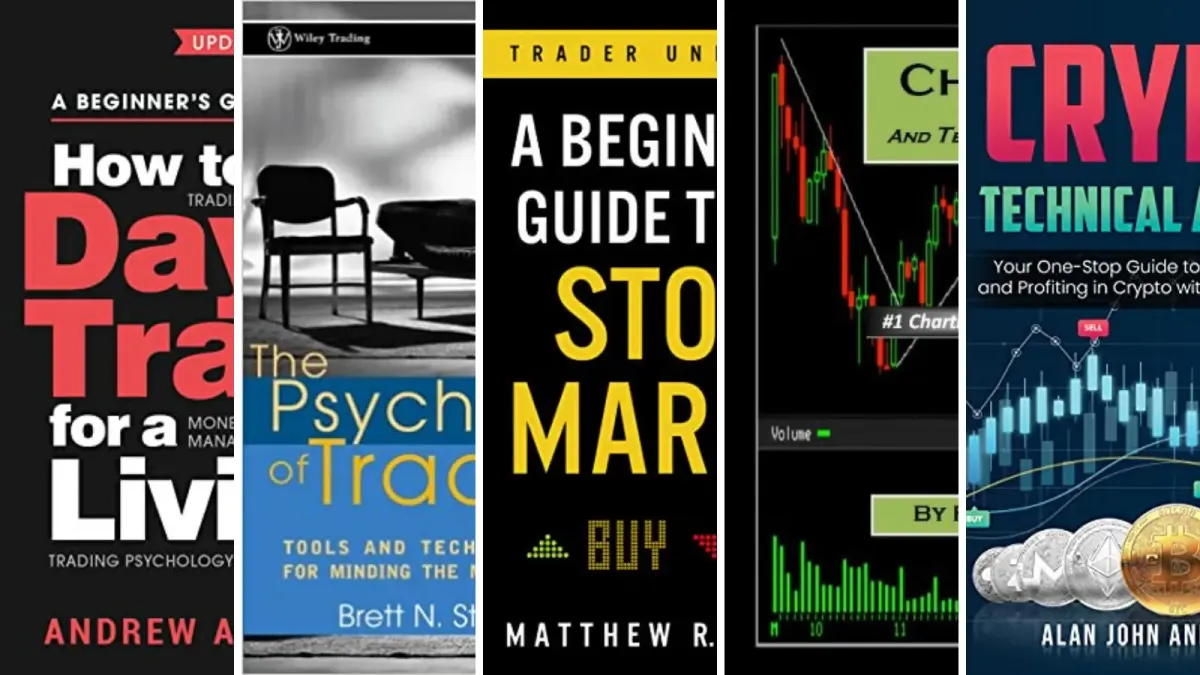 If day trading were a person, its friends would call it: risky, strategic, and quick-moving. Sounds like a good friend to have, right? Many people think so, thanks to success stories like these.
Proven success in the trading world has inspired droves of budding investors to go full force into day trading. Some feel confident they can quit their 9 to 5 with a few key investments, and others have no idea where to even begin.
No matter where you fall on that spectrum, our best piece of advice is: read about it. Learn as much as possible about the financial world before making your first trade, and what better way is there to learn than through books?
Before we dive into our listing of the best day trading books, it seems only natural that we (quickly) break down what day trading is and how it works.
What Is day trading?
When someone calls themselves a day trader or says they are day trading, it means they are purchasing and selling securities within a single day. The most commonly day-traded instruments are traditional stocks, cryptocurrencies, and foreign exchange (forex).
Is day trading lucrative?
Day trading can become a lucrative money-making method if you do it correctly. Trades are strategically made within very tight time intervals to capitalize on a slight price movement.
For example, you may buy $1,000 worth of Tesla stock due to a short-term market event, and then sell that Tesla stock 1-5 minutes later to make a gain. Then, you'd likely put your investment (plus gain) back into Tesla moments later — rinse and repeat.
We won't lie to you; day trading is full of risks. But the rewards can be substantial!
When do the markets open?
For stocks, the trading period starts when the market opens for the day and ends when the market closes for the day. You'll have only a select window of time to make any buys or sells. The two major US stock exchanges are located on the East Coast, and they operate from Monday through Friday, 9:30 a.m. to 4 p.m. EST.
Since forex is an international currency exchange market, it operates on a global time scale. According to their website, this is the best time to trade on forex.
Crypto doesn't rely on any trading period, which means you can buy and sell cryptocurrency at any hour of the day or night. There is no market open and close for crypto.
Top 5 day trading books
You've whetted your appetite for day trading, but you want to learn more about it. Well, pour yourself a cup of coffee and get ready to read. These are our picks for the five best day trading books. Be sure to add at least one of these to your library!
A Beginner's Guide to the Stock Market
Never buy a growth stock if the stock is trading below its 200-day moving average, or if the 50-day moving average is trading below the 200-day moving average. — Matthew Kratter
This book promises to teach you how the stock market really works. According to the book description, you will learn:
The best place to open a brokerage account
How to buy your first stock
How to generate passive income
How to trade momentum stocks
Insider tricks
The one thing you should never do when buying value stocks (don't start investing until you read this)
How to pick stocks like Warren Buffett
How to create a secure financial future
The author has used the strategies and tips in his book to trade and invest for 20 years. Readers love this resource for its conciseness and quick, easy-to-understand explanations.
How to Day Trade for a Living
The stocks that are gapping significantly up or down are going to be the stocks that retail traders are watching. — Andrew Aziz
In this day trading book, Andrew describes
How day trading is different from other styles of trading and investment
ABCD Pattern Trading
Bull Flag Momentum Trading
Top Reversal Trading
Bottom Reversal Trading
Moving Average Trend Trading
VWAP Trading
Support and Resistance Trading
Readers describe this book as an excellent resource that's great for beginners and intermediate traders.
Charting and Technical Analysis
After you first determine the primary trend, and it is advancing, then you can wait for a pullback (secondary trend) to buy your investment. — Fred McAllen
If you want to hear a technical approach to investing, then grab this day trading book from Fred McAllen. He breaks down the technical side of charting, trading, and analysis, along with a few key points:
Know when to invest
Recognize market tops & bottoms
Win while others lose (this is key!)
At 275 pages, this is an in-depth read that is considered a must-have for people looking to make 6-figures or more in the market.
The Psychology of Trading
When a trader loses a good portion of capital on a botched trade, it is not so much the dollars-and-cents impact that becomes depressing, as it is the loss of hope that one can ever recoup. — Brett Steenbarger
Psychology and investing have a unique connection, as proposed by Steenbarger in his trading book. Themes that make this such a unique read include:
Trading from the couch by utilizing emotions as valuable market data
Identifying hidden trading expertise
Understanding what triggers emotions in the market
Methods for building focus and concentration for more automatic and trustworthy trading decisions
Learn how to exit anxious or depressed frames of mind quickly
This book offers just as much education on human emotions and mentality as it does day trading, making critics and readers rave. Don't forget that winning in the market requires more than technical expertise.
Crypto Technical Analysis
Generally speaking, the more reward there is, the more risk there is. So, investing in cryptocurrencies is not risk-free. — Alan John and Jon Law
Crypto beginners and intermediates may find this trading book incredibly useful, as it breaks down need-to-know topics from a technical perspective. Expect to dive into:
Technical analysis (charts, indicators, oscillators)
Fundamental analysis (utility, value, various project metrics)
Hype trading (sourcing trends, trading on hype, etc.)
General coin and token analysis
Algorithmic trading
According to reviews, this read does an excellent job unraveling the crypto concept with detailed explanations and graphics. Plus, with more and more attention heading towards this space, the gains are poised to be legendary for smart traders.
Don't wait to get started
Day trading promises riches from the surface, but underneath the glamour lies real risk. While it's possible to make a gain on your timed-to-the-minute investment, don't take dabbling in it lightly.
Research, research, and then research more! The best traders educate themselves, whether by learning from others, experience, or the written word. So, which day trading book will you be adding to your reading list today?