The 5 best spiritual books (According to an exvangelical)
These resources will help you take the next step in your journey.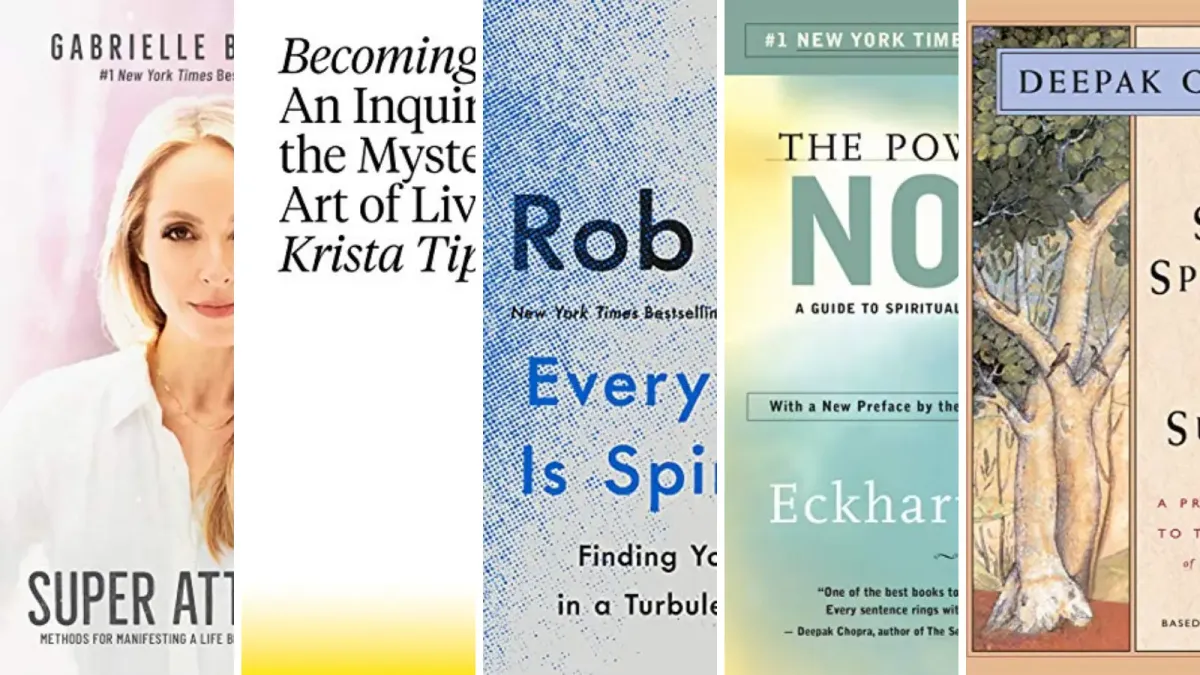 I grew up in a deeply religious household. My great grandfather, on my mother's side, was a Christian pastor. That legacy was passed down, and spirituality became a non-negotiable part of our family's life.
As I grew older, I started to push back against my upbringing. I didn't want to just accept the belief systems I had been handed. Instead, I needed to craft my own from the ground up. I began studying world religions, philosophy, and even graduated from seminary on a quest to understand my own spirituality.
Along the way, I encountered an incredible treasure trove of ideas, some of which altered the course of my life forever. Below is a short list of books containing the ideas that helped me get to where I am today: in a spiritually confident place filled with gratitude and openness.
I hope, in some small way, this list can help you do the same.
Everything is Spiritual by Rob Bell
Curiosity disrupts despair. — Rob Bell
Rob Bell is a mega-church pastor turned indie spiritualist. I've been a fan of his work since he first started raising eyebrows in conservative circles for questioning traditional interpretations of hell and marriage. Today, he spends his days podcasting and speaking (not in churches) about what it means to be human.
This book is part memoir, part how-to guide on developing your own unique color of spirituality. It chronicles Bell's journey from leaving the church to the new path he's on now.
A few of the big ideas in this book include the interconnectedness of everything, the relationship between the universal and the particular (form vs. spirit), and why life is about participation. I highly recommend this book, especially for those who may be in a deconstruction phase at the moment.
Becoming Wise by Krista Tippett
Taking in the good, whenever and wherever we find it, gives us new eyes for seeing and living. — Krista Tippett
I first discovered Krista Tippett through her podcast, On Being, where she interviews the most remarkable thinkers from various industries and boils down their ideas into practical takeaways. What makes me enjoy her work so much is that she's able to combine beauty and tactics to create something unique. Imagine getting a how-to manual with a new electronic you've purchased, but once you open it, instead of seeing boring blocks of text, you see beautiful illustrations explaining exactly what steps to take — that's a bit what her work is like.
And so, her book is a reflection of this. Becoming Wise is part manual, part reference resource, and part poetry. It's organized into themes such as words, flesh, and love, and each part provides the reader with questions, insights, and actionable next steps.
Tippett's work is not something you rush through. Rather, it's something you sit with. This book is a solid recommendation for those who enjoy self-help but are more fueled by fulfillment than accomplishment (and are willing to take some time getting there).
Super Attractor by Gabrielle Bernstein
This or something better. — Gabrielle Bernstein
We want to think that it will take decades of recovery to change our beliefs. But, "A belief is just a thought you keep thinking." When you choose a new thought, a shift will occur.
The Law of Attraction became a global sensation thanks to works like The Secret. But with that, a lot of lousy teaching (and bad actors) spread as well, giving the philosophy a poor name it didn't deserve. Gabby Bernstein is, in her own way, resurrecting the positives of this movement and bringing spirituality back into the public eye in a good way.
Bernstein is a prolific author and excellent communicator, which is refreshing since many spirituality books can feel burdensome to read (even as a person who has read hundreds of them!).
This book is aimed at readers who are already somewhat familiar with the basics of the Law of Attraction. If you're not, I'd recommend starting with The Universe Has Your Back, as this will give you a great foundation. Super Attractor is a practice-focused resource that aims to challenge those who have already begun their spiritual journeys to reach what's next. This recommendation is perfect for those feeling stagnant in their lives.
The Power of Now by Eckhart Tolle
It is not uncommon for people to spend their whole life waiting to start living. — Eckhart Tolle
To be honest, I really did not want to like this book. It was hyped to the max, appearing on every list imaginable. Plus, for as brilliant as Tolle is, he does come off a little strange. 😅
But alas, I grabbed a copy during one of the most challenging periods in my life, and it felt like a cool drink on a hot summer day. The ideas are simple: learning to be present, feeling your body, keeping your mind from wandering, learning to move with your emotions instead of fighting them. Nevertheless, the way in which they're communicated is nothing short of transformative.
Another aspect I liked about this particular book is that it is divided into very short, digestible chapters, making it read very quickly. If you wanted, you could treat it like a daily devotional and read a chapter in less than 5 minutes every morning. However you choose to approach it, this is one title I think every person, spiritual or otherwise, should read at least once in their lifetime.
The Seven Spiritual Laws of Success by Deepak Chopra
Least effort is expended when our actions are motivated by love, because nature is held together by the energy of love. — Deepak Chopra
When I was doing research for this article, I fully thought this book would predate the other titles mentioned by at least fifty years. Imagine my surprise when I discovered it was originally published in 1994! My reason for thinking it was so much older is because of its classic feel.
Despite being a little denser of a read, the ideas inside have laid the groundwork for popular spirituality ever since it was released. Deepak Chopra brings an almost scientific approach to the spiritual, which makes his writing trustworthy in a way many books in this genre aren't.
The seven laws include treatises on giving, effort, desire, and purpose. Although it's a short book (most editions sit around 100 pages), not a single sentence is wasted. My first copy of this book was used and covered in highlights and notes — for me, that's a good sign. Like Tolle's work above, this is one title every person should read at least once.
Bonus: Outsiders by David Ramos
I saw the picture beyond the picture. — David Ramos
I wanted to close this article with a personal story. My journey from religion into spirituality has been a trying one. At some points, I wanted nothing to do with God or the universe because I felt like they were all against me. Over time, I began to heal, and so did my view of things that I couldn't quite understand. These experiences led me towards a more humanistic view of the spiritual, which poured into my final self-published book: Outsiders.
This book is a human reinterpretation of Christianity. It's simple, character-focused, and free — because I think the message is valuable enough that it should be accessible to anyone. Just wanted to drop this resource in here in case you might find it helpful.
Thank you for taking the time to read this resource and invest in your spiritual growth. I stand by each book recommended above and hope you will benefit from whichever one you choose to read next. May good things come your way as you make room for them!