The best Astrology books to start getting answers (Top 5)
Want to move forward? Start looking up.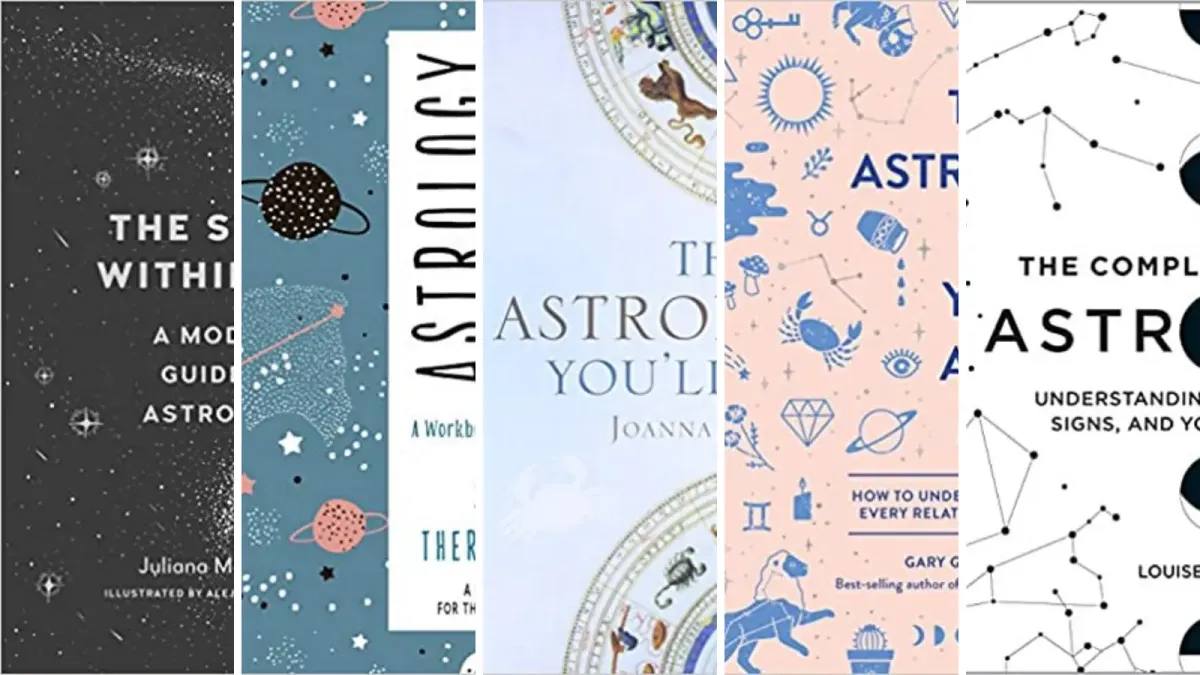 Whether you're a believer or a skeptic in the power of the cosmos, the reads on this list will help you take the next step in your understanding.
What is astrology?
In a nutshell, astrology is the study of how planets and celestial bodies influence human behavior, affairs, and personalities. It focuses on planetary movements and their positions in the cosmos, along with some asteroids.
There is so much more to astrology than just stars. For example, have you ever considered how the moon influences Earth's oceans just as it influences the water in our bodies? We'll let you sit on that thought for a moment.
Our 5 top picks
It can years of practice and studying to deepen your understanding of this topic. This list of books is a great place to start ingesting information and building your knowledge of the zodiac and beyond.
The Only Astrology Book You'll Ever Need
"In Modern terminology, the masculine signs are defined as outer-directed and strong through action. The feminine signs are self-contained and strong through inner reserves." – Joanna Woolfolk
With over 700,000 copies sold, there's a reason we added this to the list. If you are a newbie to the wonderful world of astrology, this is a great starter book. Inside the covers, you'll find information on:
Sun signs
Moon signs
Ascending signs
Planetary placements
New astronomical discoveries
History and mythology of astrology
Compatibility combinations (144 total)
Advice about money, health, romance, lifestyle, etc.
Readers consider this book well-written and easy to navigate, packed with an array of helpful information. Again, it's an excellent read for beginners since it covers the basics so thoroughly.
The Stars Within You
"The three most important elements of any chart: the sun, moon, and ascendant." – Juliana McCarthy
This book is a written and visual masterpiece. Modern illustrations accompany the text, which gives off an artistic vibe. Juliana's book offers a fresh perspective on the basics of astrology, guiding you toward a better understanding of yourself and the universe around you. You'll learn:
The art of reading energy maps
How to understand life's contradictions
The meaning of energies and how they manifest
and much more!
Flip through the pages, and you'll realize why people consider this one of the best reads on the subject. It's beautiful to look at, and the information is just as rich.
The Complete Guide to Astrology
"Natal charts are divided into 12 sectors, or pieces of the pie, and move counterclockwise." – Louise Edington
This short book will help you understand the secrets of the cosmos in only 160-ish pages. Edington does a great job of condensing information down into a quick but thorough read. This resource includes:
Introduction to the foundation and origins of astrology
Explanation of complex astrological associations (nodes, moon signs, planets, arrangements)
A non-binary approach to concepts making it more widely accessible
From the basics and beyond, we feel like you'll learn more than you expect. One reader review even said this book was so spot on that it's scary! See for yourself.
The Astrology of You and Me
"Aries is the first sign of the zodiac, representing cardinal fire and symbolizing the pure and highly intuitive energies of the sign." – Gary Goldschneider
The author takes you on a journey through the zodiac, breaking down each sign in a personality-focused fashion. Each chapter focuses on one zodiac sign at a time, giving you guidance on a variety of situations. In this astrology book, you'll find:
Information on each sign by relationship: romantic, friendship, family, work, etc.
How to bring harmony to your relationships and uncover the nature of personalities
Tactics for bringing up any subject with any connection
Readers consider it a fun pick to better understand friendships, relationships, working connections (and themselves!) all within the greater context of the cosmos.
Astrology for Real Life
"Astrology is a tool for empowerment for those who are willing to look at themselves critically and do the work." – Theresa Reed
Get ready to dive into 288 pages of sassy, no-nonsense, astrological fun. This book is presented in a workbook format, diving into a huge assortment of astrological elements:
Practical uses for astrology
Making the best choices in love, work, and life
Steps for interpreting your own birth chart with confidence
What we love so much (and why we consider this one of the best astrology books) about this read is its focus on explaining astrology to skeptics. It does a nice job of breaking down the scientific validity of this belief system and its effect on our lives.
Your answers are waiting
Everyone has a unique perspective about how the planets influence our daily lives. But whatever your interest level, any of the picks above are excellent for beginners or astro-novices.
So, what do you think? Which book will you be adding to your wish list?