The 5 best Greek mythology books (According to a Classicist)
Step into a magical, ancient world with these recommendations.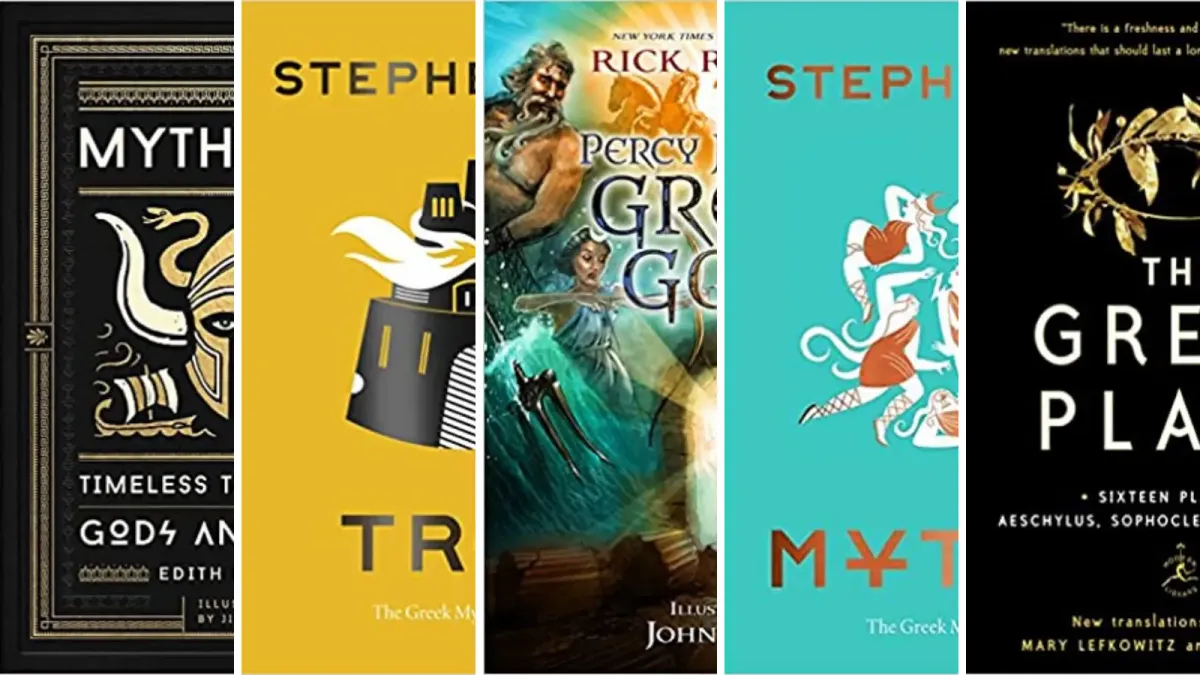 It was my second semester as a mechanical engineering major and I needed a liberal arts course to round out my schedule. I quickly scanned the list and landed on a course called The Ancient World. It sounded easy enough; a class I could breeze through (or nap in!).
But that's not what happened.
Instead, I ended up falling in love with the material. A year later, I switched my major entirely and began learning everything I could about Roman and Greek history, how they lived, what they believed (mythology), and why our modern world owes so much to them.
In this article, I'd like for you to get a taste of that passion. However, instead of recommending the proven mythology classics (which can be difficult to read, even for advanced historians), I want to share contemporary works that are sparking a love for the ancient world in a whole new generation.
Let's get started.
Mythology
Part encyclopedia, part art-book, this title is a great starting point for anyone wanting to know more about the biggest characters in Greek and Roman mythology.
It begins with explanations of the Titans and Olympians, moves into discussions of lesser gods and heroes, and closes with stories about the war legends and great houses.
I recommend this particular book because it's one of those rare examples of accessibility and comprehensiveness. You'll learn an immense amount, but enjoy the entire process!
Mythos
Whereas the first book tells you about mythology, this title completely pulls you into the world. Stephen Fry is a master storyteller and this collection shows him at his best. Exciting, emotional, epic — this book (and his subsequent ones in the series) allow you to enjoy all of the original greatness of the classics, without having to study years of history and language.
Some of my favorite parts are the maps and graphs scattered throughout that help readers visualize what's going on and how places, people, and events relate to one another. For example, seeing what the Aegean Sea looked like, how close the different communities were, and yet how big the world felt all help add a depth to Fry's stories that would otherwise be missed.
I highly recommend this book for grown-ups looking for an ancient adventure.
Troy
I almost didn't add this one to the list because it's from the same author (Stephen Fry) and from the same series (Mythos is book one, Troy is book three). But, people love this book and it's one of the best ways to encounter the Trojan War in a way that's both immersive and historically accurate.
In one of the most epic ancient stories, one that deals much more with human characters than gods, readers are introduced to legends like Odysseus, Achilles, and Helen.
If you've watched any movie related to this storyline, you'll appreciate the added context, and probably spot all the incredible scenes the movies left out.
Percy Jackson's Greek Gods
This next recommendation may be targeted at a younger audience, but is no less fun and informative than the above books.
My wife was actually the one who introduced me to Percy Jackson and his version of mythological stories. They were some of her favorite books growing up! One aspect I really appreciate about Jackson's storytelling is that he takes us into these fantastical worlds through the eyes of a relatable character. So, it's not just us reading about the original story, or even reading the story itself. Rather, it's a chance to experience all of the elements and characters in a current setting.
This specific title presents a broad overview through Percy's point-of-view. It's a perfect resource if you want to introduce kids and teenagers to these ancient tales.
The Greek Plays
My final recommendation is as close to the original works as anything on this list. That being said, it's also a more difficult source to read — even though the translation is exceptional.
Greek plays were the heartbeat of the ancient world. In these tales, you'll see remnants of other heroes, gods, and stories, but through a dramatic, and often passionate, lens. Most of these broach fairly adult subjects, so you'll want to keep it out of reach of young readers.
If you're a fan of mythology and find yourself wanting to go even deeper into that world, these reads are that next step. They'll help you understand not only what the great ancients believed, but why.
Start reading today
Thank you for reading my short list of best Greek mythology books. No matter which one you start with, I hope you enjoy the adventure. These stories have stood the test of time for a reason and now is your chance to see why.