MeetEdgar review: My results after using the tool for 30 days
Is it a miracle tool or just another distraction?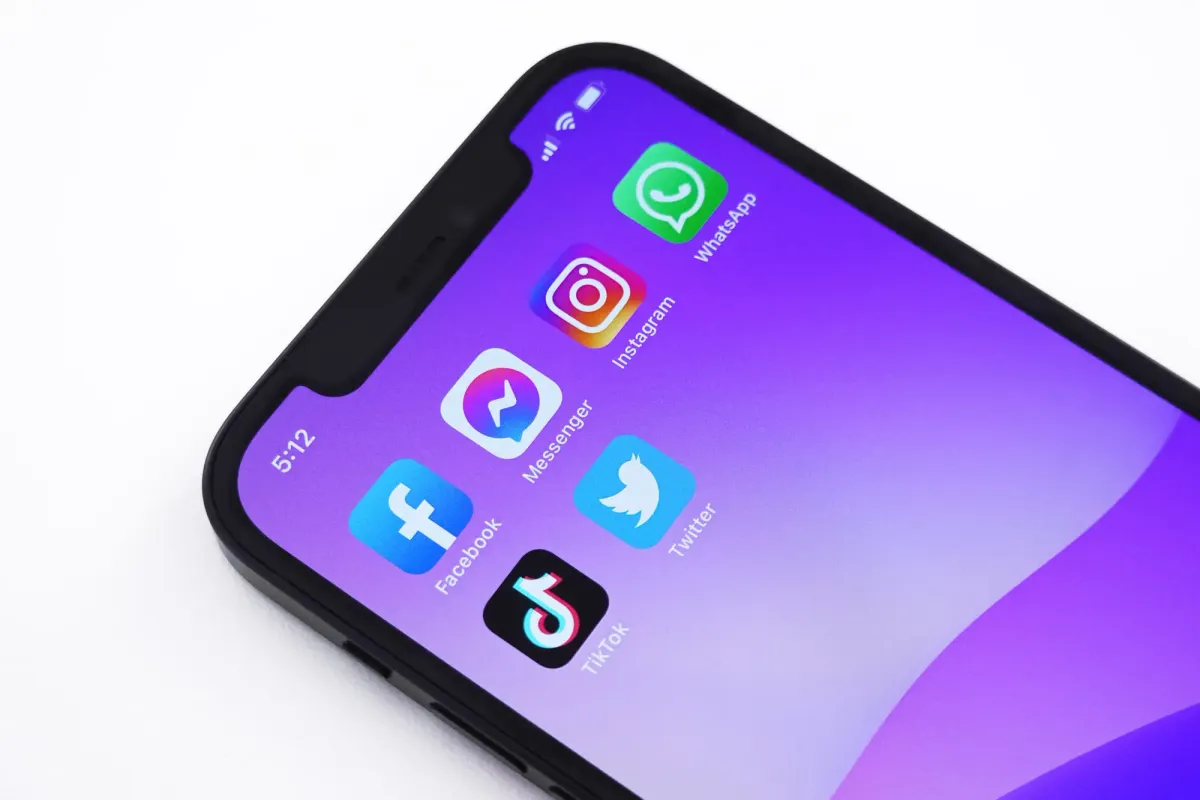 I've been spending more time on Twitter in 2021 because it's the main watering hole for newsletter and tech-related conversations.
To help automate some of my activity there, I tried MeetEdgar for a full month. My main goals with this tool were:
Save time by having the tool automatically share and recycle my articles.
With that mental space freed up, spend more time engaging in direct replies and conversations on the platform.
Add more followers through increased activity.
In this review, I'll share my Twitter analytics as well as my thoughts about the tool itself.
Did MeetEdgar save me time?
Yes, 100%.
Their library tool is awesome to work with, especially since you can link RSS feeds to it directly — therefore automatically adding future blog posts (or YouTube videos in my case) to your content cycle.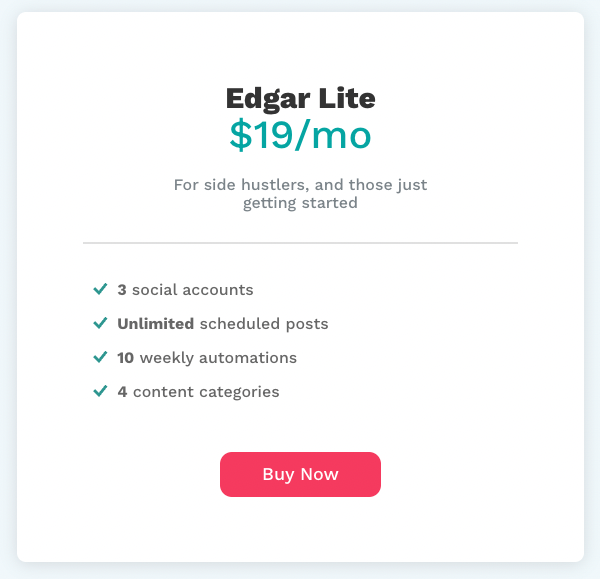 I also repurposed an article that contained content strategy quotes so that I could share them individually through my Twitter profile.
Between blog articles, YouTube videos, and quotes, I accumulated around 80 pieces of content in 3 different categories that could be shared on a recurring schedule.
In all, I'd say using MeetEdgar saved me 1 hour per week.
Did MeetEdgar help you grow on social media?
Now, the tool is incredibly powerful and will allow you to share multiple types of media across Facebook, Instagram, Pinterest, LinkedIn, and of course, Twitter.
But my focus was on Twitter since that's where my audience is and where I see the most ROI potential.
To start, here are my analytics for the 3 months leading up to this test.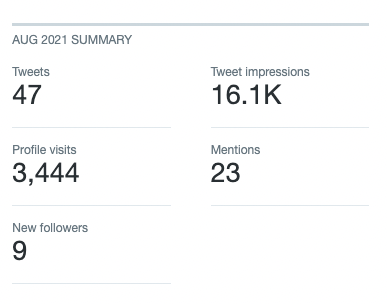 As you can see, I've slowly been ramping up my engagement on the platform. The number of tweets per month almost perfectly doubles from August to September, and then again in October.
With that, my impressions, profile visits, and new followers also grow. Although there's not a perfect correlation, more engagement clearly has a positive impact on growth and reach.
Now, here's my analytics for November during the time I used MeetEdar.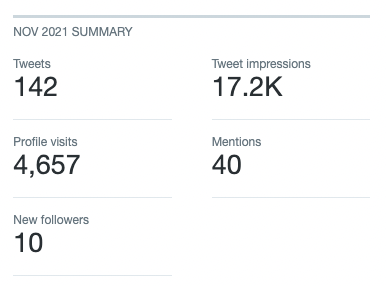 Although the number of tweets remained close to what I did the previous month, in reality, I was only tweeting 20-30% as much, with the rest being automated through MeetEdar.
The first thing worth noticing is that my impressions are down significantly — by nearly 11,000. I don't have any proof, but I suspect Twitter's algorithm handicaps automated services, limiting their reach and effectiveness.
It can tell when a tweet is manually entered versus one that is pushed by an external service. And since they make their money with ads, they want real humans on their platform as much as possible.
Profile visits and new followers remained fairly consistent, which is disappointing since I was hoping to see a measurable boost. If I saw 16-20+ new followers, instead of 10, that would have caught my attention.
So, I'd have to say no, MeetEdgar did not significantly help my growth on social media.
Granted, this experiment focused on a single platform over a very small timeframe (30 days is a drop in the bucket). I bet a power user sharing content across multiple platforms and for many months would have some very interesting numbers to share.  
Did MeetEdgar help me engage more on Twitter?
Yes.
Or at least I felt as though I had more time and energy to engage because I wasn't thinking about what I needed to share to stay "present" on the platform.
One of the best interactions that came out of this month was with Professor Byron Sharp, the author of How Brands Grow (here's my summary of his book).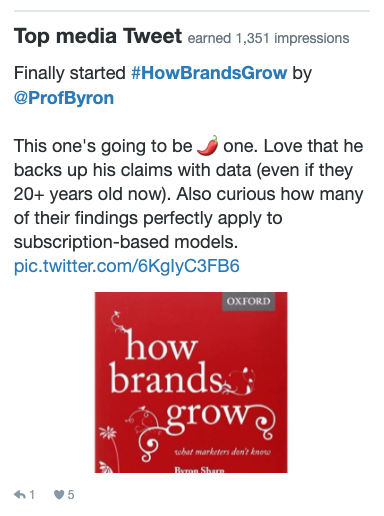 We ended up going back and forth a half dozen times while I deconstructed his main points publically — which, in turn, drew in dozens of other people who wanted to engage in the conversation.
Things are like this are what make Twitter (at times) such an awesome community.
Would I recommend MeetEdgar?  
I would recommend using MeetEdgar, so long as you're clear about what you hope to accomplish and realistic about the results.
MeetEdgar is a social media management tool, not a growth hack.
The best use cases are for those who have a large library of older content and want to regularly put pieces of it back in front of their audiences.
The tool will free up mental space, much like a virtual assistant or other automation software (i.e., Zapier).
I will likely resubscribe in the future, but once I have clearer goals around my content and a bigger audience to share it with. I believe repurposing and recycling content is the greatest growth opportunity for most creators, so it'd be good to practice what I preach 😅.
If you enjoyed this post and want to learn more about content marketing and growth experiments, subscribe!