A simple introduction to becoming a Content Strategist
Content careers are growing rapidly and here's how you can break-in.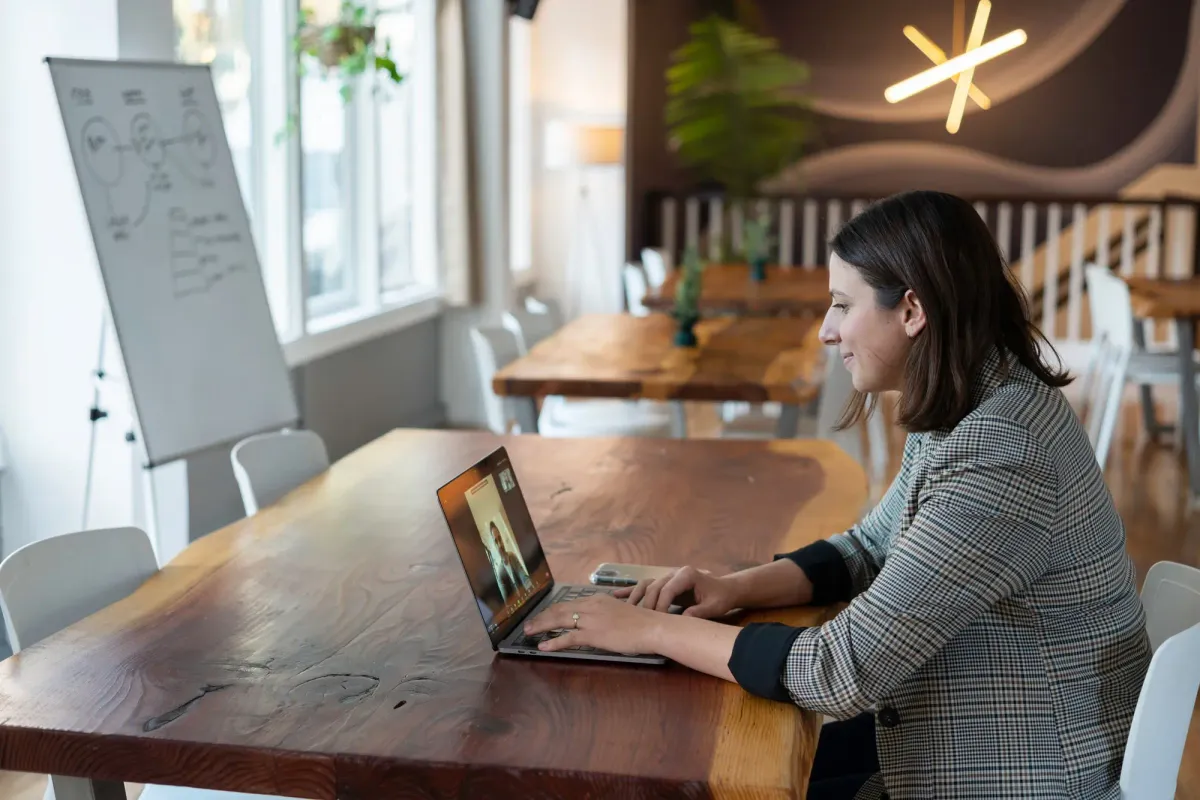 My career path into content has been a winding one.
Most of my early career focused on education: B.A. in Classics, M.A. in Religion, M.Ed. in Instructional Design.
I spent a decade in various higher education positions while pursuing those degrees.
In between classes, I experimented with writing content online, from self-publishing ebooks to freelance blog writing.
Now, as a Staff Writer, I can see the career landscape for content marketers a little more clearly.
My goal with this article is to share what I've learned about the Content Strategist role — what they do, how much they make, where they work, and how they fit into the larger content marketing world.
What do Content Strategists do?
A Content Strategist is an early to mid-career role in the content marketing ladder. They usually have a writing-focused background and answer to a Content Manager or Marketing Director, depending on the size of the team.
In a section below, we'll take a deeper look at the career path one can take to become a Content Strategist, followed by the roles they can fill as they progress.
Common duties assigned to this role include (source: Superpath):
Writing customer-facing content (blog posts, email newsletters, landing page copy, etc.), with the purpose of satisfying different portions of the marketing funnel.
Creating and executing a content calendar.
Developing content briefs for other writers or content producers.
Conducting research in various forms such as customer interviews, reviewing digital sources, and more.
Building promotion strategies and systems to distribute content.
Creating long-form pieces of content such as ebooks, webinars, and more.
Familiarity with the basics of SEO and comfortable learning more (technical SEO knowledge may be helpful too).
Most often, this role is one step up from a Content Writer. The focus shifts from purely writing content to developing the strategy and overall direction for it.
A Content Strategist begins to tie content goals more directly to business goals and understands what needs to be created to move the needle. Part project manager, part content creator, this role combines the best of both worlds, allowing one to move in and out of each as required.
How much do Content Strategists make?
Salaries for content roles vary drastically depending upon the industry one's creating for. If you're writing for tech, legal, or medical companies, the pay and benefits will be much better than in other industries.
Since I live in Ohio in the United States, most of my research focused on figures for this region. I found a handful of reliable sources, including Robert Half, Builtin, and ZipRecruiter.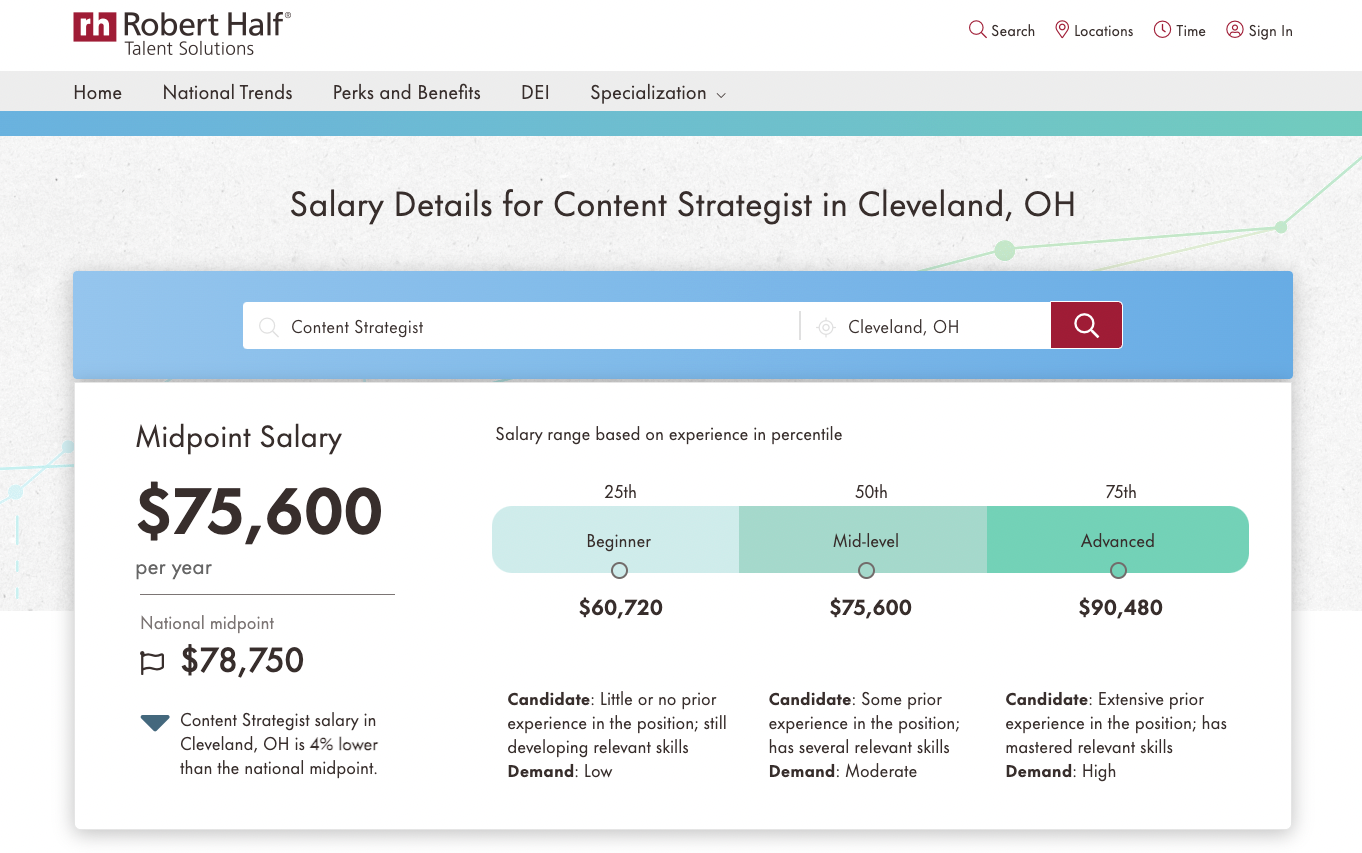 From the image above, we can see a range from $64,600 to $102,989. On average, a Content Strategist's salary is around $75,000, depending on factors such as location, years of experience, and required skills.
Where do Content Strategists work?
We're currently in the golden age of content creation.
The world's largest social platforms are still young, companies finally understand the value of reaching customers directly, and there are still billions of people waiting to have access to the internet.
Because of this, nearly every company that has a digital presence is seeking help with its content. A quick search on LinkedIn revealed dozens of Content Strategists in my network and no less than 4,000 jobs currently hiring.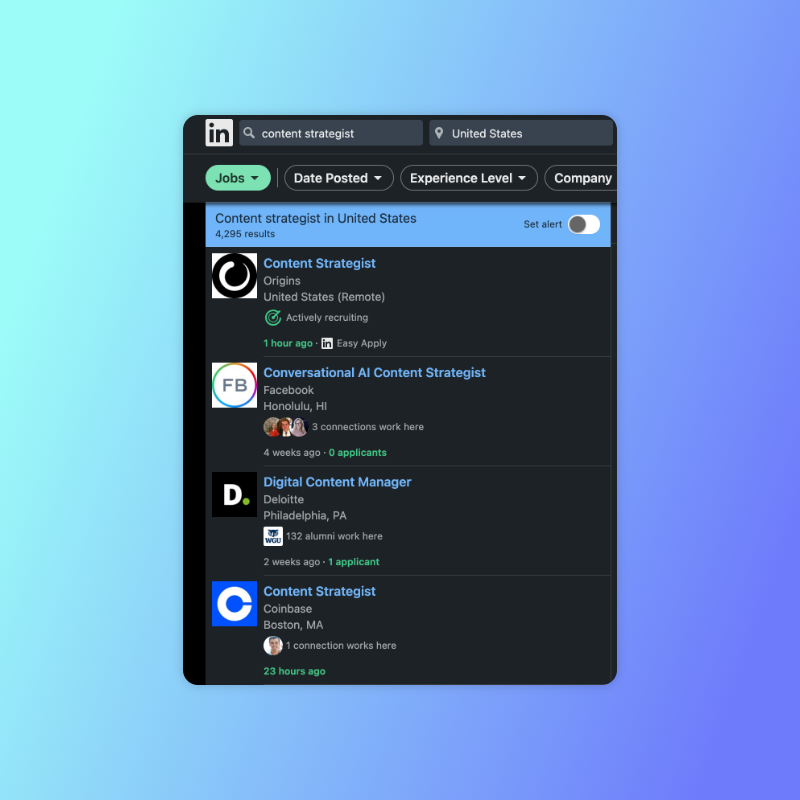 The industries hiring included healthcare (Caresource), technology (Meta), finance (Coinbase), design (Adobe), construction (MI Homes), communications (AT&T), and many more.
Furthermore, a full 60% of the results were for remote jobs. Content is exciting because, much like programming and other digitally-focused skills, it can be done from anywhere.
What is the career path for Content Strategists?
During my research, I came across a resource from Zippia, which maps out multiple potential career ladders for content strategists.
The most common jobs a person has before becoming a Content Strategist are:
Writer or Content Writer
Editor or Managing Editor
Marketing Internship
Once you become a Content Strategist, these are the 3 most likely promotion roles:
Content Manager or Web Content Manager
Creative Director
Marketing Manager
From there, the opportunities depend on the vertical you're in and the specific skills you choose to develop.
From my personal network, I could see that many become Marketing Directors or Heads of Growth Marketing. A small portion chose to follow the Product Management route instead.
How to become a Content Strategist
In a future article, I plan to collect and organize a comprehensive list of resources for content careers and the skill of content strategy.
It's important to note that there is no one right way to become a Content Strategist. They come from all kinds of backgrounds and go on to work in a dizzying array of companies.
But there are clues to help you on your journey.
First, focus on developing your writing and SEO skills. Having a strong writing background is the most straightforward way to open doors into a content career.
Second, spend time learning the basics of digital content marketing. LinkedIn Learning has a great introduction in this 12-course module.
Third, start a side project. Experience is the best teacher when it comes to developing and ranking content. If you can show that you've created an article or video that ranks well and accomplishes some business goal, you'll stand head and shoulder above applicants with no results to show.
Next step
I'm currently working on a series related to content marketing and career development. Along the way, I'm showing transparent monthly income reports, experiment findings, and more. If this sparks your interest, subscribe!