📊 ClassNotes 006: The top 10 cities to be a creator
💡
You are one of 1,021 awesome people reading this newsletter.
Where is the creator economy happening?
Online, yes. But, behind the screens, where does the magic happen?
And for those of us who don't live in big cities — how can we make the most of our location?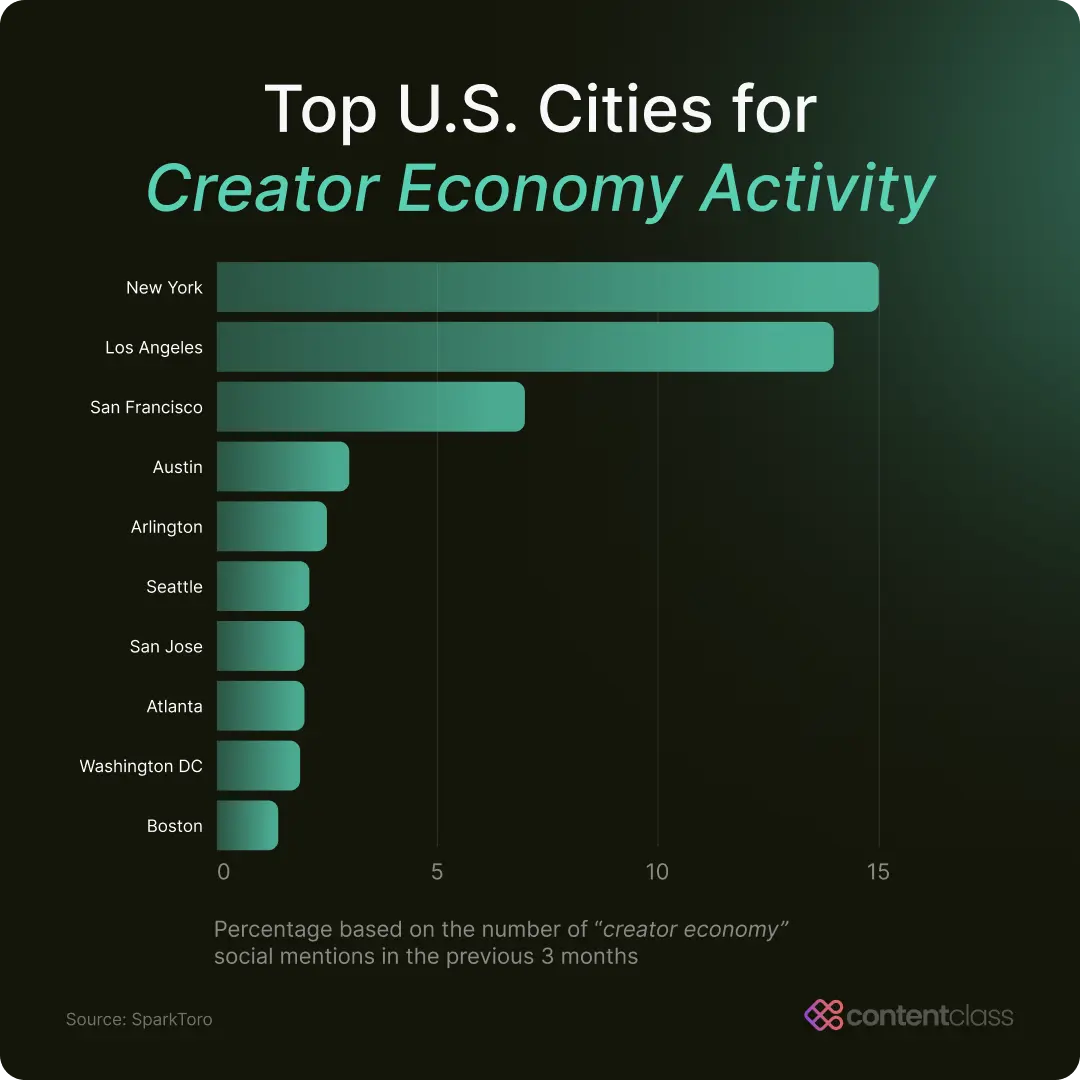 Aside from a few extended stays, I've lived in Ohio my entire life. Born and raised in Cleveland, I've come to appreciate the oddities that make this city home.
But I'm acutely aware of how far away I am from the biggest creator hubs.
According to data from the audience analytics tool SparkToro, the 10 most active cities for creators are:
New York, New York
Los Angeles, California
San Francisco, California
Austin, Texas
Arlington, Texas
Seattle, Washington
San Jose, California
Atlanta, Georgia
Washington, D.C.
Boston, Massachusetts
What does activity mean and why does it matter?
Economies rely on movement. The US economy only survives so long as money continues to move from one person to another. Therefore, movement only happens through cooperation.
The creator economy works the same way.
Creators who collaborate, attend events, run meetups, and build irl relationships with other creatives grow faster. These activities feed audience growth and revenue, and some cities make these kinds of activities much easier to find and participate in.
How I'm adjusting my strategy
If you're focused on growing your creator career and have nothing holding you in place, I would honestly encourage you to move to one of the cities listed on our chart — preferably one of the top 5.
Even a temporary relocation can have a massive acceleration effect on your growth. For those of us who can't just pick up and go, here are a few alternatives.
Give yourself a quarterly travel budget
I prioritized two creator-related travels this year: Austin in May and New Orleans in October. Both revolve around conferences, and my Austin trip was such a success I'm planning to attend 4-6 events next year.
I met dozens of people in my industry who are building courses, launching podcasts, offering services, and scaling their social media growth. I revamped my business model, received thousands of dollars in free services, and was invited to collaborate a half-dozen times — all from a 4-day trip.
Physically traveling to a location gives you a small dose of the serendipity these cities have to offer.
💡
Pro Tip: Conferences are an easy way to engage with a large group in a new city, but look for smaller experiences, too, like local meetups and creator-hosted events.
Build collaborations into your schedule
To help build more depth with the people I meet on social media, I experimented with 30-minute virtual coffee chats.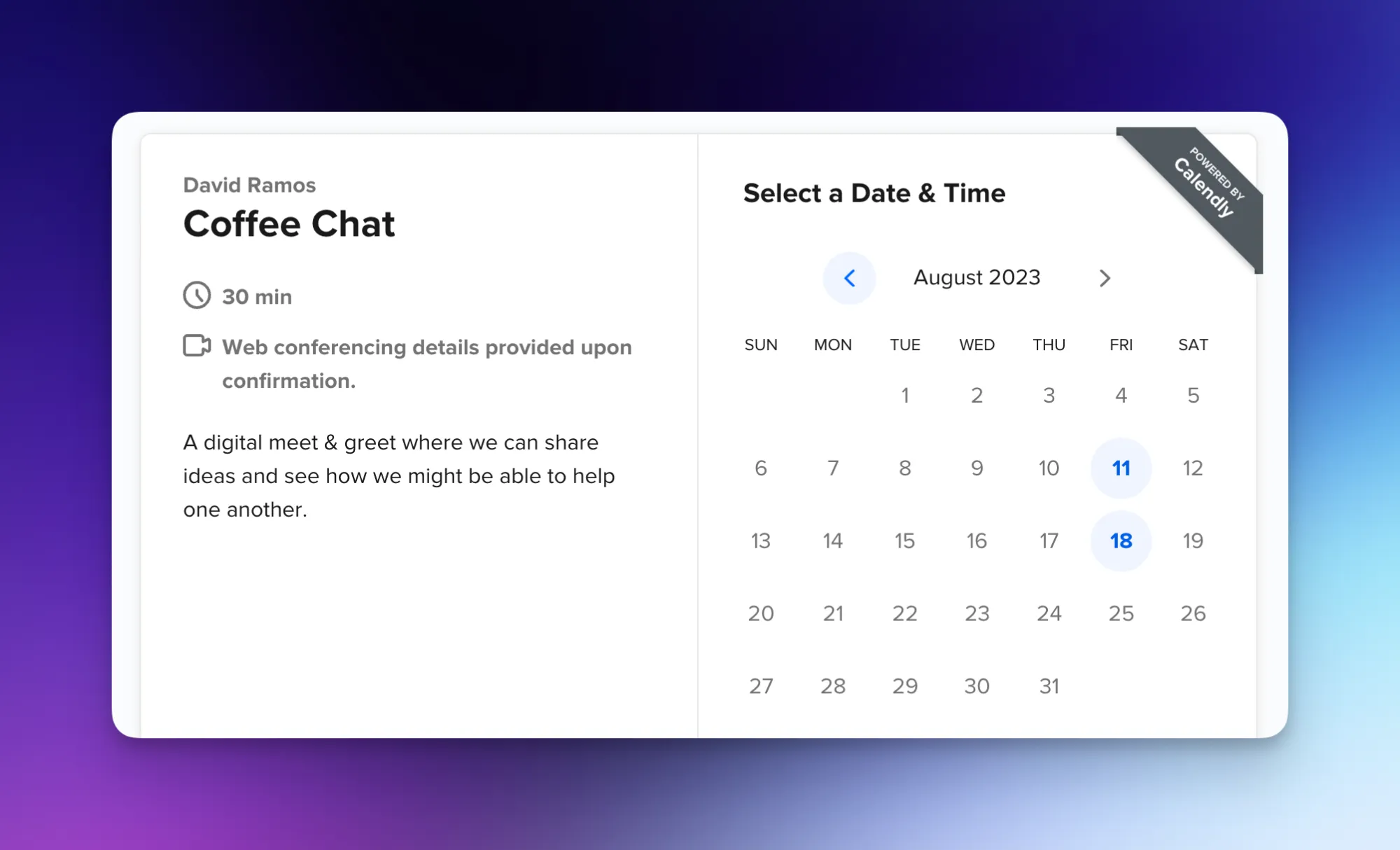 If we're having a good conversation in the comments of a post or in messages, I send them a Calendly link to a no-agenda Google Meet call. The purpose is simply to continue our conversation (almost) face-to-face.
After testing this format for 2 months and hosting a dozen calls, I can say it's been a massive success. I've never felt so connected to so many other incredibly talented folks, and the momentum I feel around my business (because of their advice and encouragement) is invigorating.
Fleuris là où tu es plantée
Translation: Bloom where you are planted.
I first heard this saying in 2012 on a podcast. I was stuck deciding between a scholarship in Boston or a job offer in Cleveland. Once I listened to this line, the difficulty evaporated.
Staying felt like the right choice. I went on to meet my wife and become a full-time author because of that job.
Like me, millions of gifted people have chosen to stay where they are and bloom as best they can. I started curating a list of local Cleveland influencers I want to build relationships with. And later this year, I'm co-hosting a "Midwest Meetup" with entrepreneurs in the Ohio, Michigan, and Pennsylvania regions.
You can be the catalyst for creator activity in your area.
💡
Recap
1. Growth is easier in active creator cities.
2. Temporary moves or periodic travel can help you gain the benefits a major city has to offer.
3. Find and/or start local creator communities to build momentum.
Next week, I'm going to reveal a packed circles chart that'll forever change how you think about the title "creator."
— David
---
📌 New membership offer coming soon!
Visit the Membership page to preview the benefits.
Start a Newsletter with Ghost. If you want to start a newsletter like this one, I recommend using Ghost. It's easy to use and affordable for new creators ($9/mo).