📊 ClassNotes 004: The data-backed way to 3x your income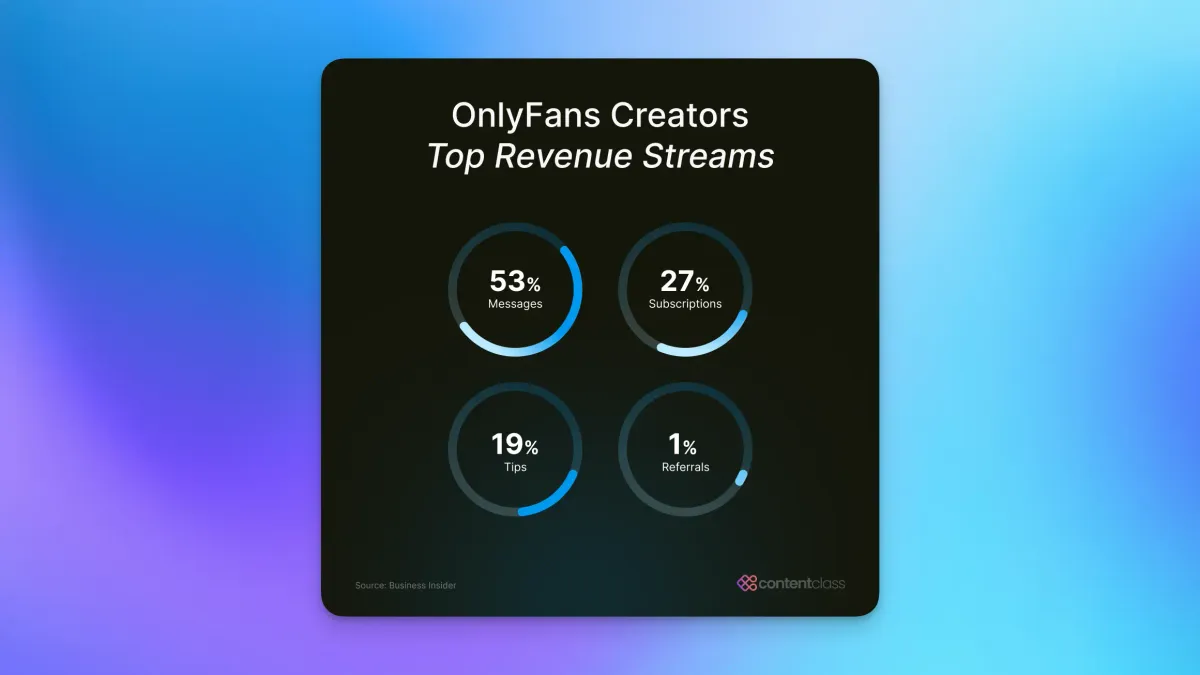 💡
You are one of 988 awesome people reading this newsletter.
There are creators making 3x your income with only 1/3 of your audience.
How?
By treating their "flagship product" as the starting point, not the end game.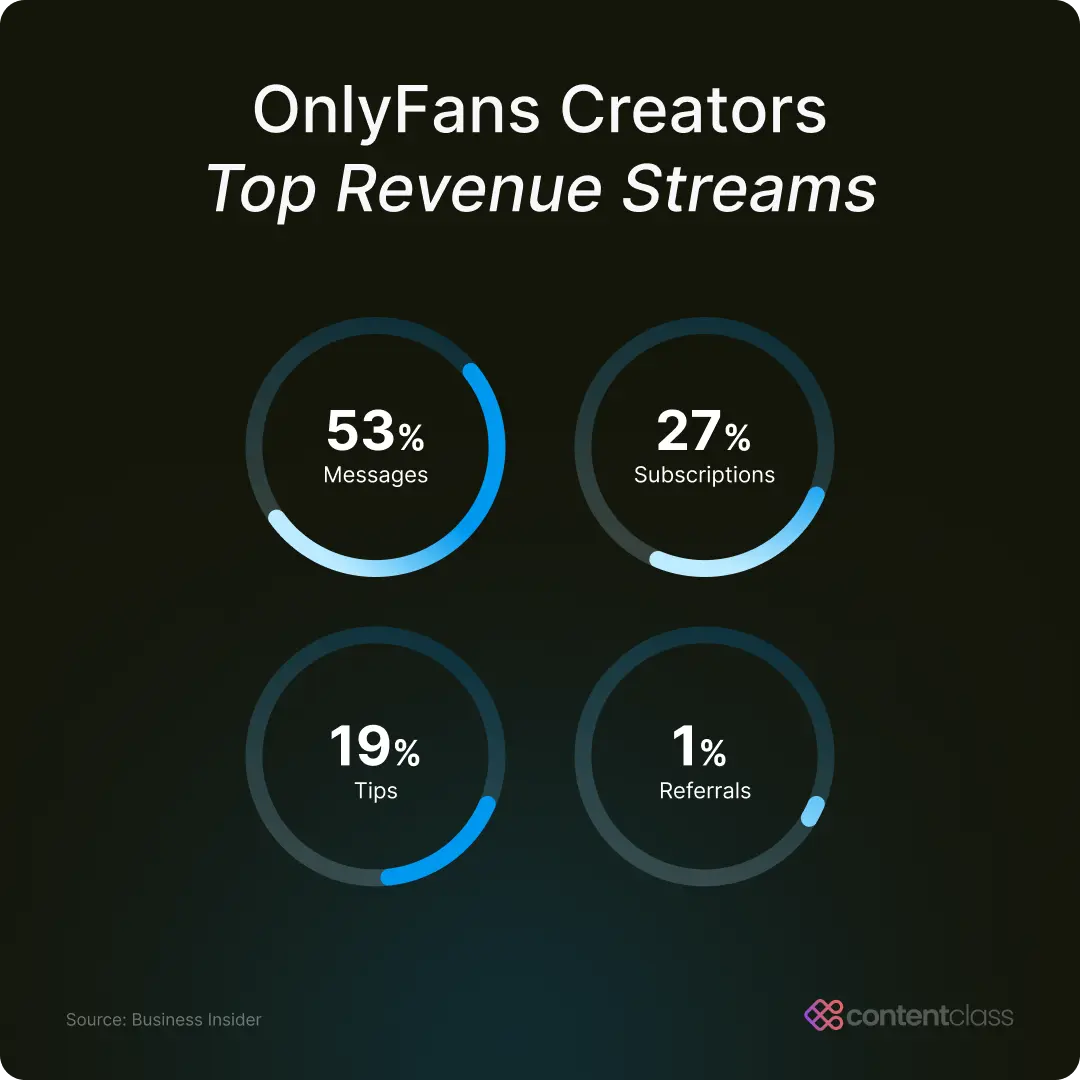 The Economics of Upsells
Last month I wrote a report on The OnlyFans Funnel that examined how these creators were redefining the traditional marketing funnel for a modern era.
About a third of the way through the report, I wrote this line:
Therefore, the highest-earning OF creators are those who do the best job of promoting, selling, and fulfilling their premium features, not necessarily those with the highest subscriber counts.
Afterward, I knew I wanted to run the actual numbers so that you could see what I meant. In the above chart, there are four circles representing OnlyFans' creators' revenue streams.
Subscriptions, which are the front-facing, "flagship" product, only made up 27% of their total income.
Messages and Tips, which you can think of as upsells and cross-sells, accounted for 72% of their income.
Referrals, which means getting other people to use the platform (i.e., affiliate marketing), made up less than 1%.
👉 If your business relies on selling one product at one fixed price, you're missing out on 70%+ of the potential revenue.
💡
If you're unfamiliar with the idea of upselling or cross-selling, here's a quick definition and visual.

Upsell — Selling a more expensive, premium option.

Cross Sell — Selling related products or experiences which complement the primary one.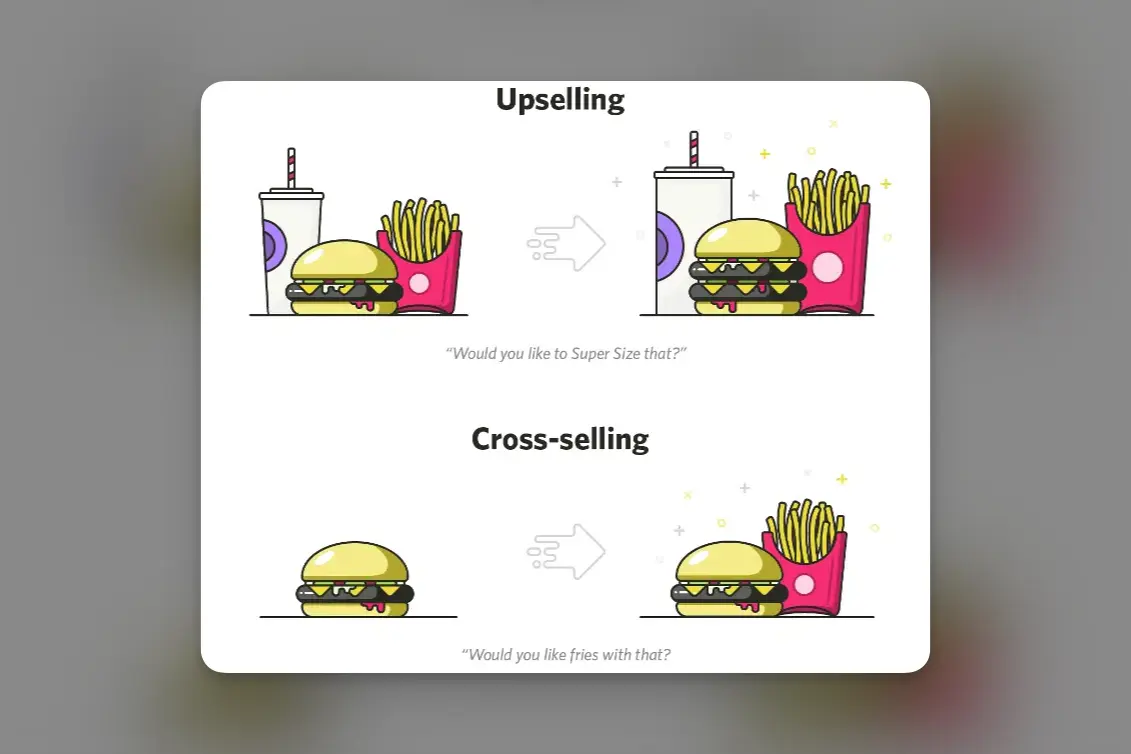 Now, here are three upsell & cross-sell ideas that you can apply immediately.
Sell Access
People will always pay for 1:1 access to people who are where they want to be or have accomplished a goal they're after (in any niche).
Obviously, this isn't scalable, but it builds a depth with your audience that's hard to replicate – which is why so many established creators continue to offer it.
Sell Byproducts
The "sell your sawdust" advice is so popular because it's so effective.
For example, the newsletter you're reading right now is technically a byproduct of the larger monthly reports I write. I take my notes and doodles and repackage them into this format which can be monetized through sponsors, products, affiliate marketing, and more.
What are you already making that never sees the light of day? How can you repackage it to make it valuable to others?
Sell Tangibles
If you create content on the internet, most of what you make is "intangible," meaning people can't hold it or own a copy of it. Remedy this by turning your free content into tangible, paid products.
For example, a video with ten tips on your niche can be transformed into a PDF cheat sheet that sells for $19 as an add-on to your course or service. Look for clues — what has my audience already responded positively to?
💡
Recap
1. Selling only one product at one price drastically limits your earning potential.
2. You can fix this by adding simple offers like access, byproducts, and tangibles.
Next week, we're going to take a hard look at what platforms pay you to post and how to use these numbers to dictate your content strategy.
— David
---
📌 This is where future products and offers will live.
Keep an eye out for ways I can help you master your niche, plan your content, and monetize your work.
Start a Newsletter with Ghost. If you want to start a newsletter like this one, I recommend using Ghost. It's easy to use and affordable for new creators ($9/mo).