The best communication books for professional development
How to say what you mean to get what you want.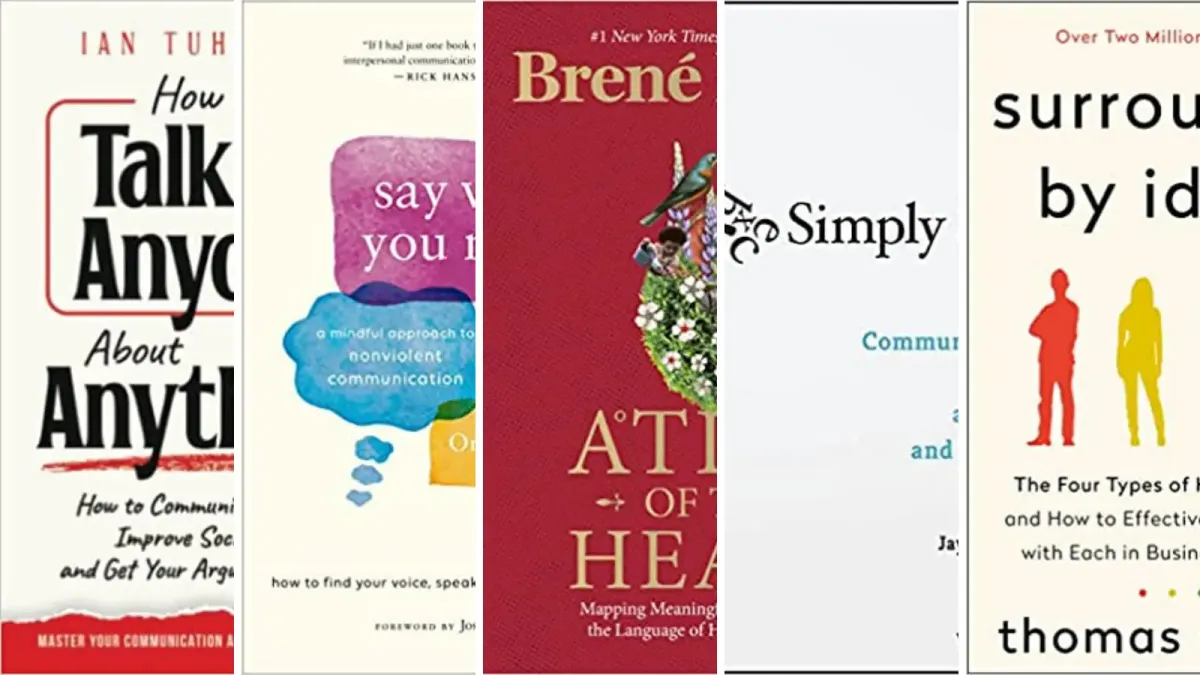 Did you know that communication lies in every layer of human life? Even as a baby, when all you can do is cry, you still communicate through signals.
There is no way of escaping it, so why not become a master communicator? After all, knowing how to read people, how to understand yourself, and how to translate ideas will make your life easier personally and professionally.
Let's dive right into our top five communication books. Each of the following reads brings a different concept to the table.
How to Talk to Anyone About Anything
"The difference between success and failure is your own effort." ― Ian Tuhovsky
In this classic book on communication, Tuhovsky breaks down how to speak better, improve your social skills, and get your point across in any discussion. Read this book to learn:
How to override your personality to speak up
Why body language is often more impactful than word choice
Tips for mastering flow by using questions and humor
What the most common barriers are to improving and how to overcome them
Well written and practical, this read provides great tips that are useful in everyday communication - whether at home or in the office. Reviewers say that Tuhovsky's work was a solid resource for starting to understand other people.
Atlas of the Heart
"There are significant differences between compassion and empathy that are vital to understand if we want to cultivate connection with others." – Brene Brown
Learn how to navigate the pulses and pulls of the human heart and how it all relates to connection, language, and communication. Brown does an outstanding job of leading the reader back to themselves, understanding their own story, and guiding them on a journey of what it means to be human. In her text you'll discover:
The framework at the center of every meaningful relationship
A collection of tools and skills to help you make new, better choices when it comes to expressing yourself
Strategic guidance on how, and when, to share personal stories in order to build connection
You will love this book if you seek a compassionate tale that provides a roadmap to better communication. It offers an encouraging perspective that prepares you take the action you're capable of.
Say What You Mean
"Communication is much broader than its rudimentary components of speaking and listening, much richer than the mere exchange of supposedly objective information." – Oren Jay Sofer
Sofer guides the reader through having meaningful, mindful dialogues through speaking truth, listening deeply, and finding your own voice. Flip the pages of this communication book to:
How to feel confident in every conversation
Tips for not losing focus when speaking to others
The difference between hearing and listening, so that you can spot the real concerns behind their words
Start looking forward to new and even challenging talks
Everyone from therapists to educators has found a significant source of inspiration and knowledge from this book. If you want to develop a concrete understanding of heart-centered communication and put it into practice step-by-step, add this title to your library.
Simply Said
"We are all basically self-focused. That's an innate human trait. That's not a bad thing; in fact, it helps us survive." – Jay Sullivan
Is less than stellar communication keeping you from getting the promotion or raise you deserve? Then this book by Sullivan may be your answer since it explores all angles of business and professional communication. Dive into the pages to discover how to get your message across and:
Shift to an other-centered focus
Become known as an excellent listener
Learn how to inspire and influence others through oral or written means
If you've found yourself second-guessing that last email you sent, then grab Simply Said. Readers rave over this guidebook because it provides a valuable framework for the tricky politics of office talk.
Surrounded by Idiots
"Flexibility and the ability to interpret other people's needs is what characterizes a good communicator." – Thomas Erikson
Now, don't let the title fool you. This book claims to break down how people function internally and explain why we struggle to find connections with some personality types. In it, you'll learn:
How to identify and adjust your style for different types of people
What the four basic communication classifications are and how each works
Tips for better understanding your own strengths and limitations when it comes to speaking or writing
Approaches for handling conflicts and navigating team dynamics
Past readers speak highly of this book and suggest every leader adds it to their toolbelt. If you want to communicate better in any professional atmosphere, pick up a copy.
Start improving today
We cannot avoid communication no matter what we do or where we go. From body language to spoken words, it is a fundamental part of human existence. So then, how will you start improving your skills to move forward personally and professionally?