One day at a time: The best books on grief & healing
Feeling understood is the first step toward healing.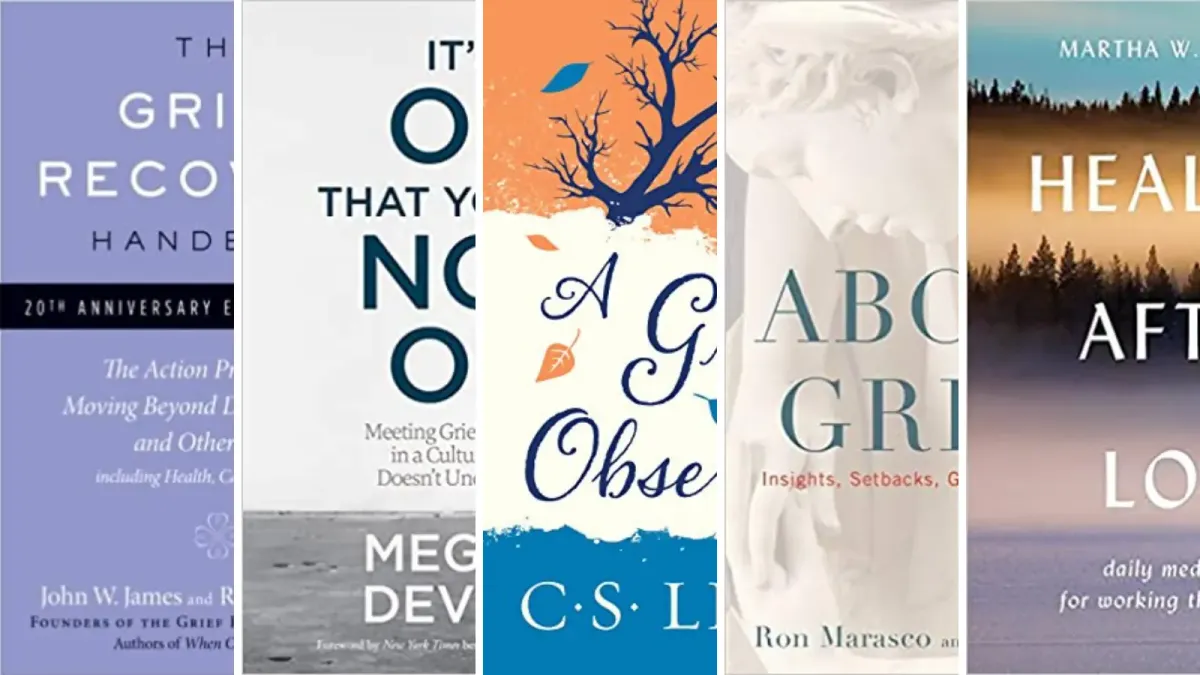 Grief can feel like a black hole, consuming everything in its path: your happiness, energy, and sense of well-being.
It shows up in our lives in many unique forms, from losing a loved one to experiencing a gut-wrenching event. However, the one common denominator is everyone will have to deal with moments of grief at some point.
We won't be the first (or last) to say this, but it is ok not to feel ok. In fact, feeling the depths of our emotions is quite a human response. The only thing we can do is learn how to navigate it.
Let's dive right into our top five books on grief.
It's OK That You're Not OK
"There is pain that becomes an immovable part of our lives. We need to know how to endure that, how to care for ourselves inside that, how to care for one another." – Megan Devine
The author provides a unique perspective on the experience of grief itself and how to help others who have endured a tragedy. Inside this book, you will learn:
What most well-meaning advice is terrible (and hurtful)
The most common myths about grief and why it doesn't ever look the same for different people
Action steps you can take to sleep better and get healthier, even while wading through the pain
Tips for helping loved ones who are grieving
This book offers universal insight into a difficult subject, shining a light on how it affects everyone. Readers praise Devine for her refreshing take and the practical exercises outlined in the text.
The Grief Recovery Handbook
"Grief is difficult enough without added complications. Unfortunately, many factors can compound our reactions to loss and limit our recovery." – John James and Russell Friedman
This classic book on grief celebrated its 20th anniversary, which is proof of the wealth of time-tested knowledge on each page. Both authors based the text on a proven grief-recovery program. Dive between the covers to explore:
Steps anyone can take to start moving forward
Why different types of losses (faith, career, financial) can hurt just as much as relational ones
How childhood experiences impact your response to loss
The reality of recovery, and where to find energy as you struggle
Many people consider this a must-read because of its simple, down-to-earth approach. While some of the methodologies presented in this book are not for everyone (as some reviewers point out), its content still packs a healing punch that helps grievers step in the right direction.
A Grief Observed
"You never know how much you really believe anything until its truth or falsehood becomes a matter of life and death to you." – C.S. Lewis
If you have never read any work by C.S. Lewis, you are seriously missing out. His classic take on grief provides an honest, raw reflection on human life, death, faith, and loss. Inside this book, you will dive into:
The author's personal story of losing his beloved wife
Why loss often leads people to lose meaning in their own lives and structures
How you can regain your bearings and navigate intense grief
And more.
According to readers, there isn't enough praise to go around for this spectacular read. It pulls your heartstrings from the very beginning, the opening lines resonating with everyone who has ever been struck with grief. This book should go on the top of the reading list for anyone who has had to swallow tragedy.
Healing After Loss
"Sometimes when I am feeling down, I am my own worst enemy. Let me be my friend." ― Martha W. Hickman
Martha Whitmore Hickman pooled together dozens of quotes from authors and inspired minds worldwide. She pairs famous quotes with her own musings to create a unique guidebook on grief. In this compilation, you will read:
Dozens of inspirational messages from notable figures, such as Mark Twain and Emily Dickinson
A look into the author's own personal thoughts and experiences with loss
Beautifully written words to inspire, strengthen, and comfort those on their healing journeys
One reviewer proclaimed this book is a must-read for those of us left behind after a tragic death. The daily meditations provided in this guidebook offer readers a sense of comfort, which is why we recommend it strongly.
About Grief
"Grieving people are in pain and on an island." – Ron Marasco and Brian Shuff
The authors have strong opinions and yet are able to address them in a friendly, warm discussion. Both the authors conducted mountains of research, consuming hours of media and speaking with countless individuals about their experiences with this topic. The result is their piece, About Grief. Read and discover:
Why grief isn't just one thing and carries with it a host of issues
Important studies summarized into short essays anyone will benefit from
A technical-jargon free discussion on sadness and what to do with that feeling
Former readers love the helpful, and even at times entertaining, aspect of this work. You won't find any cold terminology or inspirational roadmaps here—only real stories by real people that offer a point of connection and reliability
.
You are strong
Intense sadness, loss of hope, and raw grief are unfathomable human experiences. Yet, it is something that can be navigated—like a ship sailing through a churning ocean toward safety in the distance. We hope at least one of our top picks provides a tool you can use to sail toward your own lighthouse and be reminded of how strong you really are.