📊 ClassNotes 010: Which type of digital product will make you the most money?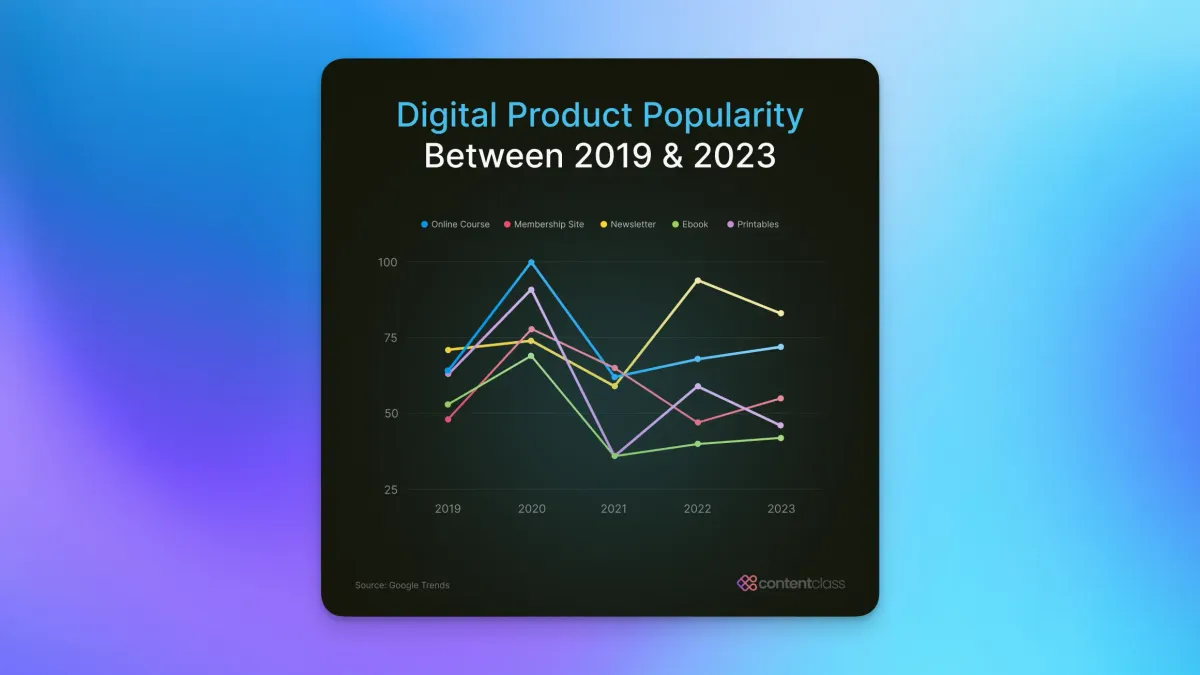 💡
You are one of 1,083 awesome creators reading this free newsletter.
If you had to start from 0 today and make a full-time income within 1 year with a single digital product, which one should you choose?
Here's what the data says.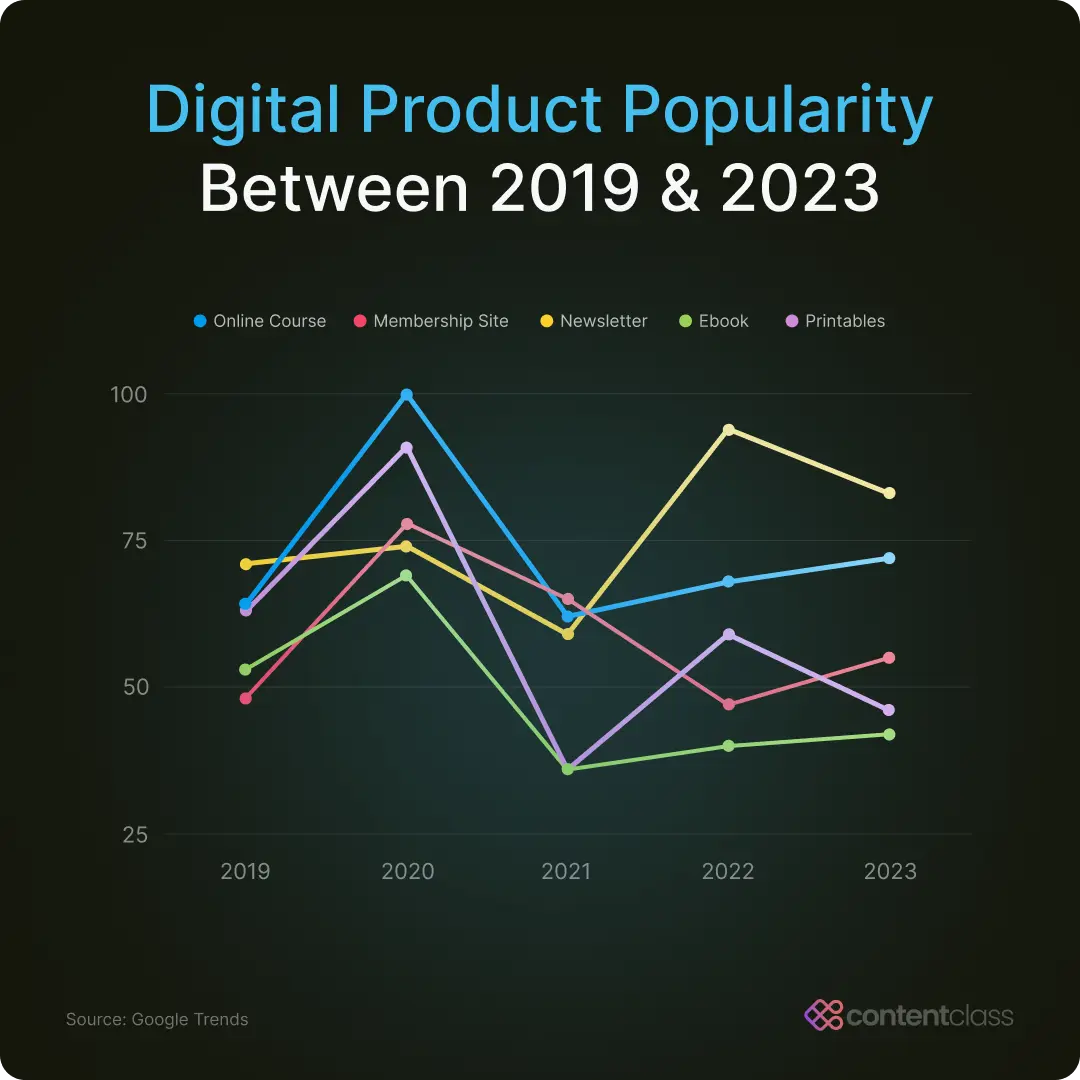 To help us answer this question, I ran five of the most popular types of digital products through Google Trends (online courses, membership sites, newsletters, ebooks, and printables) and set a 5-year time frame so that we could see pre- and post-pandemic results.
Keeping with this unintentional theme of the number five, let's dive into the takeaways.
5 Key insights about digital products
#1 The COVID bump was real
Nearly every digital product saw a significant bump in search traffic and attention during the pandemic. People were hungry for info on how to make money online, from home, and it shows.
Printables and courses saw their base traffic almost double during 2020. Which means the people who already had online courses live likely saw a massive increase in sales.
The great news is the bump brought in millions of new customers and creators, permanently expanding the pool of people we can reach.
#2 Newsletters are the fastest-growing digital product
Without showering you with additional charts and data, all my research pointed towards this truth: newsletters are here to stay.
Not only did they gain massive popularity during 2020-2021, but they've continued steadily rising even while other digital products have leveled out. Even though most newsletters are monetized through ads and sponsors, as the market grows, the appetite for paid newsletters will certainly grow with it.
#3 Membership sites are a conundrum
Membership sites have the best business model of any digital product. It's hard to argue against consistent, recurring income.
But what we see in the data is that most people just aren't searching for them as a solution to their problem. This doesn't mean they don't work. It just means they can be more challenging to grow organically.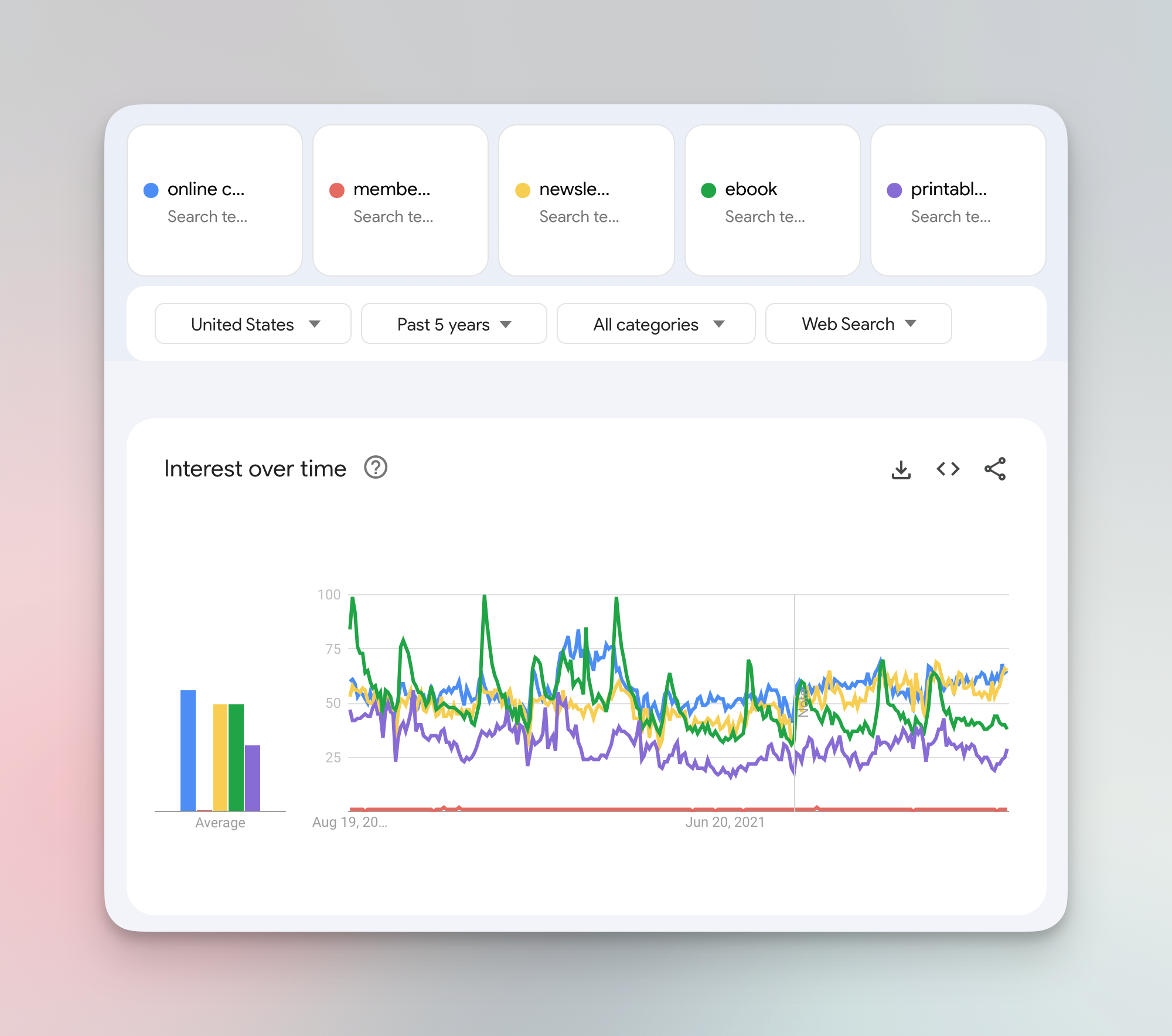 #4 Online courses are the most popular
Even though courses may not be growing as fast as newsletters, the market for online education is already established and massively profitable.
People understand exactly what an online course is, where to find them, and what they're willing to pay for access. This familiarity makes online course sales far easier than most other digital products.
#5 If you had to pick one: Build an online course
Online business isn't for the faint of heart, so when you find an advantage, you must take it.
If I had one year to replace my income with a single digital product, I would go all in on online courses for these reasons:
High search volume means people will find my product organically.
You can price courses higher than most other digital products.
They're passive, so you can spend your time building an audience and driving more sales.
I say all this as someone building a paid newsletter membership 😅. But because of this info, I 100% plan to add online courses as a benefit for paid members very soon. This way, I get to marry the format I'm best at with what people want most.
💡
Recap
1. The type of digital product you choose will impact how easy it is to sell and how much money you can make.
2. If you're unsure what type to choose, start by building an online course.
If you want to learn how to read Google Trend charts like this, stay tuned for September's report! See you next week 👋.
— David
---
📌 Next steps
Read Ideas to Power Your Future. Learn real growth, not hacks! Build a sustainable, future-proof business in 10 mins or less per week. Get weekly strategy advice, in-depth trend analyses, and ideas to help you build a resilient business.
Start a Newsletter with Ghost. If you want to start a newsletter like this one, I recommend using Ghost. It's easy to use and affordable for new creators ($9/mo).