The 7 best Hemingway books (According to reader reviews)
Over a legendary writing career, here are the classics that stand out.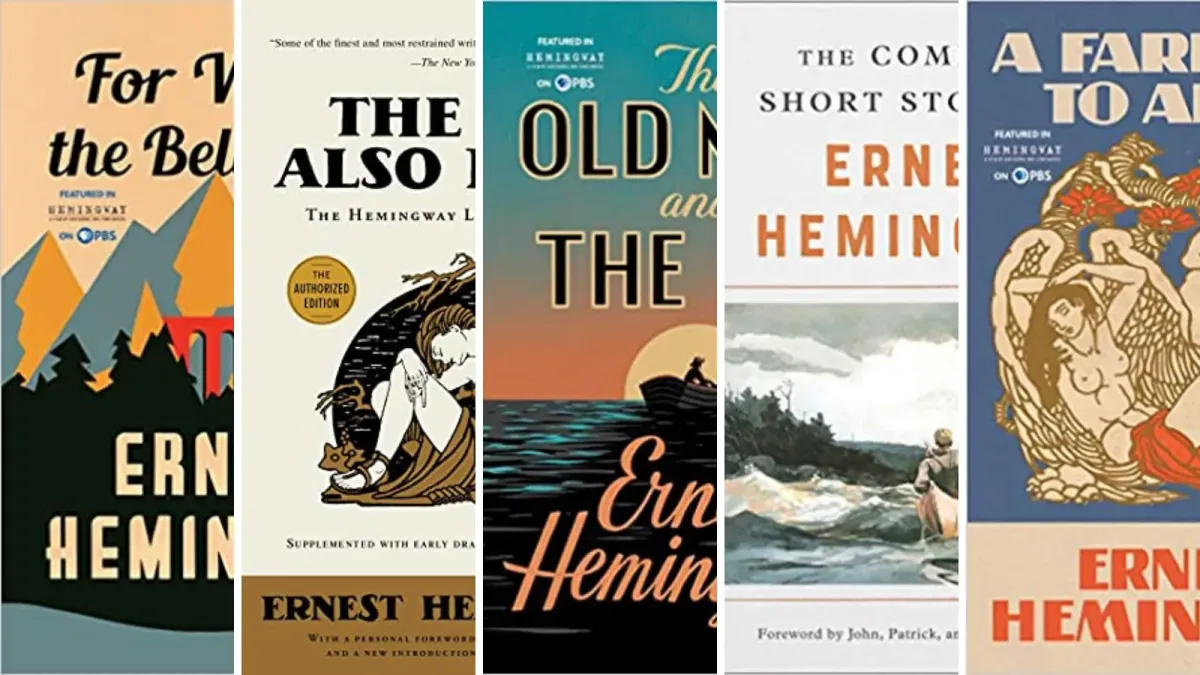 If you made a list of the greatest American authors, Ernest Hemingway would definitely make the cut. His straightforward style and variety of novels and short stories made him a celebrity in his own time, and the stories and characters he invented have continued to impact readers for decades. He's commonly referred to as one of the primary influences of 20th-century literature. Clearly, there is a lot to learn from his writing!
Many people find themselves intimidated or confused when it comes to tackling Hemingway's collection. Luckily, you have this list to guide you! Keep reading to find out the seven best Ernest Hemingway books and why you should read them.
The Old Man and the Sea
Now is no time to think of what you do not have. Think of what you can do with what there is.
Summary: This book is the last major work that Hemingway ever published; it is also widely considered to be his best novel. The story focuses on a short period in the life of a Cuban fisherman named Santiago as he struggles to capture a giant fish out at sea. It may be simple, but the plot has large implications about life, luck, and what motivates us to continue our struggles. It also won the 1953 Pulitzer Prize for Fiction!
Why you should read it: Hemingway is a prolific author, and many of his books are considered essential reading. The Old Man and the Sea is the cream of the crop! It uses a deceptively light-hearted premise to reflect on courage, small victories, and what makes us human. In short, you should read this book because it's the perfect example of a classic novel!
The Sun Also Rises
That was morality; things that made you disgusted afterward. No, that must be immortality.
Summary: This novel follows a pair of friends, Jake and Brett, as they journey from France to Spain in the 1920s with an unforgettable collection of displaced people. Ernest Hemingway was inspired to write the novel after a trip to Spain. It deals heavily with concepts such as moral bankruptcy, love and illusions, and the relationship that develops between friends. Hemingway often wrote about the Lost Generation, and this novel celebrates those figures while reflecting on how they came to be.
Why you should read it: The characters of Jake and Brett are considered by many to be two of Hemingway's most impactful creations. As such, the term "literary masterpiece" is often thrown around when it comes to this book; if that isn't enough to convince you to give it a try, what will? The novel juggles comedy and tragedy and will certainly draw you in for the ride.
For Whom the Bell Tolls
Today is only one day in all the days that will ever be. But what will happen in all the other days that ever come can depend on what you do today.
Summary: This masterfully crafted novel covers the story of Robert Jordan, an American man who becomes involved in the Spanish Civil War. The story deals with love and loss. It balances brutal and stunning scenes as it covers the trials of a guerilla group within the Spanish mountains. The novel is emotional, striking, and an instant classic.
Why you should read it: This novel is often considered to be more emotional than Hemingway's other works, which use more blunt or honest prose. In comparison, this book reflects on life and love in unforgettable ways. The story will grab you and keep you involved right up to the end. If war, love, loyalty, and tragedy sound compelling to you, get ready to be invested!
A Farewell to Arms
No, that is the great fallacy; the wisdom of old men. They do not grow wise. They grow careful.
Summary: Set during World War I, this novel is told from the perspective of Frederic Henry. Henry is involved in a love affair with a British nurse. The backdrop of war adds to the intensity of the character's performance. The story is passionate, tragic, and shows a new form of romanticism for Hemingway's work. It is often described as the best story to come out of World War I!
Why you should read it: This book is incredibly moving and accurately portrays the trials and tribulations of war. Whether you're looking for romance, drama, or historical battles, this book has something for you. It represents a new movement in 20th-century romanticism and is a stylistic masterpiece from Hemingway. Give this book a try, and you won't regret it!
A Moveable Feast
If you are lucky enough to have lived in Paris as a young man, then wherever you go for the rest of your life, it stays with you, for Paris is a moveable feast.
Summary: This novel breaks from the traditional form in that it's not an invented story, but a memoir by Ernest Hemingway of his time as a struggling writer living in Paris in the 1920s. It covers everything from his burgeoning career to his first marriage, and even Hemingway's interactions with other famous cultural figures at the time. The book captures the celebratory feeling in Paris at the end of World War I, as well as what it was like for a young writer at the time.
Why you should read it: This novel was actually published posthumously in 1964. Ernest Hemingway had died by suicide three years prior in 1961, so this book is a particularly poignant look at his life and inner thoughts. As a memoir, it captures a wide range of emotions and makes for a powerful, thought-provoking read.
Complete Short Stories Collection: Finca Vigia Edition
That in some way he could work the fat off his soul the way a fighter went into the mountains to work and train in order to bum it out of his body.
Summary: Unlike other books on the list, this is a complete collection of Ernest Hemingway's short stories, including classics like Hills Like White Elephants, The Snows of Kilimanjaro, and A Clean, Well-Lighted Place. There are also seven never-before-seen short stories written especially for the collection. The Finca Vigia edition has 60 short stories for you to enjoy, all of which stand out for Hemingway's unique and remarkable style.
Why you should read it: This book is really the best way to truly familiarize yourself with Hemingway and his use of language. The short stories touch upon various topics, from war to familial love. It's guaranteed to have something for everyone.
To Have and Have Not
Love is all the dirty little tricks you taught me that you probably got out of some book.
Summary: The final novel on our list is well-known for being a tale of mystery and love. The story follows Harry Morgan, a man with a struggling family forced to smuggle contraband. The plot involves a strange group of wealthy men and an intense love affair. The overarching theme of a good man driven to crime by economic hardships has endured with audiences, and the story is still as impactful today as it was back then.
Why you should read it: If you're interested in tales of crime, double-crossing, and passionate affairs, To Have and Have Not is right up your alley! This book takes the classic Hemingway style and brings a new and intense setting to life. While this is not one of Ernest Hemingway's most well-known novels, it's still a fantastic tale and wild ride.
Happy reading
There you have it! These are the 7 best Hemingway books to help you acquaint yourself with the famous and talented novelist. With a wide variety of plots, unforgettable characters, and striking prose, any of these titles will be the perfect stepping stone into the rich worlds of Ernest Hemingway.