5 short, practical digital marketing books that will help you grow any business
It's time to get a handle on what really works.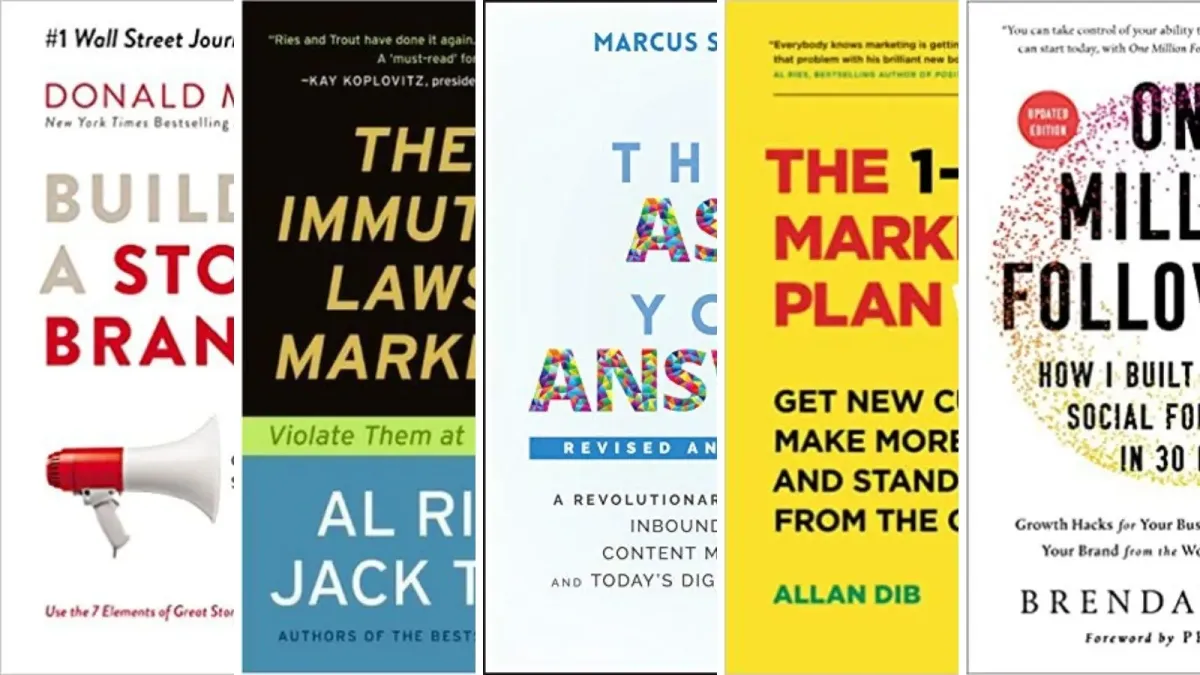 It seems to be the case that many marketers stumble their way into this career field. I know I did. I studied engineering and history only to end up in higher education. From there, I became a full-time writer which led me to write for companies — most often on their marketing teams.
Over the last few years, I've gotten an inside look at the world of digital marketing. And a taste for how quickly it has evolved. There are a few books I've read along the way that helped me immensely by orienting me to the landscape, teaching me the terminology, and giving me the tools I need to become a successful marketer.
Here are my top book recommendations for those new to the fast-moving world of digital marketing.
The 22 Immutable Laws of Marketing
Marketing is a battle of perceptions, not products. ― Al Ries
In my opinion, it's always best to start with the classics. Originally published in 1993, this title by Al Ries and Jack Trout became an instant success for two reasons.
First, it's incredibly straightforward and easy to understand. The entire thing is only a little over 100 pages and could easily be read in a single afternoon. Second, the advice they offer is timeless. It doesn't rely on trends or cheap tactics to work, but instead gets at the heart of marketing: communication.
This book is a testament to the fact that if you get the basics right, the immutable laws, then all of your marketing efforts will not only feel easy but become immensely profitable.
The 1-Page Marketing Plan
A customer won on price will be lost on price. ― Allan Dib
I've been reviewing books for various blogs and websites since 2012. During that time, I've probably received around 200 free books across every category you could imagine. Most of them were mediocre. About 10% were plain unreadable. And another 10% were outstanding (to the point that I would go buy a copy in another format just to support the work).
When I received Allan Dib's book in the mail, I'll be honest that I didn't expect much. It just seemed like another business book that was 90% hype and 10% recycled tactical advice. To my surprise, I was wrong.
The 1-Page Marketing Plan is a solid introduction to digital marketing stages: from choosing a target market, to capturing leads, to delivering value, and eventually building automatic growth channels. If you've never taken a marketing class or sold a product online, this book is the perfect starting point so that you can understand how each piece of the puzzle comes together to push a business forward.
Building a StoryBrand
Pretty websites don't sell things. Words sell things. ― Donald Miller
Donald Miller is one of my favorite writers. Back when he used to write quasi-religious, semi-autobiographical books I was entranced by his style. So, when I heard that he was bringing those skills over into the marketing world, I knew he'd offer something unique.
StoryBrand is not your typical marketing book. Whereas most resources focus on a strategy or tactic, Miller brings it back to the customer — understanding who they are, what they want, and how they want to be communicated to. Because, once you get those pieces aligned, the sales will take care of themselves.
The book adapts Joseph Campbell's hero model into a marketing framework anyone can use to better comprehend the people they're trying to reach, and how they (the marketers) fit into a grander story. If you're bored by most non-fiction books, I'm sure this one will pleasantly surprise you.
One Million Followers
These days, if you want to get your message out to the world, you often have as little as three seconds to do so. ― Brendan Kane
Now, digital marketing is made up of a number of smaller disciplines: copywriting, SEO, design, email, analytics, social media, and more. When you enter this field, you'll likely find yourself drawn to one or two more than others. For me, that's currently SEO and email. If I had to choose my weakest area, that would be social media — which is why this book was a huge help.
Brendan Kane is a social media strategist who's worked with a list of clients and brands that would make even the most veteran marketers blush. But, to show that his results weren't just a byproduct of already successful companies, he conducted his own experiments and captured them in this book.
The text is a manual on modern growth hacking. And although you'd be hard-pressed to replicate his exact success (e.g., you're probably not going to get 1,000,000 new followers in a month), Kane's advice is a solid tactical guide to supercharging your digital growth. I found it helpful when growing my YouTube channel, and again when I helped launch various Twitter accounts for the companies I've worked at. If social media is an area you want to improve, pick this title up.
They Ask, You Answer
Everything ultimately comes down to trust. — Marcus Sheridan
Last but not least is a book on one of my favorite marketing topics: content strategy. This tends to fall under the categories of search engine optimization and inbound marketing, two disciplines that focus on attracting customers to you versus going to them. As an introvert whose idea of hell is a cold-calling sales job, attraction marketing is much more my speed.
The title provides a concise summary of the book's contents. By identifying, answering, and optimizing answers to other people's questions, you can build an extremely successful marketing strategy that sets your business up as the authority in any product or industry.
More than any of the previous titles, this book drives home the fact that most of marketing is actually writing. So, if you want to climb the ladder in this field you would do well to get very good, and comfortable, at writing a lot. Also, I tend to favor books with shorter chapters since they read so quickly. Even though there are many books on content strategy that I could recommend, this is my number one pick for every person new to the space.
Flex those creative muscles
Digital marketing is a growing field that brings together the best of creativity and a scientific mindset. It's also great because there is no one model that makes a great marketer. Every person brings something unique, which enables them to give unusual contributions that can lead to massive growth.
If you're ready for a new challenge, looking to pick up a few new skills, or want to learn how to develop a strategy for your own side hustle, these books are the perfect starting point. And if you've read this far, it means my own digital marketing skills have worked!