The best books on emotional intelligence for new leaders
See how improving this skill set could change your life.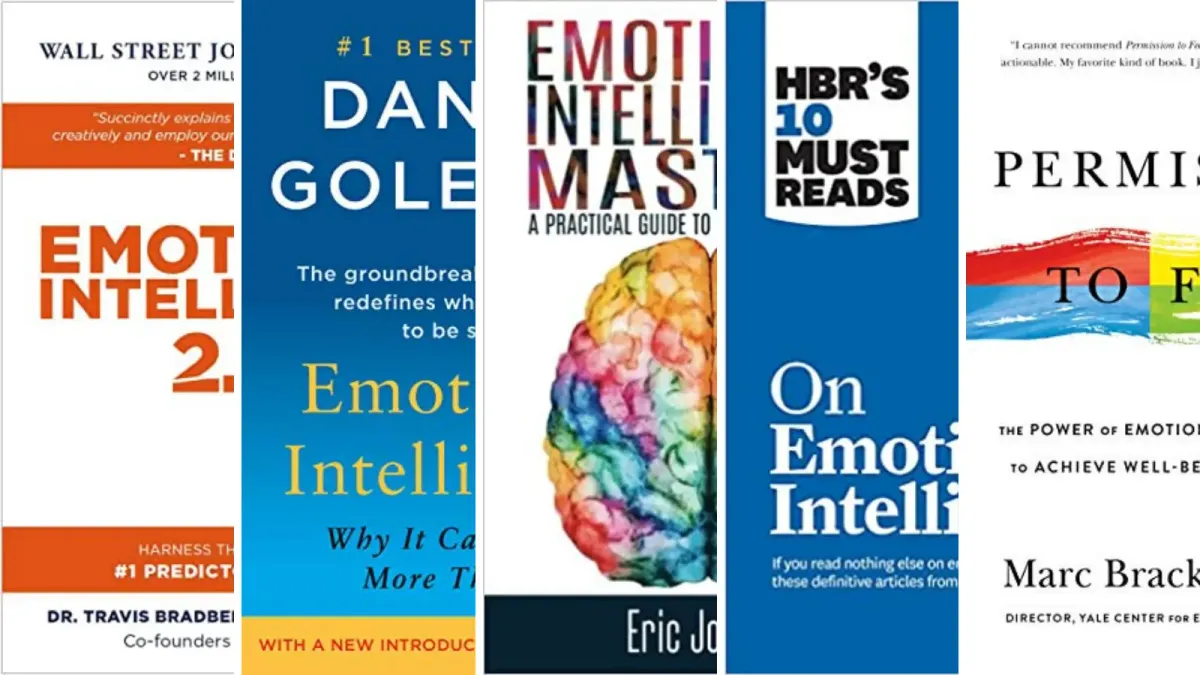 You've probably heard of IQ, but what about EQ? Emotional intelligence (EQ) is the human ability to perceive, manage, and regulate emotions.
Whether in personal relationships or business ones, emotional intelligence is essential. We cannot communicate effectively, empathize with others, or navigate our internal ocean without it.
Emotional Intelligence 2.0
"Real results come from putting your momentary needs on hold to pursue larger, more important goals." – Travis Bradberry and Jean Greaves
Emotional intelligence is a core part of how we interact with others; it's critical to your success in relationships of all types. The authors of this book created it with a single focus: to increase the EQ of every reader. Discover a wealth of information, such as:
Their easy-to-follow program for learning emotions
What modern research has to say about EQ and its impact on our lives
The 4-core skills that constitute emotional intelligence
Readers cannot stop raving about this book (it's garnered nearly 10,000 reviews on Amazon). Even the Dalai Lama read it, stating that it explains how to deal with emotions creatively. This guide is best for leaders who may be new to the subject and want a solid overview.
Emotional Intelligence
"In a very real sense, we have two minds, one that thinks and one that feels." – Daniel Goleman
Goleman takes a more scientific approach to the subject in his book. He dives deep, explaining the difference between IQ and EQ, pulling the covers off our rational and emotional minds. In this read, you'll discover:
What neuroscience and psychology have to say about emotion management
How our "two minds" work together to shape our lives
Why high IQ people often struggle in their careers, and how upping their EQ can fix that
Advocates of this emotional intelligence book proclaim that it's groundbreaking, as it redefines what it means to be smart. This is a must-have on your bookshelf if you want to reassess your emotional self, learn academic-based information, and step into a higher level of leadership.
Permission to Feel
"We have a crisis on our hands, and its victims are our children." – Marc Brackett
Marc opens this novel with an incredibly personal, raw, and honest account of how he came to understand his own feelings and emotions. With 25 years under his belt as an emotion scientist, he's developed a remarkable perspective on understanding the topic. Inside this fantastic read, you'll learn:
What the mood meter is and how it works
Brackett's RULER system for handling emotions
Tactics for getting to the root causes of what we, and others, feel
How to shape goals that align with EQ research
Those who have digested this book consider it a must-read. The opening introduction provides a heart-wrenching and relatable account of emotional neglect, leading to the realization that everyone has permission to feel. Readers describe the information as timely, valuable, and essential.
On Emotional Intelligence
"The most effective leaders are alike in one crucial way: they all have a high degree of what has come to be known as emotional intelligence." – Daniel Goleman
Dive into a compilation of resources curated by the Harvard Business Review. One of the primary articles included is by Daniel Goleman, author of book #2 in this list. Aside from his piece, you'll read nine other articles from HBR's archive by expert leaders who share their advice and wisdom on emotional intelligence. This book on EQ will inspire you to:
Build systems to help monitor and channel your moods
Learn to make more empathetic decisions
Become a specialist in managing and de-escalating emotional conflicts
Develop "emotional agility" while identifying what you need in the moment
If you are a fan of Harvard Business Review, you will appreciate this compilation. It's an excellent, comprehensive look at business, emotional intelligence, self-awareness, and more — perfect for those looking to develop the skills that will make them invaluable.
Emotional Intelligence Mastery
"It is the personal ability you have to recognize and label your emotions and feelings." – Eric Jordan
Jordan takes you on a journey to learn how to use EQ to your advantage, whether climbing a career ladder or thriving at social events. Explore each chapter in this book on emotional intelligence to learn how to:
Understand your true emotions in any situation or circumstance
Build deep connections more easily
Comprehend how your body reacts to different states and how to alter its responses
Overcome "thought traps" and persistent, negative emotions
Per reader feedback, this guide provides a practical look at how emotional intelligence impacts our daily lives. This book is an awesome resource, especially for those who are looking to develop their EQ for a business or professional environment.
Feelings are information
The books above provide a unique look at EQ and how it weaves its way throughout our entire human existence. Emotional intelligence is critical because feelings are just another form of information we can use to shape the world around us. Improving this skill set will help any person understand themselves and others better, so they can lead well. Now, go grab your next read!